As we have started yet another brand-new year, we are proud to continue to build on a tradition that we have now established of bringing you regular publications of our Price Norm. The Price Norm has now become an accepted staple in the procurement landscape and it is being referenced by key stakeholders such as our donor partners and other oversight institutions as an authoritative guide in providing competitive market prices. However, we will not rest on our laurels as we believe in the mantra of continuous improvement. Therefore, we count our success based on our ability to successfully produce the next Norm and the next thereafter.
At the NPPA, we have worked assiduously to ensure that the prices contained therein are indeed reflective of current market prices and trends. We envision that this year is going to be a defining year in the field of public sector procurement and as a regulatory body, we see a lot of upcoming challenges, especially in the area of financing the continuance of our activities, including the production of the Price Norms. However, we will not relent and will ensure that our work continues despite any challenges posed. Challenges will not deter but will further drive our ambition to succeed.
We continue to issue out a clarion call to all in the field of procurement to work with the regulatory body in seeking to sanitize procurement activities nationally by improving on compliance to processes and procedures and ensuring that competitive and mutually beneficial relationships are established between procuring entities and the supplier community.
Since we have now established regularity of publication of the Price Norm, we now look forward to bringing about price rationalization and consistency in quoted prices. This will involve deeper interaction and engagement between NPPA, the procuring entities and the supplier community. In short, it will require enhanced monitoring and cooperative.
In closing, I once again continue to implore all of you to make extensive use of the Price Norm in your daily purchasing activities.
Ibrahim Brima Swarray
Chief Executive – NPPA
QUARTERLY PRICE NORM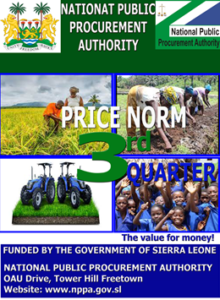 NATIONAL PUBLIC PROCUREMENT AUTHORITY
PRICE NORM  
THIRD (3RD) QUARTER

2023
| Product Code | Product | Product Image | Product Specification | Unit of Measure | WESTERN AREA | EASTERN PROVINCE | SOUTHERN PROVINCE | NORTHERN PROVINCE |
| --- | --- | --- | --- | --- | --- | --- | --- | --- |
| 1,001 | PAPER | | A4*210x297mm*80 gsm* 1x500 Sheets*Plain White | Ream (Packet) | 109.00 | 116.00 | 115.00 | 114.00 |
| 1,002 | PAPER | | A4*210x297mm*80 gsm* 5x500 Sheets*Plain White | Carton of 5 Packets | 531.00 | 563.00 | 557.00 | 552.00 |
| 1,003 | PAPER | | A4*210x297mm*80 GSM* 1x500 Sheets*Coloured* | Ream (Packet) | 148.00 | 157.00 | 155.00 | 154.00 |
| 1,004 | PAPER | | A4*210x297mm*80 GSM* 1x500 Sheets*Coloured* | Carton of 5 Packets | 715.00 | 758.00 | 751.00 | 744.00 |
| 1,005 | PAPER | | A4*210x297mm*80 gsm* 5x500 Sheets*Coloured* | Carton of 5 Packets | 717.00 | 760.00 | 753.00 | 745.00 |
| 1,006 | PAPER | | A4 Size *1x50 sheets Conqurer Paper (fibers security paper) | Ream (Packet) | 183.00 | 193.00 | 192.00 | 190.00 |
| 1,007 | PAPER | | A4 Size* Certificate Cards* 210x297mm (21 cm x 29.7 cm) *160 GSM* 1x25 sheets (Assorted) | Ream (Packet) | 357.00 | 378.00 | 375.00 | 371.00 |
| 1,008 | PAPER | | A4 Size* Certificate Cards* 210x297mm (21 cm x 29.7 cm) *160 GSM* 1x1000 sheets (Assorted) | Carton | 1,808.00 | 1,917.00 | 1,899.00 | 1,881.00 |
| 1,009 | PAPER | | A4 size Glossy *Printing Cards- * White* (100 sheet) | Ream (Packet) | 372.00 | 394.00 | 390.00 | 387.00 |
| 1,010 | PAPER | | A4 size Glossy *Printing Cards- * White* | Carton | 1,775.00 | 1,882.00 | 1,864.00 | 1,846.00 |
| 1,011 | PAPER | | A4 High Quality Invitation Cards* (100 sheets) | Packet | 1,787.00 | 1,894.00 | 1,876.00 | 1,858.00 |
| 1,012 | PAPER | | A4 High Quality Invitation Cards* | Carton/Box | 8,875.00 | 9,408.00 | 9,319.00 | 9,230.00 |
| 1,013 | PAPER | | A3 Paper 80gsm (297mm x 420mm) - 1x500 Sheets | Ream (Packet) | 270.00 | 286.00 | 283.00 | 280.00 |
| 1,014 | PAPER | | A3 Paper 80gsm (297mm x 420mm) - 5x500 Sheets | Carton | 998.00 | 1,058.00 | 1,048.00 | 1,038.00 |
| 1,015 | PAPER | | A3 *120 gsm* 5x250 Sheets *Plain White* | Ream | 662.00 | 701.00 | 695.00 | 688.00 |
| 1,016 | PAPER | | A3 *120 gsm* 5x250 Sheets *Plain White* | Carton | 1,612.00 | 1,708.00 | 1,692.00 | 1,676.00 |
| 1,017 | PAPER | | Double A A3 80 gsm Ream Paper, 1x500 Sheets | Ream | 655.00 | 694.00 | 688.00 | 681.00 |
| 1,018 | PAPER | | Double A A3 80 gsm 5x500 Sheets | Box | 1,331.00 | 1,411.00 | 1,398.00 | 1,385.00 |
| 1,019 | PAPER | | A3 Vanguard*Coloured Card 180gsm* (50 Sheets) | Packet x 100 pkt | 908.00 | 962.00 | 953.00 | 944.00 |
| 1,020 | PAPER | | A3 Vanguard*Coloured Card 180gsm (50 Sheets) | Carton (Box) | 8,875.00 | 9,408.00 | 9,319.00 | 9,230.00 |
| 1,021 | PAPER | | A3 Tracing Paper | Yards | 43.00 | 45.00 | 45.00 | 45.00 |
| 1,022 | PAPER | | A3 Tracing Paper | Roll X25 Yards | 904.00 | 958.00 | 949.00 | 940.00 |
| 1,023 | PAPER | | Brown Paper (250 Sheet) | Ream | 4,498.00 | 4,767.00 | 4,722.00 | 4,677.00 |
| 1,024 | PAPER | | Computer Paper *Carbonless 9.5" X 8" * single PLY * Plain | Box | 754.00 | 799.00 | 792.00 | 784.00 |
| 1,025 | PAPER | | Computer Paper *Carbonless 9.5" X 8" * Double PLY * Plain | | 1,365.00 | 1,446.00 | 1,433.00 | 1,419.00 |
| 1,026 | PAPER | | Computer Paper * Carbonless* 9.5" X 11" * Single Ply * Plain | Box | 906.00 | 961.00 | 952.00 | 943.00 |
| 1,027 | PAPER | | Computer Paper * Carbonless* 9.5" X 11" * Double Ply * Plain | Box | 1,249.00 | 1,324.00 | 1,312.00 | 1,299.00 |
| 1,028 | PAPER | | Computer Paper *Carbonless* 9.5" X 11" * 3 Ply* Plain | Box | 4,025.00 | 4,267.00 | 4,226.00 | 4,186.00 |
| 1,029 | PAPER | | Computer Paper * 9.5" X 11" * Single Ply * ruled | Box | 1,249.00 | 1,324.00 | 1,312.00 | 1,299.00 |
| 1,030 | PAPER | | Computer Paper * Carbonless* 9.5" X 11" * Double Ply * ruled | Box | 1,249.00 | 1,324.00 | 1,312.00 | 1,299.00 |
| 1,031 | PAPER | | Computer Paper * Carbonless 9.5" X 11" * 3 ply * ruled | Box | 1,266.00 | 1,342.00 | 1,329.00 | 1,316.00 |
| 1,032 | PAPER | | Computer Paper * Carbonless* 14" X 11" * Double Ply * ruled | Box | 1,283.00 | 1,359.00 | 1,347.00 | 1,334.00 |
| 1,033 | PAPER | | White Bond paper 500 sheet 80 Gsm 640X9000 | Ream | 1,283.00 | 1,359.00 | 1,347.00 | 1,334.00 |
| 1,034 | PAPER | | Blue Bone Paper 250 Sheet 80 Gsm 640X900 | Ream | 1,249.00 | 1,324.00 | 1,312.00 | 1,299.00 |
| 1,035 | PAPER | | Green Bone Paper 250 Sheet 80 Gsm 640X900 | Ream | 1,249.00 | 1,324.00 | 1,312.00 | 1,299.00 |
| 1,036 | PAPER | | Yellow Bone Paper 250 Sheet 80 Gsm 640X900 | Ream | 1,249.00 | 1,324.00 | 1,312.00 | 1,299.00 |
| 1,037 | PAPER | | Pink Bone Paper 250 Sheet 80 Gsm 640X900 | Ream | 1,249.00 | 1,324.00 | 1,312.00 | 1,299.00 |
| 1,038 | PAPER | | White Manila 100 Sheet 180 Gsm 640x900 | Ream | 717.00 | 760.00 | 753.00 | 745.00 |
| 1,039 | PAPER | | Blue Manila 100 Sheet 180 Gsm 640x900 | Ream | 717.00 | 760.00 | 753.00 | 745.00 |
| 1,040 | PAPER | | Green Manila 100 Sheet 180 Gsm 640x900 | Ream | 717.00 | 760.00 | 753.00 | 745.00 |
| 1,041 | PAPER | | Yellow Manila 100 Sheet 180 Gsm 640x900 | Ream | 720.00 | 763.00 | 756.00 | 749.00 |
| 1,042 | PAPER | | Art Manila 250 Gsm 100 Sheet 640x 900 | Ream | 727.00 | 770.00 | 763.00 | 756.00 |
| 1,043 | PAPER | | Art Paper 115 Gsm 500 Sheet 640x 900 | Ream | 1,276.00 | 1,352.00 | 1,340.00 | 1,327.00 |
| 1,044 | PAPER | | Yellow Carbon paper 500 Sheet 450x 640 | Ream | 1,249.00 | 1,324.00 | 1,312.00 | 1,299.00 |
| 1,045 | PAPER | | Green Carbon paper 500 Sheet 450x 640 | Ream | 1,266.00 | 1,342.00 | 1,329.00 | 1,316.00 |
| 1,046 | PAPER | | Pink Carbon paper 500 Sheet 450x 640 | Ream | 1,259.00 | 1,335.00 | 1,322.00 | 1,310.00 |
| 1,047 | PAPER | | White Bank Paper 500 Sheet 640x 900 | Ream | 1,249.00 | 1,324.00 | 1,312.00 | 1,299.00 |
| 1,048 | PAPER | | Blue Bank Paper 500 Sheet 640x 900 | Ream | 1,249.00 | 1,324.00 | 1,312.00 | 1,299.00 |
| 1,049 | PAPER | | Green Bank Paper 500 Sheet 640x 900 | Ream | 1,249.00 | 1,324.00 | 1,312.00 | 1,299.00 |
| 1,050 | PAPER | | Yellow Bank Paper 500 Sheet 640x 900 | Ream | 1,259.00 | 1,335.00 | 1,322.00 | 1,310.00 |
| 1,051 | PAPER | | Pink Bank Paper 500 Sheet 640x 900 | Ream | 1,249.00 | 1,324.00 | 1,312.00 | 1,299.00 |
| 1,052 | PAPER | | Colour Computer Forms 9.5" x 11" * 4 Ply * Inch White Pink Blue and Yellow | Box | 1,430.00 | 1,516.00 | 1,502.00 | 1,487.00 |
| 1,053 | PAPER | | News Print Paper * 60 gsm *450 x 200* | Packet | 740.00 | 784.00 | 777.00 | 770.00 |
| 1,054 | PAPER | | News print paper * 60 gsm *450 x 640* | Box | 3,583.00 | 3,798.00 | 3,763.00 | 3,727.00 |
| 1,055 | PAPER | | Manilla Coloured Paper* 180 gm * 450 X 350* | Packet | 146.00 | 155.00 | 154.00 | 152.00 |
| 1,056 | PAPER | | Art Card * 640 X 900 * 300gsm * 50 Sheets* | Pieces | 841.00 | 891.00 | 883.00 | 874.00 |
| 1,057 | PAPER | | Art Card * 640 X 900 * 300gsm * 50 Sheets* | Packet | 891.00 | 944.00 | 935.00 | 926.00 |
| 1,058 | PAPER | | A4 Carbon Transfer Paper | Packet | 94.00 | 99.00 | 98.00 | 98.00 |
| 1,059 | PAPER | | A4 Carbon Transfer Paper | Box x 50 pkt | 4,521.00 | 4,792.00 | 4,747.00 | 4,702.00 |
| 1,060 | PAPER | | 200pcs A4 Black Carbon Transfer Tracing Graphite Paper (Writing Carbon) | Packet | 10.00 | 10.00 | 10.00 | 10.00 |
| 1,061 | PAPER | | A4 Size Writing Carbon | Packet | 92.00 | 98.00 | 97.00 | 96.00 |
| 1,062 | Envelope | | DL White Peel & Seal Envelopes 100gsm: 110 x 220 | Packet | 31.00 | 33.00 | 33.00 | 33.00 |
| 1,063 | Envelope | | C3 Size * 458mm 324mm * To fit unfolded A3 paper | Packet | 92.00 | 98.00 | 97.00 | 96.00 |
| 1,064 | Envelope | | C4 Size *324mm x 229mm Envelopes Peel & Seal Pocket 100 GSM | Packet | 92.00 | 98.00 | 97.00 | 96.00 |
| 1,065 | Envelope | | C4 Size * 324mm x 229mm * To fit unfolded A4 paper | Packet | 54.00 | 58.00 | 57.00 | 56.00 |
| 1,066 | Envelope | | C5 * 162mmX 229mm * To fit A4 paper folded in half | Packet | 56.00 | 59.00 | 59.00 | 58.00 |
| 1,067 | Envelope | | C6 * 114mm x162mm * To fit A4 paper folded in 4 | Packet | 31.00 | 33.00 | 33.00 | 33.00 |
| 1,068 | Envelope | | B4 * 250mm x352* To fit A4 paper unfolded* ideal for thicker documents | Packet | 26.00 | 28.00 | 28.00 | 27.00 |
| 1,069 | Envelope | | 5" x 5" Square Envelopes 130mm x 130mm * ideal for Invitations etc* | Packet | 183.00 | 193.00 | 192.00 | 190.00 |
| 1,070 | Envelope | | X-ray*10" X 14"* (Small) | Packet | 454.00 | 481.00 | 476.00 | 472.00 |
| 1,071 | Envelope | | X-ray*13" X 19"*(Medium) | Packet | 539.00 | 572.00 | 566.00 | 561.00 |
| 1,072 | Envelope | | X-ray*17" X 24"* F16 Size 240x350mm (Large) | Packet | 449.00 | 476.00 | 471.00 | 467.00 |
| 1,073 | | | X-ray*22" X 30"*(XL) | Packet | 447.00 | 474.00 | 469.00 | 465.00 |
| 1,074 | Book | | Logbook /Way Book * Column Approximately *120 Pages* | Ea | 454.00 | 481.00 | 476.00 | 472.00 |
| 1,075 | Book | | *Foolscap Book *Ruled* Approximately 150 Pages* | Ea | 641.00 | 680.00 | 673.00 | 667.00 |
| 1,076 | BOOK | | Ledger Book *12 Columns 2Q /4Q | Ea | 536.00 | 568.00 | 563.00 | 557.00 |
| 1,077 | BOOK | | Ledger Book *12 Columns 2Q /4Q | Carton/Box | 5,325.00 | 5,645.00 | 5,591.00 | 5,538.00 |
| 1,078 | BOOK | | Analysis Book *32 Columns* /27/24 | Ea | 841.00 | 891.00 | 883.00 | 874.00 |
| 1,079 | BOOK | | Address Book * App 180 Pages * | Ea | 76.00 | 80.00 | 79.00 | 79.00 |
| 1,080 | BOOK | | Address Book * App 180 Pages * | Box | 1,397.00 | 1,480.00 | 1,467.00 | 1,453.00 |
| 1,081 | BOOK | | Shorthand Notebook* 128 X 203 mm* 70 Pages* | Packet | 183.00 | 193.00 | 192.00 | 190.00 |
| 1,082 | BOOK | | Shorthand Notebook* 128 X 203 mm* 70 Pages* | Box x 192 Pcs | 2,369.00 | 2,511.00 | 2,488.00 | 2,464.00 |
| 1,083 | BOOK | | Shorthand Notebook* 127 X 203 mm* 160 Pages* | 300 Pages x 6 Packet | 41.00 | 44.00 | 43.00 | 43.00 |
| 1,084 | BOOK | | Shorthand Notebook* 127 X 203 mm* 160 Pages* | Box | 2,130.00 | 2,258.00 | 2,237.00 | 2,215.00 |
| 1,085 | BOOK | | Shorthand Notebook* 5" x 8" (127 x 203mm) 300 Pages* | Packet | 220.00 | 234.00 | 231.00 | 229.00 |
| 1,086 | BOOK | | Shorthand Notebook* 5" x 8" (127 x 203mm) 300 Pages* | Box x 120 pcs | 4,256.00 | 4,512.00 | 4,469.00 | 4,427.00 |
| 1,087 | BOOK | | Executive Book *7"X 9"* | Packet | 715.00 | 758.00 | 751.00 | 744.00 |
| 1,088 | BOOK | | Executive Book *7"X 9"* | Box | 6,233.00 | 6,607.00 | 6,545.00 | 6,482.00 |
| 1,089 | BOOK | | School Register * Columns* For Attendance* | Catoon x 175 pkt | 3,904.00 | 4,138.00 | 4,099.00 | 4,060.00 |
| 1,090 | BOOK | | *4 Ruled Exercise Book* 40 Pages* | Packet | 86.00 | 92.00 | 91.00 | 90.00 |
| 1,091 | BOOK | | *3 Double Exercise Book* 40 Pages* | Packet | 85.00 | 90.00 | 89.00 | 88.00 |
| 1,092 | BOOK | | *4 Ruled Exercise Book* 80 Pages* | Packet | 95.00 | 101.00 | 100.00 | 99.00 |
| 1,093 | BOOK | | *3 Double Exercise Book* 80 Pages* | Packet | 99.00 | 105.00 | 104.00 | 103.00 |
| 1,094 | BOOK | | *4 Ruled Exercise Book* 120 Pages * | Packet | 99.00 | 104.00 | 103.00 | 102.00 |
| 1,095 | BOOK | | *3 Double Exercise Book* 120 Pages* | Packet | 110.00 | 117.00 | 116.00 | 115.00 |
| 1,096 | BOOK | | *4 Ruled and Plain Exercise Book* 40 pages* | Packet | 56.00 | 60.00 | 59.00 | 59.00 |
| 1,097 | PADS | | A4 Size *Writing Pads* | Packet | 127.00 | 134.00 | 133.00 | 132.00 |
| 1,098 | PADS | | Post it Pads *Large* | Packet | 41.00 | 44.00 | 43.00 | 43.00 |
| 1,099 | FLIP CHART PAD | | 3m flip chart 25"x30" white, 40 sheets | Ea 25 sheet | 153.00 | 162.00 | 161.00 | 159.00 |
| 1,100 | FLIP CHART PAD | | 3m flip chart 25"x30" white, 40 sheets | Packet x 10 Pcs | 1,407.00 | 1,491.00 | 1,477.00 | 1,463.00 |
| 1,101 | FLIP CHART PAD | | School smart primary chart paper 24"x32", ruled 1½" with dotted midline white, 70 sheets | Ea | 194.00 | 206.00 | 204.00 | 202.00 |
| 1,102 | FLIP CHART PAD | | School smart primary chart paper 24"x32", ruled 1½" with dotted midline white, 70 sheets | Pack of 10 pcs | 191.00 | 202.00 | 200.00 | 198.00 |
| 1,103 | STAMP | | Stamp Pad | Ea | 75.00 | 79.00 | 78.00 | 77.00 |
| 1,104 | STAMP | | Stamp Pad (Double) | Ea | 94.00 | 99.00 | 98.00 | 98.00 |
| 1,105 | STAMP | | Self Inking Rubber Stamp | Ea | 660.00 | 699.00 | 693.00 | 686.00 |
| 1,106 | STAMP | | Self Inking Daters | Ea | 435.00 | 462.00 | 457.00 | 453.00 |
| 1,107 | STAMP | | Label Stamps | Ea | 253.00 | 268.00 | 266.00 | 263.00 |
| 1,108 | FILES | | Suspension hook Hanging File | Ea | 21.00 | 23.00 | 22.00 | 22.00 |
| 1,109 | FILES | | Suspension hook Hanging File | Packet | 442.00 | 469.00 | 464.00 | 460.00 |
| 1,110 | FILES | | Foolscap Suspension Files Foolscap | Packet | 691.00 | 732.00 | 725.00 | 718.00 |
| 1,111 | FILES | | IXL *Lever Arch File* 2 Rings* | Ea | 41.00 | 44.00 | 43.00 | 43.00 |
| 1,112 | FILES | | IXL * Lever Arch File* 2 Rings* | Box | 1,792.00 | 1,899.00 | 1,881.00 | 1,863.00 |
| 1,113 | FILES | | IXL * Lever Arch File* 3 Rings* | Ea | 44.00 | 47.00 | 47.00 | 46.00 |
| 1,114 | FILES | | IXL * Lever Arch File* 3 Rings* | Box | 2,252.00 | 2,387.00 | 2,365.00 | 2,342.00 |
| 1,115 | FILES | | Pockets Files/Documents Wallets* | Box | 914.00 | 969.00 | 960.00 | 951.00 |
| 1,116 | FILES | | Manilla File * Flat* Foolscap | Box | 559.00 | 593.00 | 587.00 | 582.00 |
| 1,117 | FILES | | Box File * Foolscap | Ea | 1,476.00 | 1,564.00 | 1,550.00 | 1,535.00 |
| 1,118 | FILES | | Box File * Foolscap | Carton | 1,021.00 | 1,082.00 | 1,072.00 | 1,062.00 |
| 1,119 | FILES | | Plastic File * Coloured* 12 Inch* | Packet | 441.00 | 467.00 | 463.00 | 458.00 |
| 1,120 | FLIP CHART STAND | | Master of Boards Magnetic Flip Chart with Wheels | Dry Wipe Flipchart/Whiteboard Easel with Extendable Side Arms | Height Adjustable up to 225cm | Clamp for...180 X 180 cm | Set | 811.00 | 860.00 | 852.00 | 844.00 |
| 11,121 | FLIP CHART STAND | | 90cm x 60cm Tripod Whiteboard, Tripod Whiteboard, Magnetic Dry Erase Board/Flipchart Easel Whiteboard, Height Adjustable Stand Board | Set | 671.00 | 711.00 | 704.00 | 698.00 |
| 1,122 | FLIP CHART STAND | | Double Sided Felt Notice Board 1800 x 1200mm Franken Pro Partition System Blue | Set | 833.00 | 882.00 | 874.00 | 866.00 |
| 1,123 | FLIP CHART STAND | | Wonderwall Large Drywipe Steel Magnetic Whiteboard with Fixings and Pen Tray (2400 x 1200mm) | Set | 2,053.00 | 2,177.00 | 2,156.00 | 2,135.00 |
| 1,124 | OFFICE TRAY | | Set of Three* Plastic * | Set | 188.00 | 199.00 | 197.00 | 195.00 |
| 1,125 | OFFICE TRAY | | Set of Three* Plastic * | Packet | 186.00 | 197.00 | 195.00 | 193.00 |
| 1,126 | OFFICE TRAY | | Set of Three * Mesh* | Box | 1,925.00 | 2,041.00 | 2,021.00 | 2,002.00 |
| 1,127 | GREEN TAGS | | 100 per Box * Small* | Box | 115.00 | 122.00 | 121.00 | 120.00 |
| 1,128 | GREEN TAGS | | 100 Per Box * Large* | Box | 146.00 | 155.00 | 154.00 | 152.00 |
| 1,129 | DUSTER | | Black Board* Plastic\ Wood* | Packet | 283.00 | 300.00 | 297.00 | 294.00 |
| 1,130 | DUSTER | | Black Board* Plastic\ Wood* | Box | 2,629.00 | 2,787.00 | 2,761.00 | 2,734.00 |
| 1,131 | BELL | | School Hand Bell * 5" Diameter | Ea | 345.00 | 366.00 | 362.00 | 359.00 |
| 1,132 | BELL | | School Hand Bell * 5" Diameter | Box x 12 pcs | 4,273.00 | 4,530.00 | 4,487.00 | 4,444.00 |
| 1,133 | Correction Fluid | | Tipp-Ex Bottle | 30ml Ea | 31.00 | 33.00 | 33.00 | 32.00 |
| 1,134 | Correction Fluid | | Tipp-Ex Bottle | 30ml Packet | 808.00 | 857.00 | 849.00 | 841.00 |
| 1,135 | Correction Fluid | | Tipp-Ex Pen Type | 30ml Ea | 21.00 | 23.00 | 22.00 | 22.00 |
| 1,136 | Correction Fluid | | Tipp-Ex Pen Type | 30ml Packet | 214.00 | 226.00 | 224.00 | 222.00 |
| 1,137 | ERASERS | | Typing Eraser with Brush | Packet | 219.00 | 232.00 | 230.00 | 227.00 |
| 1,138 | ERASERS | | Typing Eraser with Brush | Carton of 144 pcs | 3,631.00 | 3,849.00 | 3,813.00 | 3,777.00 |
| 1,139 | ERASERS | | Eraser Large | Packet | 313.00 | 332.00 | 329.00 | 325.00 |
| 1,140 | ERASERS | | Eraser Large | Carton of 60 pkt | 1,644.00 | 1,743.00 | 1,726.00 | 1,710.00 |
| 1,141 | ERASERS | | Eraser Small | Packet | 188.00 | 199.00 | 197.00 | 195.00 |
| 1,142 | ERASERS | | Eraser Small | Carton | 1,242.00 | 1,317.00 | 1,305.00 | 1,292.00 |
| 1,143 | TWINE | | Large | Roll | 290.00 | 307.00 | 304.00 | 301.00 |
| 1,144 | TWINE | | Large | Box | 2,663.00 | 2,822.00 | 2,796.00 | 2,769.00 |
| 1,145 | LAMINATING PLASTIC | | A4 Size | Packet | 293.00 | 310.00 | 308.00 | 305.00 |
| 1,146 | PENS | | Ball Point Pens *Normal quality* (Black, Blue,Red) | Box | 99.00 | 105.00 | 104.00 | 103.00 |
| 1,147 | PENS | | Ball Point Pens *Normal quality* (Black, Blue,Red) | Carton of 80 pkt | 8,467.00 | 8,975.00 | 8,890.00 | 8,805.00 |
| 1,148 | PENS | | Ball Point Pen * High Quality * (Black, Blue,Red) | Box | 114.00 | 120.00 | 119.00 | 118.00 |
| 1,149 | PENS | | Ball Point Pen * High Quality * (Black, Blue,Red) | Carton | 1,218.00 | 1,291.00 | 1,279.00 | 1,267.00 |
| 1,150 | PENS | | Architectural Drawing Pens 0.2,0.3,0.4,0.5 | Box | 600.00 | 636.00 | 630.00 | 624.00 |
| 1,151 | PENS | | Architectural Drawing Pens 0.2,0.3,0.4,0.5 | Carton of 10 boxes | 0.00 | 0.00 | 0.00 | 0.00 |
| 1,152 | PENCILS | | 2B Pencil | Packet | 23.00 | 24.00 | 24.00 | 24.00 |
| 1,153 | PENCILS | | 2B Pencil | Box | 264.00 | 279.00 | 277.00 | 274.00 |
| 1,154 | PENCILS | | 2B Pencil | Carton of 5,760 pcs | 1,029.00 | 1,091.00 | 1,080.00 | 1,070.00 |
| 1,155 | PENCILS | | HB Pencil | Packet | 3,757.00 | 3,982.00 | 3,945.00 | 3,907.00 |
| 1,156 | PENCILS | | HB Pencil | Box | 96.00 | 102.00 | 101.00 | 100.00 |
| 1,157 | PENCILS | | HB Pencil | Carton of 4,320 pcs | 6,149.00 | 6,517.00 | 6,456.00 | 6,394.00 |
| 1,158 | PENCIL CRAYONS | | Pencil Crayons | Packet | 29.00 | 31.00 | 31.00 | 31.00 |
| 1,159 | PENCIL CRAYONS | | Pencil Crayons | Box | 343.00 | 364.00 | 360.00 | 357.00 |
| 1,160 | PENCIL CRAYONS | | Pencil Crayons | Carton of 480 pcs | 13,038.00 | 13,820.00 | 13,689.00 | 13,559.00 |
| 1,161 | WAX CRAYON | | Wax Crayons | Box | 39.00 | 42.00 | 41.00 | 41.00 |
| 1,162 | WAX CRAYON | | Wax Crayons | Carton of 480 pcs | 17,390.00 | 18,433.00 | 18,260.00 | 18,086.00 |
| 1,163 | SHARPNERS | | Pencil Sharpner *Metal* | Packet | 89.00 | 94.00 | 93.00 | 92.00 |
| 1,164 | SHARPNERS | | Pencil Sharpner *Metal* | Box | 177.00 | 188.00 | 186.00 | 184.00 |
| 1,165 | MARKERS | | Assorted | Packet | 73.00 | 77.00 | 77.00 | 76.00 |
| 1,166 | MARKERS | | Assorted | Box | 1,312.00 | 1,391.00 | 1,378.00 | 1,364.00 |
| 1,167 | MARKERS | | Assorted | Carton of 100 pkt | 6,410.00 | 6,795.00 | 6,731.00 | 6,666.00 |
| 1,168 | MARKERS | | White Board Marker | Packet | 81.00 | 86.00 | 85.00 | 84.00 |
| 1,169 | MARKERS | | White Board Marker | Box 100 pkt | 8,547.00 | 9,059.00 | 8,974.00 | 8,889.00 |
| 1,170 | HIGHLIGHTERS | | Assorted | Packet | 41.00 | 44.00 | 43.00 | 43.00 |
| 1,171 | HIGHLIGHTERS | | Assorted | Box of 10 pkt | 358.00 | 380.00 | 376.00 | 373.00 |
| 1,172 | CHALK | | White Chalk | Box | 41.00 | 44.00 | 43.00 | 43.00 |
| 1,173 | CHALK | | White Chalk | Carton | 2,137.00 | 2,265.00 | 2,244.00 | 2,222.00 |
| 1,174 | CHALK | | Coloured Chalk | Box | 81.00 | 86.00 | 85.00 | 84.00 |
| 1,175 | CHALK | | Coloured Chalk | Carton of 60 pkt | 2,696.00 | 2,858.00 | 2,831.00 | 2,804.00 |
| 1,176 | SLATE | | Free-Arm Board (Slate) | Carton of 120 pcs | 5,325.00 | 5,645.00 | 5,591.00 | 5,538.00 |
| 1,177 | RUBBER BAND | | Rubber Band *Small Size* | Packet | 35.00 | 37.00 | 36.00 | 36.00 |
| 1,178 | RUBBER BAND | | Rubber Band *Small Size* | Carton | 1,548.00 | 1,641.00 | 1,625.00 | 1,610.00 |
| 1,179 | RUBBER BAND | | Rubber Band *Medium Size* | Packet | 40.00 | 42.00 | 41.00 | 41.00 |
| 1,180 | RUBBER BAND | | Rubber Band *Medium Size* | Carton | 1,825.00 | 1,935.00 | 1,916.00 | 1,898.00 |
| 1,181 | RUBBER BAND | | Rubber Band *Large Size* | Packet | 137.00 | 145.00 | 143.00 | 142.00 |
| 1,182 | RUBBER BAND | | Rubber Band * Large Size* | Carton | 7,738.00 | 8,202.00 | 8,124.00 | 8,047.00 |
| 1,183 | RULER | | Plastic Ruler | 30cm Box | 451.00 | 479.00 | 474.00 | 470.00 |
| 1,184 | RULER | | Plastic Ruler | Carton of 1440 pcs | 8,681.00 | 9,202.00 | 9,115.00 | 9,029.00 |
| 1,185 | RULER | | Board Ruler | 3ft Box | 217.00 | 230.00 | 228.00 | 226.00 |
| 1,186 | RULER | | Board Ruler | 3ft Carton of 60 pcs | 2,137.00 | 2,265.00 | 2,244.00 | 2,222.00 |
| 1,187 | MATHEMATICAL SET | | Student Mathematical Set | Carton of 144 pcs | 518.00 | 549.00 | 544.00 | 539.00 |
| 1,188 | MATHEMATICAL SET | | Blackboard Mathematical Set | Set | 690.00 | 731.00 | 725.00 | 718.00 |
| 1,189 | SCISSORS | | Small size | Ea | 28.00 | 30.00 | 29.00 | 29.00 |
| 1,190 | SCISSORS | | Small size | Carton | 2,033.00 | 2,155.00 | 2,135.00 | 2,114.00 |
| 1,191 | SCISSORS | | Medium Size | Ea | 38.00 | 40.00 | 40.00 | 39.00 |
| 1,192 | SCISSORS | | Medium Size | Carton | 1,295.00 | 1,373.00 | 1,360.00 | 1,347.00 |
| 1,193 | SCISSORS | | Large Size | Ea | 89.00 | 94.00 | 93.00 | 92.00 |
| 1,194 | SCISSORS | | Large Size | Carton | 1,794.00 | 1,902.00 | 1,884.00 | 1,866.00 |
| 1,195 | STAPLER | | Small Size | Ea | 92.00 | 98.00 | 97.00 | 96.00 |
| 1,196 | STAPLER | | Small Size | Carton of 144 pcs | 12,820.00 | 13,589.00 | 13,461.00 | 13,333.00 |
| 1,197 | STAPLER | | Large Size | Ea | 191.00 | 202.00 | 200.00 | 198.00 |
| 1,198 | STAPLER | | Large Size | Carton of 96 pcs | 16,993.00 | 18,013.00 | 17,843.00 | 17,673.00 |
| 1,199 | STAPLER | | Giant Size | Ea | 352.00 | 373.00 | 369.00 | 366.00 |
| 1,200 | STAPLER | | Giant Size | Carton of 12 pcs | 4,273.00 | 4,530.00 | 4,487.00 | 4,444.00 |
| 1,201 | CLIP FASTENER | | Standard Size | Packet | 18.00 | 19.00 | 19.00 | 19.00 |
| 1,202 | CLIP FASTENER | | Standard Size | Carton of 100 pkt | 1,908.00 | 2,023.00 | 2,004.00 | 1,985.00 |
| 1,203 | CLIPS | | Paper Clip *Small Size* 33mm | Packet | 10.00 | 10.00 | 10.00 | 10.00 |
| 1,204 | CLIPS | | Paper Clip *Small Size* 33mm | Carton of 100 pkt | 938.00 | 994.00 | 984.00 | 975.00 |
| 1,205 | CLIPS | | Paper Clip *Medium Size* | Packet | 31.00 | 33.00 | 33.00 | 33.00 |
| 1,206 | CLIPS | | Paper Clip *Medium Size* | Carton | 2,596.00 | 2,752.00 | 2,726.00 | 2,700.00 |
| 1,206 | CLIPS | | Paper Clip *Large Size* | Packet | 43.00 | 45.00 | 45.00 | 45.00 |
| 1,207 | CLIPS | | Paper Clip *Large Size* | Carton of 100 pcs | 1,892.00 | 2,005.00 | 1,986.00 | 1,967.00 |
| 1,208 | CLIPS | | Paper Clip *Small Size* | Packet | 10.00 | 10.00 | 10.00 | 10.00 |
| 1,209 | CLIPS | | Paper Clip *Small Size* | Carton | 4,721.00 | 5,004.00 | 4,957.00 | 4,910.00 |
| 1,210 | CLIPS | | Paper Clip *Large Size* | Packet | 26.00 | 28.00 | 28.00 | 27.00 |
| 1,211 | CLIPS | | Paper Clip *Large Size* | Carton | 1,892.00 | 2,005.00 | 1,986.00 | 1,967.00 |
| 1,212 | STAPLE PINS | | Small Staples * 24/6* | Packet | 140.00 | 148.00 | 147.00 | 145.00 |
| 1,213 | STAPLE PINS | | Small Staples * 24/6* | Carton of 100 pkt | 3,125.00 | 3,313.00 | 3,281.00 | 3,250.00 |
| 1,214 | STAPLE PINS | | Giant Staples* 26/6* | Packet | 131.00 | 139.00 | 137.00 | 136.00 |
| 1,215 | STAPLE PINS | | Giant Staples* 26/6* | Carton of 200 pkt | 3,793.00 | 4,021.00 | 3,983.00 | 3,945.00 |
| 1,216 | STRAIGHT PINS | | Straight T Pins | Pkt | 95.00 | 101.00 | 100.00 | 99.00 |
| 1,217 | STRAIGHT PINS | | Straight T Pins | Carton of 300 pkt | 8,461.00 | 8,968.00 | 8,884.00 | 8,799.00 |
| 1,218 | PAPER PUNCHING MACHINE | | Single/One Hole 4.5 Paper Punch | Ea | 99.00 | 105.00 | 104.00 | 103.00 |
| 1,219 | PAPER PUNCHING MACHINE | | Single/One Hole 4.5 Paper Punch | Carton of 60 pcs | 5,358.00 | 5,680.00 | 5,626.00 | 5,573.00 |
| 1,220 | PAPER PUNCHING MACHINE | | Double Hole * 10 Pages * | Ea | 168.00 | 178.00 | 176.00 | 175.00 |
| 1,221 | PAPER PUNCHING MACHINE | | Double Hole * 10 Pages * | Carton of 30 pcs | 5,263.00 | 5,579.00 | 5,527.00 | 5,474.00 |
| 1,222 | PAPER PUNCHING MACHINE | | Double Hole * 20 Pages * | Ea | 198.00 | 209.00 | 207.00 | 205.00 |
| 1,223 | PAPER PUNCHING MACHINE | | Double Hole * 20 Pages * | Carton of 12 pcs | 2,253.00 | 2,389.00 | 2,366.00 | 2,343.00 |
| 1,224 | PAPER PUNCHING MACHINE | | Heavy Duty *Double Hole* | Ea | 2,493.00 | 2,642.00 | 2,617.00 | 2,592.00 |
| 1,225 | PAPER PUNCHING MACHINE | | Heavy Duty *Double Hole* | Carton of 12 pcs | 1,510.00 | 1,601.00 | 1,586.00 | 1,570.00 |
| 1,226 | BUSINESS CALCULATOR | | 12 Digits *Small * | Ea | 198.00 | 209.00 | 207.00 | 205.00 |
| 1,227 | BUSINESS CALCULATOR | | 12 Digits *Small * | Carton of 120 pcs | 2,270.00 | 2,406.00 | 2,384.00 | 2,361.00 |
| 1,228 | BUSINESS CALCULATOR | | 12 Digits *Large* | Ea | 280.00 | 296.00 | 294.00 | 291.00 |
| 1,229 | BUSINESS CALCULATOR | | 12 Digits *Large* | Carton | 3,388.00 | 3,592.00 | 3,558.00 | 3,524.00 |
| 1,230 | SCIENTIFIC CALCULATOR | | 12 Digits *Large* | Ea | 260.00 | 276.00 | 273.00 | 271.00 |
| 1,231 | SCIENTIFIC CALCULATOR | | 12 Digits *Large* | Carton | 2,757.00 | 2,923.00 | 2,895.00 | 2,868.00 |
| 1,232 | CALCULATOR | | Calculator with Tape* (adding machine) | Ea | 28,225.00 | 29,919.00 | 29,636.00 | 29,354.00 |
| 1,233 | CALCULATOR | | Calculator with Tape* (adding machine) | Carton | 99,458.00 | 105,426.00 | 104,431.00 | 103,437.00 |
| 1,234 | CELLOTAPE | | Transparent *Small* 25mm x 25m | Roll | 28.00 | 30.00 | 29.00 | 29.00 |
| 1,235 | CELLOTAPE | | Transparent *Small* 25mm x 25m | Carton of 72 pcs | 2,093.00 | 2,219.00 | 2,198.00 | 2,177.00 |
| 1,236 | CELLOTAPE | | Transparent *Large* 75mm x 25m | Roll | 191.00 | 203.00 | 201.00 | 199.00 |
| 1,237 | CELLOTAPE | | Transparent *Large* 75mm x 25m | Carton | 2,093.00 | 2,219.00 | 2,198.00 | 2,177.00 |
| 1,238 | CELLOTAPE | | Brown *Large* 75mm x 25m | Roll | 198.00 | 209.00 | 207.00 | 205.00 |
| 1,239 | CELLOTAPE | | Brown *Large* 75mm x 25m | Carton | 1,358.00 | 1,440.00 | 1,426.00 | 1,413.00 |
| 1,240 | MASKING TAPE | | Medium Size | Packet | 198.00 | 209.00 | 207.00 | 205.00 |
| 1,241 | BINDING SHEETS | | Covers *Plastic* A4 * (White / Coloured) | Box | 1,892.00 | 2,005.00 | 1,986.00 | 1,967.00 |
| 1,242 | BINDING COMB | | 8 mm* | Box | 296.00 | 314.00 | 311.00 | 308.00 |
| 1,243 | BINDING COMB | | 6 mm * | Box | 412.00 | 436.00 | 432.00 | 428.00 |
| 1,244 | BINDDING COMB | | 10mm* | Box | 428.00 | 454.00 | 450.00 | 445.00 |
| 1,245 | BINDDING COMB | | 12mm* | Box | 609.00 | 646.00 | 640.00 | 634.00 |
| 1,246 | BINDDING COMB | | 16mm* | Box | 626.00 | 663.00 | 657.00 | 651.00 |
| 1,247 | BINDDING COMB | | 20mm* | Box | 609.00 | 646.00 | 640.00 | 634.00 |
| 1,248 | BINDING COMB MACHINE | | 24 Holes Comb Binding Machine | Ea | 954.00 | 1,011.00 | 1,002.00 | 992.00 |
| 1,249 | BINDING COMB MACHINE | | 25 Holes Comb Binding Machine | Carton | 2,829.00 | 2,999.00 | 2,971.00 | 2,942.00 |
| 1,250 | GLUE STICK | | 32 gm | Ea | 20.00 | 21.00 | 21.00 | 21.00 |
| 1,251 | GLUE STICK | | 32 gm | Carton of 288 pcs | 5,481.00 | 5,810.00 | 5,755.00 | 5,701.00 |
| 1,252 | GLUE STICK | | Paper Glue * Small * 15g | Ea | 17.00 | 18.00 | 18.00 | 17.00 |
| 1,253 | GLUE STICK | | Paper Glue * Small * 15g | Carton | 1,547.00 | 1,639.00 | 1,624.00 | 1,609.00 |
| 1,254 | GLUE STICK | | Paper Glue * Medium * 21g | Ea | 28.00 | 30.00 | 29.00 | 29.00 |
| 1,255 | GLUE STICK | | Paper Glue * Medium * 21g | Carton | 2,829.00 | 2,999.00 | 2,971.00 | 2,942.00 |
| 1,256 | GLUE STICK | | Paper Glue * Large * 36g | Ea | 43.00 | 45.00 | 45.00 | 45.00 |
| 1,257 | GLUE STICK | | Paper Glue * Large * 36g | Carton | 3,783.00 | 4,010.00 | 3,973.00 | 3,935.00 |
| 1,258 | INK | | Printing Ink Black 2.5kilo | Tin | 1,490.00 | 1,579.00 | 1,565.00 | 1,550.00 |
| 1,259 | INK | | Printing Ink Gyan 2.5kilo | Tin | 1,366.00 | 1,448.00 | 1,434.00 | 1,420.00 |
| 1,260 | INK | | Printing Ink Yellow 2.5kilo | Tin | 1,349.00 | 1,430.00 | 1,417.00 | 1,403.00 |
| 1,261 | INK | | Printing Ink Magenta 2.5kilo | Tin | 1,359.00 | 1,441.00 | 1,427.00 | 1,414.00 |
| 1,262 | INK | | Printing Ink Green 2.5kilo | Tin | 1,363.00 | 1,444.00 | 1,431.00 | 1,417.00 |
| 1,263 | INK | | Riso Ink Ez | Tin | 280.00 | 296.00 | 294.00 | 291.00 |
| 1,264 | PLATE | | Plate Cleaner | Liter | 681.00 | 722.00 | 715.00 | 709.00 |
| 1,265 | PLATE | | Kord Plate 650x 550X0.3mm 50 Sheet | Ream | 490.00 | 519.00 | 515.00 | 510.00 |
| 1,266 | Quire Book No. 3 | | TREELINE A4 Counter Book 3 Quire Feint And Margin | Pkt | 196.00 | 208.00 | 206.00 | 204.00 |
| 1,267 | Quire Book No. 4 | | Generic Kartasi Counter Book A4 - 4 Quire | pkt | 265.00 | 280.00 | 278.00 | 275.00 |
| 1,268 | Endorsing Ink | | 30ml | Pkt | 280.00 | 296.00 | 294.00 | 291.00 |
| 1,269 | Flat files with clips | | Durable A4 Size Pvc Flat File With Clip-50 Pcs/Box | Box | 594.00 | 629.00 | 623.00 | 617.00 |
| 1,270 | Gloy Paste | | Gloy Paste Squeeze Pack | ctn | 1,510.00 | 1,601.00 | 1,586.00 | 1,570.00 |
| 1,271 | Manifold Paper | | 28gsm-32gsm ( 500sheet/ream) | Ream | 1,475.00 | 1,564.00 | 1,549.00 | 1,534.00 |
| 1,272 | Desk Pad | | dimensions: M (30 cm x 62 cm = 11.8″ x 24.4″). L (30 cm x 90 cm = 11.8″ x 35.4″) | Ea | 535.00 | 567.00 | 562.00 | 556.00 |
| 1,273 | Blackboard renovator | | 1L Quick Dry Blackboard Paint - Black | Ea | 974.00 | 1,033.00 | 1,023.00 | 1,013.00 |
| 1,274 | Selotape Separator | | | Ea | 434.00 | 460.00 | 456.00 | 451.00 |
| 1,275 | A4 Diary | | 21cm x 29cm | ctn | 2,689.00 | 2,850.00 | 2,823.00 | 2,796.00 |
| 1,276 | Typing Carbon | | | ctn | 5,363.00 | 5,684.00 | 5,631.00 | 5,577.00 |
| 1,277 | Security Paper | | | Ea | 1,576.00 | 1,670.00 | 1,654.00 | 1,639.00 |
| 1,278 | Paper Shredder | | | Ea | 1,722.00 | 1,825.00 | 1,808.00 | 1,791.00 |
| 1,279 | Paper Cutter | | | Ea | 1,148.00 | 1,217.00 | 1,206.00 | 1,194.00 |
| 1,280 | News Print Paper | | | Ea | 910.00 | 964.00 | 955.00 | 946.00 |
| 1,281 | Magic Marker | | | Set | 148.00 | 156.00 | 155.00 | 153.00 |
| 1,282 | White Board | | | Ea | 965.00 | 1,023.00 | 1,013.00 | 1,004.00 |
| 1,283 | Notice Board | | | Ea | 3,742.00 | 3,966.00 | 3,929.00 | 3,891.00 |
| 1,284 | File Folder | | | Ea | 765.00 | 811.00 | 803.00 | 796.00 |
| 1,285 | Black Board | | | Ea | 1,060.00 | 1,124.00 | 1,113.00 | 1,102.00 |
| 1,285 | Vanguard gold | | A4 Size | pkt | 774.00 | 820.00 | 812.00 | 805.00 |
| 1,285 | vanguard white | | A4 Size | pkt | 68.00 | 72.00 | 71.00 | 70.00 |
| 1,285 | Bindding plastic | | A4 Size | Ea | 110.00 | 117.00 | 116.00 | 114.00 |
| 1,285 | Removable self stick notes | | | Ea | | 0.00 | 0.00 | 0.00 |
| 1,285 | flip chart stand | | | Ea | 1,000.00 | 1,060.00 | 1,050.00 | 1,040.00 |
| 1,285 | A4 size envelop | | | Ea | 80.00 | 85.00 | 84.00 | 83.00 |
| 1,285 | A3 Size envelop | | | Ea | 200.00 | 212.00 | 210.00 | 208.00 |
| 1,285 | A5 Size Envelop | | | Ea | 50.00 | 53.00 | 53.00 | 52.00 |
| 1,285 | Stamp pad Ink | | | Ea | 30.00 | 32.00 | 32.00 | 31.00 |
| 1,285 | Quire Ledger | | | Ea | 50.00 | 53.00 | 53.00 | 52.00 |
Generated by wpDataTables
Download Full THIRD (3RD) Quarter 2023 Price Norm
NATIONAL PUBLIC PROCUREMENT AUTHORITY
PRICE NORM  
SECOND (2ND) QUARTER

2023
| 1001 | PAPER | | A4*210x297mm*80 gsm* 1x500 Sheets*Plain White | Ream (Packet) | 109 | 116 | 115 | 114 |
| --- | --- | --- | --- | --- | --- | --- | --- | --- |
| 1,002 | PAPER | | A4*210x297mm*80 gsm* 5x500 Sheets*Plain White | Carton of 5 Packets | 531.00 | 563.00 | 557.00 | 552.00 |
| 1,003 | PAPER | | A4*210x297mm*80 GSM* 1x500 Sheets*Coloured* | Ream (Packet) | 148.00 | 157.00 | 155.00 | 154.00 |
| 1,004 | PAPER | | A4*210x297mm*80 GSM* 1x500 Sheets*Coloured* | Carton of 5 Packets | 715.00 | 758.00 | 751.00 | 744.00 |
| 1,005 | PAPER | | A4*210x297mm*80 gsm* 5x500 Sheets*Coloured* | Carton of 5 Packets | 717.00 | 760.00 | 753.00 | 745.00 |
| 1,006 | PAPER | | A4 Size *1x50 sheets Conqurer Paper (fibers security paper) | Ream (Packet) | 183.00 | 193.00 | 192.00 | 190.00 |
| 1,007 | PAPER | | A4 Size* Certificate Cards* 210x297mm (21 cm x 29.7 cm) *160 GSM* 1x25 sheets (Assorted) | Ream (Packet) | 357.00 | 378.00 | 375.00 | 371.00 |
| 1,008 | PAPER | | A4 Size* Certificate Cards* 210x297mm (21 cm x 29.7 cm) *160 GSM* 1x1000 sheets (Assorted) | Carton | 1,808.00 | 1,917.00 | 1,899.00 | 1,881.00 |
| 1,009 | PAPER | | A4 size Glossy *Printing Cards- * White* (100 sheet) | Ream (Packet) | 372.00 | 394.00 | 390.00 | 387.00 |
| 1,010 | PAPER | | A4 size Glossy *Printing Cards- * White* | Carton | 1,775.00 | 1,882.00 | 1,864.00 | 1,846.00 |
| 1,011 | PAPER | | A4 High Quality Invitation Cards* (100 sheets) | Packet | 1,787.00 | 1,894.00 | 1,876.00 | 1,858.00 |
| 1,012 | PAPER | | A4 High Quality Invitation Cards* | Carton/Box | 8,875.00 | 9,408.00 | 9,319.00 | 9,230.00 |
| 1,013 | PAPER | | A3 Paper 80gsm (297mm x 420mm) - 1x500 Sheets | Ream (Packet) | 270.00 | 286.00 | 283.00 | 280.00 |
| 1,014 | PAPER | | A3 Paper 80gsm (297mm x 420mm) - 5x500 Sheets | Carton | 998.00 | 1,058.00 | 1,048.00 | 1,038.00 |
| 1,015 | PAPER | | A3 *120 gsm* 5x250 Sheets *Plain White* | Ream | 662.00 | 701.00 | 695.00 | 688.00 |
| 1,016 | PAPER | | A3 *120 gsm* 5x250 Sheets *Plain White* | Carton | 1,612.00 | 1,708.00 | 1,692.00 | 1,676.00 |
| 1,017 | PAPER | | Double A A3 80 gsm Ream Paper, 1x500 Sheets | Ream | 655.00 | 694.00 | 688.00 | 681.00 |
| 1,018 | PAPER | | Double A A3 80 gsm 5x500 Sheets | Box | 1,331.00 | 1,411.00 | 1,398.00 | 1,385.00 |
| 1,019 | PAPER | | A3 Vanguard*Coloured Card 180gsm* (50 Sheets) | Packet x 100 pkt | 908.00 | 962.00 | 953.00 | 944.00 |
| 1,020 | PAPER | | A3 Vanguard*Coloured Card 180gsm (50 Sheets) | Carton (Box) | 8,875.00 | 9,408.00 | 9,319.00 | 9,230.00 |
| 1,021 | PAPER | | A3 Tracing Paper | Yards | 43.00 | 45.00 | 45.00 | 45.00 |
| 1,022 | PAPER | | A3 Tracing Paper | Roll X25 Yards | 904.00 | 958.00 | 949.00 | 940.00 |
| 1,023 | PAPER | | Brown Paper (250 Sheet) | Ream | 4,498.00 | 4,767.00 | 4,722.00 | 4,677.00 |
| 1,024 | PAPER | | Computer Paper *Carbonless 9.5" X 8" * single PLY * Plain | Box | 754.00 | 799.00 | 792.00 | 784.00 |
| 1,025 | PAPER | | Computer Paper *Carbonless 9.5" X 8" * Double PLY * Plain | | 1,365.00 | 1,446.00 | 1,433.00 | 1,419.00 |
| 1,026 | PAPER | | Computer Paper * Carbonless* 9.5" X 11" * Single Ply * Plain | Box | 906.00 | 961.00 | 952.00 | 943.00 |
| 1,027 | PAPER | | Computer Paper * Carbonless* 9.5" X 11" * Double Ply * Plain | Box | 1,249.00 | 1,324.00 | 1,312.00 | 1,299.00 |
| 1,028 | PAPER | | Computer Paper *Carbonless* 9.5" X 11" * 3 Ply* Plain | Box | 4,025.00 | 4,267.00 | 4,226.00 | 4,186.00 |
| 1,029 | PAPER | | Computer Paper * 9.5" X 11" * Single Ply * ruled | Box | 1,249.00 | 1,324.00 | 1,312.00 | 1,299.00 |
| 1,030 | PAPER | | Computer Paper * Carbonless* 9.5" X 11" * Double Ply * ruled | Box | 1,249.00 | 1,324.00 | 1,312.00 | 1,299.00 |
| 1,031 | PAPER | | Computer Paper * Carbonless 9.5" X 11" * 3 ply * ruled | Box | 1,266.00 | 1,342.00 | 1,329.00 | 1,316.00 |
| 1,032 | PAPER | | Computer Paper * Carbonless* 14" X 11" * Double Ply * ruled | Box | 1,283.00 | 1,359.00 | 1,347.00 | 1,334.00 |
| 1,033 | PAPER | | White Bond paper 500 sheet 80 Gsm 640X9000 | Ream | 1,283.00 | 1,359.00 | 1,347.00 | 1,334.00 |
| 1,034 | PAPER | | Blue Bone Paper 250 Sheet 80 Gsm 640X900 | Ream | 1,249.00 | 1,324.00 | 1,312.00 | 1,299.00 |
| 1,035 | PAPER | | Green Bone Paper 250 Sheet 80 Gsm 640X900 | Ream | 1,249.00 | 1,324.00 | 1,312.00 | 1,299.00 |
| 1,036 | PAPER | | Yellow Bone Paper 250 Sheet 80 Gsm 640X900 | Ream | 1,249.00 | 1,324.00 | 1,312.00 | 1,299.00 |
| 1,037 | PAPER | | Pink Bone Paper 250 Sheet 80 Gsm 640X900 | Ream | 1,249.00 | 1,324.00 | 1,312.00 | 1,299.00 |
| 1,038 | PAPER | | White Manila 100 Sheet 180 Gsm 640x900 | Ream | 717.00 | 760.00 | 753.00 | 745.00 |
| 1,039 | PAPER | | Blue Manila 100 Sheet 180 Gsm 640x900 | Ream | 717.00 | 760.00 | 753.00 | 745.00 |
| 1,040 | PAPER | | Green Manila 100 Sheet 180 Gsm 640x900 | Ream | 717.00 | 760.00 | 753.00 | 745.00 |
| 1,041 | PAPER | | Yellow Manila 100 Sheet 180 Gsm 640x900 | Ream | 720.00 | 763.00 | 756.00 | 749.00 |
| 1,042 | PAPER | | Art Manila 250 Gsm 100 Sheet 640x 900 | Ream | 727.00 | 770.00 | 763.00 | 756.00 |
| 1,043 | PAPER | | Art Paper 115 Gsm 500 Sheet 640x 900 | Ream | 1,276.00 | 1,352.00 | 1,340.00 | 1,327.00 |
| 1,044 | PAPER | | Yellow Carbon paper 500 Sheet 450x 640 | Ream | 1,249.00 | 1,324.00 | 1,312.00 | 1,299.00 |
| 1,045 | PAPER | | Green Carbon paper 500 Sheet 450x 640 | Ream | 1,266.00 | 1,342.00 | 1,329.00 | 1,316.00 |
| 1,046 | PAPER | | Pink Carbon paper 500 Sheet 450x 640 | Ream | 1,259.00 | 1,335.00 | 1,322.00 | 1,310.00 |
| 1,047 | PAPER | | White Bank Paper 500 Sheet 640x 900 | Ream | 1,249.00 | 1,324.00 | 1,312.00 | 1,299.00 |
| 1,048 | PAPER | | Blue Bank Paper 500 Sheet 640x 900 | Ream | 1,249.00 | 1,324.00 | 1,312.00 | 1,299.00 |
| 1,049 | PAPER | | Green Bank Paper 500 Sheet 640x 900 | Ream | 1,249.00 | 1,324.00 | 1,312.00 | 1,299.00 |
| 1,050 | PAPER | | Yellow Bank Paper 500 Sheet 640x 900 | Ream | 1,259.00 | 1,335.00 | 1,322.00 | 1,310.00 |
| 1,051 | PAPER | | Pink Bank Paper 500 Sheet 640x 900 | Ream | 1,249.00 | 1,324.00 | 1,312.00 | 1,299.00 |
| 1,052 | PAPER | | Colour Computer Forms 9.5" x 11" * 4 Ply * Inch White Pink Blue and Yellow | Box | 1,430.00 | 1,516.00 | 1,502.00 | 1,487.00 |
| 1,053 | PAPER | | News Print Paper * 60 gsm *450 x 200* | Packet | 740.00 | 784.00 | 777.00 | 770.00 |
| 1,054 | PAPER | | News print paper * 60 gsm *450 x 640* | Box | 3,583.00 | 3,798.00 | 3,763.00 | 3,727.00 |
| 1,055 | PAPER | | Manilla Coloured Paper* 180 gm * 450 X 350* | Packet | 146.00 | 155.00 | 154.00 | 152.00 |
| 1,056 | PAPER | | Art Card * 640 X 900 * 300gsm * 50 Sheets* | Pieces | 841.00 | 891.00 | 883.00 | 874.00 |
| 1,057 | PAPER | | Art Card * 640 X 900 * 300gsm * 50 Sheets* | Packet | 891.00 | 944.00 | 935.00 | 926.00 |
| 1,058 | PAPER | | A4 Carbon Transfer Paper | Packet | 94.00 | 99.00 | 98.00 | 98.00 |
| 1,059 | PAPER | | A4 Carbon Transfer Paper | Box x 50 pkt | 4,521.00 | 4,792.00 | 4,747.00 | 4,702.00 |
| 1,060 | PAPER | | 200pcs A4 Black Carbon Transfer Tracing Graphite Paper (Writing Carbon) | Packet | 10.00 | 10.00 | 10.00 | 10.00 |
| 1,061 | PAPER | | A4 Size Writing Carbon | Packet | 92.00 | 98.00 | 97.00 | 96.00 |
| 1,062 | Envelope | | DL White Peel & Seal Envelopes 100gsm: 110 x 220 | Packet | 31.00 | 33.00 | 33.00 | 33.00 |
| 1,063 | Envelope | | C3 Size * 458mm 324mm * To fit unfolded A3 paper | Packet | 92.00 | 98.00 | 97.00 | 96.00 |
| 1,064 | Envelope | | C4 Size *324mm x 229mm Envelopes Peel & Seal Pocket 100 GSM | Packet | 92.00 | 98.00 | 97.00 | 96.00 |
| 1,065 | Envelope | | C4 Size * 324mm x 229mm * To fit unfolded A4 paper | Packet | 54.00 | 58.00 | 57.00 | 56.00 |
| 1,066 | Envelope | | C5 * 162mmX 229mm * To fit A4 paper folded in half | Packet | 56.00 | 59.00 | 59.00 | 58.00 |
| 1,067 | Envelope | | C6 * 114mm x162mm * To fit A4 paper folded in 4 | Packet | 31.00 | 33.00 | 33.00 | 33.00 |
| 1,068 | Envelope | | B4 * 250mm x352* To fit A4 paper unfolded* ideal for thicker documents | Packet | 26.00 | 28.00 | 28.00 | 27.00 |
| 1,069 | Envelope | | 5" x 5" Square Envelopes 130mm x 130mm * ideal for Invitations etc* | Packet | 183.00 | 193.00 | 192.00 | 190.00 |
| 1,070 | Envelope | | X-ray*10" X 14"* (Small) | Packet | 454.00 | 481.00 | 476.00 | 472.00 |
| 1,071 | Envelope | | X-ray*13" X 19"*(Medium) | Packet | 539.00 | 572.00 | 566.00 | 561.00 |
| 1,072 | Envelope | | X-ray*17" X 24"* F16 Size 240x350mm (Large) | Packet | 449.00 | 476.00 | 471.00 | 467.00 |
| 1,073 | | | X-ray*22" X 30"*(XL) | Packet | 447.00 | 474.00 | 469.00 | 465.00 |
| 1,074 | Book | | Logbook /Way Book * Column Approximately *120 Pages* | Ea | 454.00 | 481.00 | 476.00 | 472.00 |
| 1,075 | Book | | *Foolscap Book *Ruled* Approximately 150 Pages* | Ea | 641.00 | 680.00 | 673.00 | 667.00 |
| 1,076 | BOOK | | Ledger Book *12 Columns 2Q /4Q | Ea | 536.00 | 568.00 | 563.00 | 557.00 |
| 1,077 | BOOK | | Ledger Book *12 Columns 2Q /4Q | Carton/Box | 5,325.00 | 5,645.00 | 5,591.00 | 5,538.00 |
| 1,078 | BOOK | | Analysis Book *32 Columns* /27/24 | Ea | 841.00 | 891.00 | 883.00 | 874.00 |
| 1,079 | BOOK | | Address Book * App 180 Pages * | Ea | 76.00 | 80.00 | 79.00 | 79.00 |
| 1,080 | BOOK | | Address Book * App 180 Pages * | Box | 1,397.00 | 1,480.00 | 1,467.00 | 1,453.00 |
| 1,081 | BOOK | | Shorthand Notebook* 128 X 203 mm* 70 Pages* | Packet | 183.00 | 193.00 | 192.00 | 190.00 |
| 1,082 | BOOK | | Shorthand Notebook* 128 X 203 mm* 70 Pages* | Box x 192 Pcs | 2,369.00 | 2,511.00 | 2,488.00 | 2,464.00 |
| 1,083 | BOOK | | Shorthand Notebook* 127 X 203 mm* 160 Pages* | 300 Pages x 6 Packet | 41.00 | 44.00 | 43.00 | 43.00 |
| 1,084 | BOOK | | Shorthand Notebook* 127 X 203 mm* 160 Pages* | Box | 2,130.00 | 2,258.00 | 2,237.00 | 2,215.00 |
| 1,085 | BOOK | | Shorthand Notebook* 5" x 8" (127 x 203mm) 300 Pages* | Packet | 220.00 | 234.00 | 231.00 | 229.00 |
| 1,086 | BOOK | | Shorthand Notebook* 5" x 8" (127 x 203mm) 300 Pages* | Box x 120 pcs | 4,256.00 | 4,512.00 | 4,469.00 | 4,427.00 |
| 1,087 | BOOK | | Executive Book *7"X 9"* | Packet | 715.00 | 758.00 | 751.00 | 744.00 |
| 1,088 | BOOK | | Executive Book *7"X 9"* | Box | 6,233.00 | 6,607.00 | 6,545.00 | 6,482.00 |
| 1,089 | BOOK | | School Register * Columns* For Attendance* | Catoon x 175 pkt | 3,904.00 | 4,138.00 | 4,099.00 | 4,060.00 |
| 1,090 | BOOK | | *4 Ruled Exercise Book* 40 Pages* | Packet | 86.00 | 92.00 | 91.00 | 90.00 |
| 1,091 | BOOK | | *3 Double Exercise Book* 40 Pages* | Packet | 85.00 | 90.00 | 89.00 | 88.00 |
| 1,092 | BOOK | | *4 Ruled Exercise Book* 80 Pages* | Packet | 95.00 | 101.00 | 100.00 | 99.00 |
| 1,093 | BOOK | | *3 Double Exercise Book* 80 Pages* | Packet | 99.00 | 105.00 | 104.00 | 103.00 |
| 1,094 | BOOK | | *4 Ruled Exercise Book* 120 Pages * | Packet | 99.00 | 104.00 | 103.00 | 102.00 |
| 1,095 | BOOK | | *3 Double Exercise Book* 120 Pages* | Packet | 110.00 | 117.00 | 116.00 | 115.00 |
| 1,096 | BOOK | | *4 Ruled and Plain Exercise Book* 40 pages* | Packet | 56.00 | 60.00 | 59.00 | 59.00 |
| 1,097 | PADS | | A4 Size *Writing Pads* | Packet | 127.00 | 134.00 | 133.00 | 132.00 |
| 1,098 | PADS | | Post it Pads *Large* | Packet | 41.00 | 44.00 | 43.00 | 43.00 |
| 1,099 | FLIP CHART PAD | | 3m flip chart 25"x30" white, 40 sheets | Ea 25 sheet | 153.00 | 162.00 | 161.00 | 159.00 |
| 1,100 | FLIP CHART PAD | | 3m flip chart 25"x30" white, 40 sheets | Packet x 10 Pcs | 1,407.00 | 1,491.00 | 1,477.00 | 1,463.00 |
| 1,101 | FLIP CHART PAD | | School smart primary chart paper 24"x32", ruled 1½" with dotted midline white, 70 sheets | Ea | 194.00 | 206.00 | 204.00 | 202.00 |
| 1,102 | FLIP CHART PAD | | School smart primary chart paper 24"x32", ruled 1½" with dotted midline white, 70 sheets | Pack of 10 pcs | 191.00 | 202.00 | 200.00 | 198.00 |
| 1,103 | STAMP | | Stamp Pad | Ea | 75.00 | 79.00 | 78.00 | 77.00 |
| 1,104 | STAMP | | Stamp Pad (Double) | Ea | 94.00 | 99.00 | 98.00 | 98.00 |
| 1,105 | STAMP | | Self Inking Rubber Stamp | Ea | 660.00 | 699.00 | 693.00 | 686.00 |
| 1,106 | STAMP | | Self Inking Daters | Ea | 435.00 | 462.00 | 457.00 | 453.00 |
| 1,107 | STAMP | | Label Stamps | Ea | 253.00 | 268.00 | 266.00 | 263.00 |
| 1,108 | FILES | | Suspension hook Hanging File | Ea | 21.00 | 23.00 | 22.00 | 22.00 |
| 1,109 | FILES | | Suspension hook Hanging File | Packet | 442.00 | 469.00 | 464.00 | 460.00 |
| 1,110 | FILES | | Foolscap Suspension Files Foolscap | Packet | 691.00 | 732.00 | 725.00 | 718.00 |
| 1,111 | FILES | | IXL *Lever Arch File* 2 Rings* | Ea | 41.00 | 44.00 | 43.00 | 43.00 |
| 1,112 | FILES | | IXL * Lever Arch File* 2 Rings* | Box | 1,792.00 | 1,899.00 | 1,881.00 | 1,863.00 |
| 1,113 | FILES | | IXL * Lever Arch File* 3 Rings* | Ea | 44.00 | 47.00 | 47.00 | 46.00 |
| 1,114 | FILES | | IXL * Lever Arch File* 3 Rings* | Box | 2,252.00 | 2,387.00 | 2,365.00 | 2,342.00 |
| 1,115 | FILES | | Pockets Files/Documents Wallets* | Box | 914.00 | 969.00 | 960.00 | 951.00 |
| 1,116 | FILES | | Manilla File * Flat* Foolscap | Box | 559.00 | 593.00 | 587.00 | 582.00 |
| 1,117 | FILES | | Box File * Foolscap | Ea | 1,476.00 | 1,564.00 | 1,550.00 | 1,535.00 |
| 1,118 | FILES | | Box File * Foolscap | Carton | 1,021.00 | 1,082.00 | 1,072.00 | 1,062.00 |
| 1,119 | FILES | | Plastic File * Coloured* 12 Inch* | Packet | 441.00 | 467.00 | 463.00 | 458.00 |
| 1,120 | FLIP CHART STAND | | Master of Boards Magnetic Flip Chart with Wheels | Dry Wipe Flipchart/Whiteboard Easel with Extendable Side Arms | Height Adjustable up to 225cm | Clamp for...180 X 180 cm | Set | 811.00 | 860.00 | 852.00 | 844.00 |
| 11,121 | FLIP CHART STAND | | 90cm x 60cm Tripod Whiteboard, Tripod Whiteboard, Magnetic Dry Erase Board/Flipchart Easel Whiteboard, Height Adjustable Stand Board | Set | 671.00 | 711.00 | 704.00 | 698.00 |
| 1,122 | FLIP CHART STAND | | Double Sided Felt Notice Board 1800 x 1200mm Franken Pro Partition System Blue | Set | 833.00 | 882.00 | 874.00 | 866.00 |
| 1,123 | FLIP CHART STAND | | Wonderwall Large Drywipe Steel Magnetic Whiteboard with Fixings and Pen Tray (2400 x 1200mm) | Set | 2,053.00 | 2,177.00 | 2,156.00 | 2,135.00 |
| 1,124 | OFFICE TRAY | | Set of Three* Plastic * | Set | 188.00 | 199.00 | 197.00 | 195.00 |
| 1,125 | OFFICE TRAY | | Set of Three* Plastic * | Packet | 186.00 | 197.00 | 195.00 | 193.00 |
| 1,126 | OFFICE TRAY | | Set of Three * Mesh* | Box | 1,925.00 | 2,041.00 | 2,021.00 | 2,002.00 |
| 1,127 | GREEN TAGS | | 100 per Box * Small* | Box | 115.00 | 122.00 | 121.00 | 120.00 |
| 1,128 | GREEN TAGS | | 100 Per Box * Large* | Box | 146.00 | 155.00 | 154.00 | 152.00 |
| 1,129 | DUSTER | | Black Board* Plastic\ Wood* | Packet | 283.00 | 300.00 | 297.00 | 294.00 |
| 1,130 | DUSTER | | Black Board* Plastic\ Wood* | Box | 2,629.00 | 2,787.00 | 2,761.00 | 2,734.00 |
| 1,131 | BELL | | School Hand Bell * 5" Diameter | Ea | 345.00 | 366.00 | 362.00 | 359.00 |
| 1,132 | BELL | | School Hand Bell * 5" Diameter | Box x 12 pcs | 4,273.00 | 4,530.00 | 4,487.00 | 4,444.00 |
| 1,133 | Correction Fluid | | Tipp-Ex Bottle | 30ml Ea | 31.00 | 33.00 | 33.00 | 32.00 |
| 1,134 | Correction Fluid | | Tipp-Ex Bottle | 30ml Packet | 808.00 | 857.00 | 849.00 | 841.00 |
| 1,135 | Correction Fluid | | Tipp-Ex Pen Type | 30ml Ea | 21.00 | 23.00 | 22.00 | 22.00 |
| 1,136 | Correction Fluid | | Tipp-Ex Pen Type | 30ml Packet | 214.00 | 226.00 | 224.00 | 222.00 |
| 1,137 | ERASERS | | Typing Eraser with Brush | Packet | 219.00 | 232.00 | 230.00 | 227.00 |
| 1,138 | ERASERS | | Typing Eraser with Brush | Carton of 144 pcs | 3,631.00 | 3,849.00 | 3,813.00 | 3,777.00 |
| 1,139 | ERASERS | | Eraser Large | Packet | 313.00 | 332.00 | 329.00 | 325.00 |
| 1,140 | ERASERS | | Eraser Large | Carton of 60 pkt | 1,644.00 | 1,743.00 | 1,726.00 | 1,710.00 |
| 1,141 | ERASERS | | Eraser Small | Packet | 188.00 | 199.00 | 197.00 | 195.00 |
| 1,142 | ERASERS | | Eraser Small | Carton | 1,242.00 | 1,317.00 | 1,305.00 | 1,292.00 |
| 1,143 | TWINE | | Large | Roll | 290.00 | 307.00 | 304.00 | 301.00 |
| 1,144 | TWINE | | Large | Box | 2,663.00 | 2,822.00 | 2,796.00 | 2,769.00 |
| 1,145 | LAMINATING PLASTIC | | A4 Size | Packet | 293.00 | 310.00 | 308.00 | 305.00 |
| 1,146 | PENS | | Ball Point Pens *Normal quality* (Black, Blue,Red) | Box | 99.00 | 105.00 | 104.00 | 103.00 |
| 1,147 | PENS | | Ball Point Pens *Normal quality* (Black, Blue,Red) | Carton of 80 pkt | 8,467.00 | 8,975.00 | 8,890.00 | 8,805.00 |
| 1,148 | PENS | | Ball Point Pen * High Quality * (Black, Blue,Red) | Box | 114.00 | 120.00 | 119.00 | 118.00 |
| 1,149 | PENS | | Ball Point Pen * High Quality * (Black, Blue,Red) | Carton | 1,218.00 | 1,291.00 | 1,279.00 | 1,267.00 |
| 1,150 | PENS | | Architectural Drawing Pens 0.2,0.3,0.4,0.5 | Box | 600.00 | 636.00 | 630.00 | 624.00 |
| 1,151 | PENS | | Architectural Drawing Pens 0.2,0.3,0.4,0.5 | Carton of 10 boxes | 0.00 | 0.00 | 0.00 | 0.00 |
| 1,152 | PENCILS | | 2B Pencil | Packet | 23.00 | 24.00 | 24.00 | 24.00 |
| 1,153 | PENCILS | | 2B Pencil | Box | 264.00 | 279.00 | 277.00 | 274.00 |
| 1,154 | PENCILS | | 2B Pencil | Carton of 5,760 pcs | 1,029.00 | 1,091.00 | 1,080.00 | 1,070.00 |
| 1,155 | PENCILS | | HB Pencil | Packet | 3,757.00 | 3,982.00 | 3,945.00 | 3,907.00 |
| 1,156 | PENCILS | | HB Pencil | Box | 96.00 | 102.00 | 101.00 | 100.00 |
| 1,157 | PENCILS | | HB Pencil | Carton of 4,320 pcs | 6,149.00 | 6,517.00 | 6,456.00 | 6,394.00 |
| 1,158 | PENCIL CRAYONS | | Pencil Crayons | Packet | 29.00 | 31.00 | 31.00 | 31.00 |
| 1,159 | PENCIL CRAYONS | | Pencil Crayons | Box | 343.00 | 364.00 | 360.00 | 357.00 |
| 1,160 | PENCIL CRAYONS | | Pencil Crayons | Carton of 480 pcs | 13,038.00 | 13,820.00 | 13,689.00 | 13,559.00 |
| 1,161 | WAX CRAYON | | Wax Crayons | Box | 39.00 | 42.00 | 41.00 | 41.00 |
| 1,162 | WAX CRAYON | | Wax Crayons | Carton of 480 pcs | 17,390.00 | 18,433.00 | 18,260.00 | 18,086.00 |
| 1,163 | SHARPNERS | | Pencil Sharpner *Metal* | Packet | 89.00 | 94.00 | 93.00 | 92.00 |
| 1,164 | SHARPNERS | | Pencil Sharpner *Metal* | Box | 177.00 | 188.00 | 186.00 | 184.00 |
| 1,165 | MARKERS | | Assorted | Packet | 73.00 | 77.00 | 77.00 | 76.00 |
| 1,166 | MARKERS | | Assorted | Box | 1,312.00 | 1,391.00 | 1,378.00 | 1,364.00 |
| 1,167 | MARKERS | | Assorted | Carton of 100 pkt | 6,410.00 | 6,795.00 | 6,731.00 | 6,666.00 |
| 1,168 | MARKERS | | White Board Marker | Packet | 81.00 | 86.00 | 85.00 | 84.00 |
| 1,169 | MARKERS | | White Board Marker | Box 100 pkt | 8,547.00 | 9,059.00 | 8,974.00 | 8,889.00 |
| 1,170 | HIGHLIGHTERS | | Assorted | Packet | 41.00 | 44.00 | 43.00 | 43.00 |
| 1,171 | HIGHLIGHTERS | | Assorted | Box of 10 pkt | 358.00 | 380.00 | 376.00 | 373.00 |
| 1,172 | CHALK | | White Chalk | Box | 41.00 | 44.00 | 43.00 | 43.00 |
| 1,173 | CHALK | | White Chalk | Carton | 2,137.00 | 2,265.00 | 2,244.00 | 2,222.00 |
| 1,174 | CHALK | | Coloured Chalk | Box | 81.00 | 86.00 | 85.00 | 84.00 |
| 1,175 | CHALK | | Coloured Chalk | Carton of 60 pkt | 2,696.00 | 2,858.00 | 2,831.00 | 2,804.00 |
| 1,176 | SLATE | | Free-Arm Board (Slate) | Carton of 120 pcs | 5,325.00 | 5,645.00 | 5,591.00 | 5,538.00 |
| 1,177 | RUBBER BAND | | Rubber Band *Small Size* | Packet | 35.00 | 37.00 | 36.00 | 36.00 |
| 1,178 | RUBBER BAND | | Rubber Band *Small Size* | Carton | 1,548.00 | 1,641.00 | 1,625.00 | 1,610.00 |
| 1,179 | RUBBER BAND | | Rubber Band *Medium Size* | Packet | 40.00 | 42.00 | 41.00 | 41.00 |
| 1,180 | RUBBER BAND | | Rubber Band *Medium Size* | Carton | 1,825.00 | 1,935.00 | 1,916.00 | 1,898.00 |
| 1,181 | RUBBER BAND | | Rubber Band *Large Size* | Packet | 137.00 | 145.00 | 143.00 | 142.00 |
| 1,182 | RUBBER BAND | | Rubber Band * Large Size* | Carton | 7,738.00 | 8,202.00 | 8,124.00 | 8,047.00 |
| 1,183 | RULER | | Plastic Ruler | 30cm Box | 451.00 | 479.00 | 474.00 | 470.00 |
| 1,184 | RULER | | Plastic Ruler | Carton of 1440 pcs | 8,681.00 | 9,202.00 | 9,115.00 | 9,029.00 |
| 1,185 | RULER | | Board Ruler | 3ft Box | 217.00 | 230.00 | 228.00 | 226.00 |
| 1,186 | RULER | | Board Ruler | 3ft Carton of 60 pcs | 2,137.00 | 2,265.00 | 2,244.00 | 2,222.00 |
| 1,187 | MATHEMATICAL SET | | Student Mathematical Set | Carton of 144 pcs | 518.00 | 549.00 | 544.00 | 539.00 |
| 1,188 | MATHEMATICAL SET | | Blackboard Mathematical Set | Set | 690.00 | 731.00 | 725.00 | 718.00 |
| 1,189 | SCISSORS | | Small size | Ea | 28.00 | 30.00 | 29.00 | 29.00 |
| 1,190 | SCISSORS | | Small size | Carton | 2,033.00 | 2,155.00 | 2,135.00 | 2,114.00 |
| 1,191 | SCISSORS | | Medium Size | Ea | 38.00 | 40.00 | 40.00 | 39.00 |
| 1,192 | SCISSORS | | Medium Size | Carton | 1,295.00 | 1,373.00 | 1,360.00 | 1,347.00 |
| 1,193 | SCISSORS | | Large Size | Ea | 89.00 | 94.00 | 93.00 | 92.00 |
| 1,194 | SCISSORS | | Large Size | Carton | 1,794.00 | 1,902.00 | 1,884.00 | 1,866.00 |
| 1,195 | STAPLER | | Small Size | Ea | 92.00 | 98.00 | 97.00 | 96.00 |
| 1,196 | STAPLER | | Small Size | Carton of 144 pcs | 12,820.00 | 13,589.00 | 13,461.00 | 13,333.00 |
| 1,197 | STAPLER | | Large Size | Ea | 191.00 | 202.00 | 200.00 | 198.00 |
| 1,198 | STAPLER | | Large Size | Carton of 96 pcs | 16,993.00 | 18,013.00 | 17,843.00 | 17,673.00 |
| 1,199 | STAPLER | | Giant Size | Ea | 352.00 | 373.00 | 369.00 | 366.00 |
| 1,200 | STAPLER | | Giant Size | Carton of 12 pcs | 4,273.00 | 4,530.00 | 4,487.00 | 4,444.00 |
| 1,201 | CLIP FASTENER | | Standard Size | Packet | 18.00 | 19.00 | 19.00 | 19.00 |
| 1,202 | CLIP FASTENER | | Standard Size | Carton of 100 pkt | 1,908.00 | 2,023.00 | 2,004.00 | 1,985.00 |
| 1,203 | CLIPS | | Paper Clip *Small Size* 33mm | Packet | 10.00 | 10.00 | 10.00 | 10.00 |
| 1,204 | CLIPS | | Paper Clip *Small Size* 33mm | Carton of 100 pkt | 938.00 | 994.00 | 984.00 | 975.00 |
| 1,205 | CLIPS | | Paper Clip *Medium Size* | Packet | 31.00 | 33.00 | 33.00 | 33.00 |
| 1,206 | CLIPS | | Paper Clip *Medium Size* | Carton | 2,596.00 | 2,752.00 | 2,726.00 | 2,700.00 |
| 1,206 | CLIPS | | Paper Clip *Large Size* | Packet | 43.00 | 45.00 | 45.00 | 45.00 |
| 1,207 | CLIPS | | Paper Clip *Large Size* | Carton of 100 pcs | 1,892.00 | 2,005.00 | 1,986.00 | 1,967.00 |
| 1,208 | CLIPS | | Paper Clip *Small Size* | Packet | 10.00 | 10.00 | 10.00 | 10.00 |
| 1,209 | CLIPS | | Paper Clip *Small Size* | Carton | 4,721.00 | 5,004.00 | 4,957.00 | 4,910.00 |
| 1,210 | CLIPS | | Paper Clip *Large Size* | Packet | 26.00 | 28.00 | 28.00 | 27.00 |
| 1,211 | CLIPS | | Paper Clip *Large Size* | Carton | 1,892.00 | 2,005.00 | 1,986.00 | 1,967.00 |
| 1,212 | STAPLE PINS | | Small Staples * 24/6* | Packet | 140.00 | 148.00 | 147.00 | 145.00 |
| 1,213 | STAPLE PINS | | Small Staples * 24/6* | Carton of 100 pkt | 3,125.00 | 3,313.00 | 3,281.00 | 3,250.00 |
| 1,214 | STAPLE PINS | | Giant Staples* 26/6* | Packet | 131.00 | 139.00 | 137.00 | 136.00 |
| 1,215 | STAPLE PINS | | Giant Staples* 26/6* | Carton of 200 pkt | 3,793.00 | 4,021.00 | 3,983.00 | 3,945.00 |
| 1,216 | STRAIGHT PINS | | Straight T Pins | Pkt | 95.00 | 101.00 | 100.00 | 99.00 |
| 1,217 | STRAIGHT PINS | | Straight T Pins | Carton of 300 pkt | 8,461.00 | 8,968.00 | 8,884.00 | 8,799.00 |
| 1,218 | PAPER PUNCHING MACHINE | | Single/One Hole 4.5 Paper Punch | Ea | 99.00 | 105.00 | 104.00 | 103.00 |
| 1,219 | PAPER PUNCHING MACHINE | | Single/One Hole 4.5 Paper Punch | Carton of 60 pcs | 5,358.00 | 5,680.00 | 5,626.00 | 5,573.00 |
| 1,220 | PAPER PUNCHING MACHINE | | Double Hole * 10 Pages * | Ea | 168.00 | 178.00 | 176.00 | 175.00 |
| 1,221 | PAPER PUNCHING MACHINE | | Double Hole * 10 Pages * | Carton of 30 pcs | 5,263.00 | 5,579.00 | 5,527.00 | 5,474.00 |
| 1,222 | PAPER PUNCHING MACHINE | | Double Hole * 20 Pages * | Ea | 198.00 | 209.00 | 207.00 | 205.00 |
| 1,223 | PAPER PUNCHING MACHINE | | Double Hole * 20 Pages * | Carton of 12 pcs | 2,253.00 | 2,389.00 | 2,366.00 | 2,343.00 |
| 1,224 | PAPER PUNCHING MACHINE | | Heavy Duty *Double Hole* | Ea | 2,493.00 | 2,642.00 | 2,617.00 | 2,592.00 |
| 1,225 | PAPER PUNCHING MACHINE | | Heavy Duty *Double Hole* | Carton of 12 pcs | 1,510.00 | 1,601.00 | 1,586.00 | 1,570.00 |
| 1,226 | BUSINESS CALCULATOR | | 12 Digits *Small * | Ea | 198.00 | 209.00 | 207.00 | 205.00 |
| 1,227 | BUSINESS CALCULATOR | | 12 Digits *Small * | Carton of 120 pcs | 2,270.00 | 2,406.00 | 2,384.00 | 2,361.00 |
| 1,228 | BUSINESS CALCULATOR | | 12 Digits *Large* | Ea | 280.00 | 296.00 | 294.00 | 291.00 |
| 1,229 | BUSINESS CALCULATOR | | 12 Digits *Large* | Carton | 3,388.00 | 3,592.00 | 3,558.00 | 3,524.00 |
| 1,230 | SCIENTIFIC CALCULATOR | | 12 Digits *Large* | Ea | 260.00 | 276.00 | 273.00 | 271.00 |
| 1,231 | SCIENTIFIC CALCULATOR | | 12 Digits *Large* | Carton | 2,757.00 | 2,923.00 | 2,895.00 | 2,868.00 |
| 1,232 | CALCULATOR | | Calculator with Tape* (adding machine) | Ea | 28,225.00 | 29,919.00 | 29,636.00 | 29,354.00 |
| 1,233 | CALCULATOR | | Calculator with Tape* (adding machine) | Carton | 99,458.00 | 105,426.00 | 104,431.00 | 103,437.00 |
| 1,234 | CELLOTAPE | | Transparent *Small* 25mm x 25m | Roll | 28.00 | 30.00 | 29.00 | 29.00 |
| 1,235 | CELLOTAPE | | Transparent *Small* 25mm x 25m | Carton of 72 pcs | 2,093.00 | 2,219.00 | 2,198.00 | 2,177.00 |
| 1,236 | CELLOTAPE | | Transparent *Large* 75mm x 25m | Roll | 191.00 | 203.00 | 201.00 | 199.00 |
| 1,237 | CELLOTAPE | | Transparent *Large* 75mm x 25m | Carton | 2,093.00 | 2,219.00 | 2,198.00 | 2,177.00 |
| 1,238 | CELLOTAPE | | Brown *Large* 75mm x 25m | Roll | 198.00 | 209.00 | 207.00 | 205.00 |
| 1,239 | CELLOTAPE | | Brown *Large* 75mm x 25m | Carton | 1,358.00 | 1,440.00 | 1,426.00 | 1,413.00 |
| 1,240 | MASKING TAPE | | Medium Size | Packet | 198.00 | 209.00 | 207.00 | 205.00 |
| 1,241 | BINDING SHEETS | | Covers *Plastic* A4 * (White / Coloured) | Box | 1,892.00 | 2,005.00 | 1,986.00 | 1,967.00 |
| 1,242 | BINDING COMB | | 8 mm* | Box | 296.00 | 314.00 | 311.00 | 308.00 |
| 1,243 | BINDING COMB | | 6 mm * | Box | 412.00 | 436.00 | 432.00 | 428.00 |
| 1,244 | BINDDING COMB | | 10mm* | Box | 428.00 | 454.00 | 450.00 | 445.00 |
| 1,245 | BINDDING COMB | | 12mm* | Box | 609.00 | 646.00 | 640.00 | 634.00 |
| 1,246 | BINDDING COMB | | 16mm* | Box | 626.00 | 663.00 | 657.00 | 651.00 |
| 1,247 | BINDDING COMB | | 20mm* | Box | 609.00 | 646.00 | 640.00 | 634.00 |
| 1,248 | BINDING COMB MACHINE | | 24 Holes Comb Binding Machine | Ea | 954.00 | 1,011.00 | 1,002.00 | 992.00 |
| 1,249 | BINDING COMB MACHINE | | 25 Holes Comb Binding Machine | Carton | 2,829.00 | 2,999.00 | 2,971.00 | 2,942.00 |
| 1,250 | GLUE STICK | | 32 gm | Ea | 20.00 | 21.00 | 21.00 | 21.00 |
| 1,251 | GLUE STICK | | 32 gm | Carton of 288 pcs | 5,481.00 | 5,810.00 | 5,755.00 | 5,701.00 |
| 1,252 | GLUE STICK | | Paper Glue * Small * 15g | Ea | 17.00 | 18.00 | 18.00 | 17.00 |
| 1,253 | GLUE STICK | | Paper Glue * Small * 15g | Carton | 1,547.00 | 1,639.00 | 1,624.00 | 1,609.00 |
| 1,254 | GLUE STICK | | Paper Glue * Medium * 21g | Ea | 28.00 | 30.00 | 29.00 | 29.00 |
| 1,255 | GLUE STICK | | Paper Glue * Medium * 21g | Carton | 2,829.00 | 2,999.00 | 2,971.00 | 2,942.00 |
| 1,256 | GLUE STICK | | Paper Glue * Large * 36g | Ea | 43.00 | 45.00 | 45.00 | 45.00 |
| 1,257 | GLUE STICK | | Paper Glue * Large * 36g | Carton | 3,783.00 | 4,010.00 | 3,973.00 | 3,935.00 |
| 1,258 | INK | | Printing Ink Black 2.5kilo | Tin | 1,490.00 | 1,579.00 | 1,565.00 | 1,550.00 |
| 1,259 | INK | | Printing Ink Gyan 2.5kilo | Tin | 1,366.00 | 1,448.00 | 1,434.00 | 1,420.00 |
| 1,260 | INK | | Printing Ink Yellow 2.5kilo | Tin | 1,349.00 | 1,430.00 | 1,417.00 | 1,403.00 |
| 1,261 | INK | | Printing Ink Magenta 2.5kilo | Tin | 1,359.00 | 1,441.00 | 1,427.00 | 1,414.00 |
| 1,262 | INK | | Printing Ink Green 2.5kilo | Tin | 1,363.00 | 1,444.00 | 1,431.00 | 1,417.00 |
| 1,263 | INK | | Riso Ink Ez | Tin | 280.00 | 296.00 | 294.00 | 291.00 |
| 1,264 | PLATE | | Plate Cleaner | Liter | 681.00 | 722.00 | 715.00 | 709.00 |
| 1,265 | PLATE | | Kord Plate 650x 550X0.3mm 50 Sheet | Ream | 490.00 | 519.00 | 515.00 | 510.00 |
| 1,266 | Quire Book No. 3 | | TREELINE A4 Counter Book 3 Quire Feint And Margin | Pkt | 196.00 | 208.00 | 206.00 | 204.00 |
| 1,267 | Quire Book No. 4 | | Generic Kartasi Counter Book A4 - 4 Quire | pkt | 265.00 | 280.00 | 278.00 | 275.00 |
| 1,268 | Endorsing Ink | | 30ml | Pkt | 280.00 | 296.00 | 294.00 | 291.00 |
| 1,269 | Flat files with clips | | Durable A4 Size Pvc Flat File With Clip-50 Pcs/Box | Box | 594.00 | 629.00 | 623.00 | 617.00 |
| 1,270 | Gloy Paste | | Gloy Paste Squeeze Pack | ctn | 1,510.00 | 1,601.00 | 1,586.00 | 1,570.00 |
| 1,271 | Manifold Paper | | 28gsm-32gsm ( 500sheet/ream) | Ream | 1,475.00 | 1,564.00 | 1,549.00 | 1,534.00 |
| 1,272 | Desk Pad | | dimensions: M (30 cm x 62 cm = 11.8″ x 24.4″). L (30 cm x 90 cm = 11.8″ x 35.4″) | Ea | 535.00 | 567.00 | 562.00 | 556.00 |
| 1,273 | Blackboard renovator | | 1L Quick Dry Blackboard Paint - Black | Ea | 974.00 | 1,033.00 | 1,023.00 | 1,013.00 |
| 1,274 | Selotape Separator | | | Ea | 434.00 | 460.00 | 456.00 | 451.00 |
| 1,275 | A4 Diary | | 21cm x 29cm | ctn | 2,689.00 | 2,850.00 | 2,823.00 | 2,796.00 |
| 1,276 | Typing Carbon | | | ctn | 5,363.00 | 5,684.00 | 5,631.00 | 5,577.00 |
| 1,277 | Security Paper | | | Ea | 1,576.00 | 1,670.00 | 1,654.00 | 1,639.00 |
| 1,278 | Paper Shredder | | | Ea | 1,722.00 | 1,825.00 | 1,808.00 | 1,791.00 |
| 1,279 | Paper Cutter | | | Ea | 1,148.00 | 1,217.00 | 1,206.00 | 1,194.00 |
| 1,280 | News Print Paper | | | Ea | 910.00 | 964.00 | 955.00 | 946.00 |
| 1,281 | Magic Marker | | | Set | 148.00 | 156.00 | 155.00 | 153.00 |
| 1,282 | White Board | | | Ea | 965.00 | 1,023.00 | 1,013.00 | 1,004.00 |
| 1,283 | Notice Board | | | Ea | 3,742.00 | 3,966.00 | 3,929.00 | 3,891.00 |
| 1,284 | File Folder | | | Ea | 765.00 | 811.00 | 803.00 | 796.00 |
| 1,285 | Black Board | | | Ea | 1,060.00 | 1,124.00 | 1,113.00 | 1,102.00 |
| 1,285 | Vanguard gold | | A4 Size | pkt | 774.00 | 820.00 | 812.00 | 805.00 |
| 1,285 | vanguard white | | A4 Size | pkt | 68.00 | 72.00 | 71.00 | 70.00 |
| 1,285 | Bindding plastic | | A4 Size | Ea | 110.00 | 117.00 | 116.00 | 114.00 |
| 1,285 | Removable self stick notes | | | Ea | | | | |
| 1,285 | flip chart stand | | | Ea | 1,000.00 | 1,060.00 | 1,050.00 | 1,040.00 |
| 1,285 | A4 size envelop | | | Ea | 80.00 | 85.00 | 84.00 | 83.00 |
| 1,285 | A3 Size envelop | | | Ea | 200.00 | 212.00 | 210.00 | 208.00 |
| 1,285 | A5 Size Envelop | | | Ea | 50.00 | 53.00 | 53.00 | 52.00 |
| 1,285 | Stamp pad Ink | | | Ea | 30.00 | 32.00 | 32.00 | 31.00 |
| 1,285 | Quire Ledger | | | Ea | 50.00 | 53.00 | 53.00 | 52.00 |
Generated by wpDataTables
Download Full SECOND (2nd) Quarter2023 Price Norm
NATIONAL PUBLIC PROCUREMENT AUTHORITY
PRICE NORM  
FIRST (1st) QUARTER

2023
| Product Code | Product | Product Image | Product Specification | Unit of Measure | WESTERN AREA | EASTERN PROVINCE | SOUTHERN PROVINCE | NORTHERN PROVINCE |
| --- | --- | --- | --- | --- | --- | --- | --- | --- |
| 1,001 | PAPER | | A4*210x297mm*80 gsm* 1x500 Sheets*Plain White | Ream (Packet) | 103.00 | 109.36 | 107.00 | 108.00 |
| 1,002 | PAPER | | A4*210x297mm*80 gsm* 5x500 Sheets*Plain White | Carton of 5 Packets | 507.00 | 537.60 | 527.00 | 533.00 |
| 1,003 | PAPER | | A4*210x297mm*80 GSM* 1x500 Sheets*Coloured* | Ream (Packet) | 137.00 | 144.87 | 142.00 | 144.00 |
| 1,004 | PAPER | | A4*210x297mm*80 GSM* 1x500 Sheets*Coloured* | Carton of 5 Packets | 677.00 | 717.97 | 704.00 | 711.00 |
| 1,005 | PAPER | | A4*210x297mm*80 gsm* 5x500 Sheets*Coloured* | Carton of 5 Packets | 677.00 | 717.97 | 704.00 | 711.00 |
| 1,006 | PAPER | | A4 Size *1x50 sheets Conqurer Paper (fibers security paper) | Ream (Packet) | 171.00 | 181.44 | 178.00 | 180.00 |
| 1,007 | PAPER | | A4 Size* Certificate Cards* 210x297mm (21 cm x 29.7 cm) *160 GSM* 1x25 sheets (Assorted) | Ream (Packet) | 341.00 | 361.11 | 354.00 | 358.00 |
| 1,008 | PAPER | | A4 Size* Certificate Cards* 210x297mm (21 cm x 29.7 cm) *160 GSM* 1x1000 sheets (Assorted) | Carton | 1,698.00 | 1,799.53 | 1,766.00 | 1,783.00 |
| 1,009 | PAPER | | A4 size Glossy *Printing Cards- * White* (100 sheet) | Ream (Packet) | 341.00 | 361.11 | 354.00 | 358.00 |
| 1,010 | PAPER | | A4 size Glossy *Printing Cards- * White* | Carton | 1,698.00 | 1,800.23 | 1,766.00 | 1,783.00 |
| 1,011 | PAPER | | A4 High Quality Invitation Cards* (100 sheets) | Packet | 1,698.00 | 1,800.23 | 1,766.00 | 1,783.00 |
| 1,012 | PAPER | | A4 High Quality Invitation Cards* | Carton/Box | 8,480.00 | 8,989.15 | 8,820.00 | 8,904.00 |
| 1,013 | PAPER | | A3 Paper 80gsm (297mm x 420mm) - 1x500 Sheets | Ream (Packet) | 256.00 | 271.80 | 267.00 | 269.00 |
| 1,014 | PAPER | | A3 Paper 80gsm (297mm x 420mm) - 5x500 Sheets | Carton | 1,274.00 | 1,350.18 | 1,325.00 | 1,337.00 |
| 1,015 | PAPER | | A3 *120 gsm* 5x250 Sheets *Plain White* | Ream | 341.00 | 361.11 | 354.00 | 358.00 |
| 1,016 | PAPER | | A3 *120 gsm* 5x250 Sheets *Plain White* | Carton | 1,697.00 | 1,799.17 | 1,765.00 | 1,782.00 |
| 1,017 | PAPER | | Double A A3 80 gsm Ream Paper, 1x500 Sheets | Ream | 341.00 | 361.11 | 354.00 | 358.00 |
| 1,018 | PAPER | | Double A A3 80 gsm 5x500 Sheets | Box | 1,277.00 | 1,353.71 | 1,328.00 | 1,341.00 |
| 1,019 | PAPER | | A3 Vanguard*Coloured Card 180gsm* (50 Sheets) | Packet x 100 pkt | 858.00 | 908.95 | 892.00 | 900.00 |
| 1,020 | PAPER | | A3 Vanguard*Coloured Card 180gsm (50 Sheets) | Carton (Box) | 8,480.00 | 8,988.80 | 8,819.00 | 8,904.00 |
| 1,021 | PAPER | | A3 Tracing Paper | Yards | 36.00 | 37.98 | 37.00 | 38.00 |
| 1,022 | PAPER | | A3 Tracing Paper | Roll X25 Yards | 848.00 | 899.06 | 882.00 | 891.00 |
| 1,023 | PAPER | | Brown Paper (250 Sheet) | Ream | 4,244.00 | 4,498.82 | 4,414.00 | 4,456.00 |
| 1,024 | PAPER | | Computer Paper *Carbonless 9.5" X 8" * single PLY * Plain | Box | 858.00 | 908.95 | 892.00 | 900.00 |
| 1,025 | PAPER | | Computer Paper *Carbonless 9.5" X 8" * Double PLY * Plain | | 1,277.00 | 1,353.71 | 1,328.00 | 1,341.00 |
| 1,026 | PAPER | | Computer Paper * Carbonless* 9.5" X 11" * Single Ply * Plain | Box | 848.00 | 898.35 | 881.00 | 890.00 |
| 1,027 | PAPER | | Computer Paper * Carbonless* 9.5" X 11" * Double Ply * Plain | Box | 1,188.00 | 1,258.75 | 1,235.00 | 1,247.00 |
| 1,028 | PAPER | | Computer Paper *Carbonless* 9.5" X 11" * 3 Ply* Plain | Box | 6,509.00 | 6,899.72 | 6,770.00 | 6,835.00 |
| 1,029 | PAPER | | Computer Paper * 9.5" X 11" * Single Ply * ruled | Box | 1,188.00 | 1,258.75 | 1,235.00 | 1,247.00 |
| 1,030 | PAPER | | Computer Paper * Carbonless* 9.5" X 11" * Double Ply * ruled | Box | 1,188.00 | 1,258.75 | 1,235.00 | 1,247.00 |
| 1,031 | PAPER | | Computer Paper * Carbonless 9.5" X 11" * 3 ply * ruled | Box | 1,188.00 | 1,258.75 | 1,235.00 | 1,247.00 |
| 1,032 | PAPER | | Computer Paper * Carbonless* 14" X 11" * Double Ply * ruled | Box | 1,188.00 | 1,258.75 | 1,235.00 | 1,247.00 |
| 1,033 | PAPER | | White Bond paper 500 sheet 80 Gsm 640X9000 | Ream | 1,188.00 | 1,258.75 | 1,235.00 | 1,247.00 |
| 1,034 | PAPER | | Blue Bone Paper 250 Sheet 80 Gsm 640X900 | Ream | 1,188.00 | 1,258.75 | 1,235.00 | 1,247.00 |
| 1,035 | PAPER | | Green Bone Paper 250 Sheet 80 Gsm 640X900 | Ream | 1,188.00 | 1,258.75 | 1,235.00 | 1,247.00 |
| 1,036 | PAPER | | Yellow Bone Paper 250 Sheet 80 Gsm 640X900 | Ream | 1,188.00 | 1,258.75 | 1,235.00 | 1,247.00 |
| 1,037 | PAPER | | Pink Bone Paper 250 Sheet 80 Gsm 640X900 | Ream | 1,188.00 | 1,258.75 | 1,235.00 | 1,247.00 |
| 1,038 | PAPER | | White Manila 100 Sheet 180 Gsm 640x900 | Ream | 678.00 | 719.03 | 705.00 | 712.00 |
| 1,039 | PAPER | | Blue Manila 100 Sheet 180 Gsm 640x900 | Ream | 678.00 | 719.03 | 705.00 | 712.00 |
| 1,040 | PAPER | | Green Manila 100 Sheet 180 Gsm 640x900 | Ream | 678.00 | 719.03 | 705.00 | 712.00 |
| 1,041 | PAPER | | Yellow Manila 100 Sheet 180 Gsm 640x900 | Ream | 678.00 | 719.03 | 705.00 | 712.00 |
| 1,042 | PAPER | | Art Manila 250 Gsm 100 Sheet 640x 900 | Ream | 678.00 | 719.03 | 705.00 | 712.00 |
| 1,043 | PAPER | | Art Paper 115 Gsm 500 Sheet 640x 900 | Ream | 1,188.00 | 1,258.75 | 1,235.00 | 1,247.00 |
| 1,044 | PAPER | | Yellow Carbon paper 500 Sheet 450x 640 | Ream | 1,188.00 | 1,258.75 | 1,235.00 | 1,247.00 |
| 1,045 | PAPER | | Green Carbon paper 500 Sheet 450x 640 | Ream | 1,188.00 | 1,258.75 | 1,235.00 | 1,247.00 |
| 1,046 | PAPER | | Pink Carbon paper 500 Sheet 450x 640 | Ream | 1,188.00 | 1,258.75 | 1,235.00 | 1,247.00 |
| 1,047 | PAPER | | White Bank Paper 500 Sheet 640x 900 | Ream | 1,188.00 | 1,258.75 | 1,235.00 | 1,247.00 |
| 1,048 | PAPER | | Blue Bank Paper 500 Sheet 640x 900 | Ream | 1,188.00 | 1,258.75 | 1,235.00 | 1,247.00 |
| 1,049 | PAPER | | Green Bank Paper 500 Sheet 640x 900 | Ream | 1,188.00 | 1,258.75 | 1,235.00 | 1,247.00 |
| 1,050 | PAPER | | Yellow Bank Paper 500 Sheet 640x 900 | Ream | 1,188.00 | 1,258.75 | 1,235.00 | 1,247.00 |
| 1,051 | PAPER | | Pink Bank Paper 500 Sheet 640x 900 | Ream | 1,188.00 | 1,258.75 | 1,235.00 | 1,247.00 |
| 1,052 | PAPER | | Colour Computer Forms 9.5" x 11" * 4 Ply * Inch White Pink Blue and Yellow | Box | 1,300.00 | 1,378.00 | 1,352.00 | 1,365.00 |
| 1,053 | PAPER | | News Print Paper * 60 gsm *450 x 200* | Packet | 680.00 | 720.80 | 707.00 | 714.00 |
| 1,054 | PAPER | | News print paper * 60 gsm *450 x 640* | Box | 3,397.00 | 3,600.47 | 3,533.00 | 3,567.00 |
| 1,055 | PAPER | | Manilla Coloured Paper* 180 gm * 450 X 350* | Packet | 137.00 | 144.87 | 142.00 | 144.00 |
| 1,056 | PAPER | | Art Card * 640 X 900 * 300gsm * 50 Sheets* | Pieces | 852.00 | 902.59 | 886.00 | 894.00 |
| 1,057 | PAPER | | Art Card * 640 X 900 * 300gsm * 50 Sheets* | Packet | 852.00 | 902.59 | 886.00 | 894.00 |
| 1,058 | PAPER | | A4 Carbon Transfer Paper | Packet | 86.00 | 91.43 | 90.00 | 91.00 |
| 1,059 | PAPER | | A4 Carbon Transfer Paper | Box x 50 pkt | 4,241.00 | 4,495.28 | 4,410.00 | 4,453.00 |
| 1,060 | PAPER | | 200pcs A4 Black Carbon Transfer Tracing Graphite Paper (Writing Carbon) | Packet | 7.00 | 7.24 | 7.00 | 7.00 |
| 1,061 | PAPER | | A4 Size Writing Carbon | Packet | 86.00 | 91.43 | 90.00 | 91.00 |
| 1,062 | Envelope | | DL White Peel & Seal Envelopes 100gsm: 110 x 220 | Packet | 31.00 | 32.77 | 32.00 | 32.00 |
| 1,063 | Envelope | | C3 Size * 458mm 324mm * To fit unfolded A3 paper | Packet | 86.00 | 91.43 | 90.00 | 91.00 |
| 1,064 | Envelope | | C4 Size *324mm x 229mm Envelopes Peel & Seal Pocket 100 GSM | Packet | 91.00 | 96.73 | 95.00 | 96.00 |
| 1,065 | Envelope | | C4 Size * 324mm x 229mm * To fit unfolded A4 paper | Packet | 54.00 | 56.98 | 56.00 | 56.00 |
| 1,066 | Envelope | | C5 * 162mmX 229mm * To fit A4 paper folded in half | Packet | 54.00 | 56.98 | 56.00 | 56.00 |
| 1,067 | Envelope | | C6 * 114mm x162mm * To fit A4 paper folded in 4 | Packet | 29.00 | 30.25 | 30.00 | 30.00 |
| 1,068 | Envelope | | B4 * 250mm x352* To fit A4 paper unfolded* ideal for thicker documents | Packet | 26.00 | 27.83 | 27.00 | 28.00 |
| 1,069 | Envelope | | 5" x 5" Square Envelopes 130mm x 130mm * ideal for Invitations etc* | Packet | 173.00 | 183.56 | 180.00 | 182.00 |
| 1,070 | Envelope | | X-ray*10" X 14"* (Small) | Packet | 429.00 | 454.30 | 446.00 | 450.00 |
| 1,071 | Envelope | | X-ray*13" X 19"*(Medium) | Packet | 513.00 | 543.25 | 533.00 | 538.00 |
| 1,072 | Envelope | | X-ray*17" X 24"* F16 Size 240x350mm (Large) | Packet | 428.00 | 453.59 | 445.00 | 449.00 |
| 1,073 | | | X-ray*22" X 30"*(XL) | Packet | 428.00 | 453.59 | 445.00 | 449.00 |
| 1,074 | Book | | Logbook /Way Book * Column Approximately *120 Pages* | Ea | 426.00 | 451.83 | 443.00 | 448.00 |
| 1,075 | Book | | *Foolscap Book *Ruled* Approximately 150 Pages* | Ea | 591.00 | 626.55 | 615.00 | 621.00 |
| 1,076 | BOOK | | Ledger Book *12 Columns 2Q /4Q | Ea | 504.00 | 534.42 | 524.00 | 529.00 |
| 1,077 | BOOK | | Ledger Book *12 Columns 2Q /4Q | Carton/Box | 5,089.00 | 5,393.99 | 5,292.00 | 5,343.00 |
| 1,078 | BOOK | | Analysis Book *32 Columns* /27/24 | Ea | 853.00 | 903.65 | 887.00 | 895.00 |
| 1,079 | BOOK | | Address Book * App 180 Pages * | Ea | 68.00 | 72.43 | 71.00 | 72.00 |
| 1,080 | BOOK | | Address Book * App 180 Pages * | Box | 1,293.00 | 1,370.05 | 1,344.00 | 1,357.00 |
| 1,081 | BOOK | | Shorthand Notebook* 128 X 203 mm* 70 Pages* | Packet | 172.00 | 181.79 | 178.00 | 180.00 |
| 1,082 | BOOK | | Shorthand Notebook* 128 X 203 mm* 70 Pages* | Box x 192 Pcs | 2,029.00 | 2,150.30 | 2,110.00 | 2,130.00 |
| 1,083 | BOOK | | Shorthand Notebook* 127 X 203 mm* 160 Pages* | 300 Pages x 6 Packet | 34.00 | 35.51 | 35.00 | 35.00 |
| 1,084 | BOOK | | Shorthand Notebook* 127 X 203 mm* 160 Pages* | Box | 2,036.00 | 2,157.81 | 2,117.00 | 2,137.00 |
| 1,085 | BOOK | | Shorthand Notebook* 5" x 8" (127 x 203mm) 300 Pages* | Packet | 208.00 | 220.13 | 216.00 | 218.00 |
| 1,086 | BOOK | | Shorthand Notebook* 5" x 8" (127 x 203mm) 300 Pages* | Box x 120 pcs | 4,067.00 | 4,310.67 | 4,229.00 | 4,270.00 |
| 1,087 | BOOK | | Executive Book *7"X 9"* | Packet | 678.00 | 719.03 | 705.00 | 712.00 |
| 1,088 | BOOK | | Executive Book *7"X 9"* | Box | 4,927.00 | 5,222.27 | 5,124.00 | 5,173.00 |
| 1,089 | BOOK | | School Register * Columns* For Attendance* | Catoon x 175 pkt | 3,438.00 | 3,643.75 | 3,575.00 | 3,609.00 |
| 1,090 | BOOK | | *4 Ruled Exercise Book* 40 Pages* | Packet | 81.00 | 85.33 | 84.00 | 85.00 |
| 1,091 | BOOK | | *3 Double Exercise Book* 40 Pages* | Packet | 81.00 | 85.33 | 84.00 | 85.00 |
| 1,092 | BOOK | | *4 Ruled Exercise Book* 80 Pages* | Packet | 96.00 | 102.03 | 100.00 | 101.00 |
| 1,093 | BOOK | | *3 Double Exercise Book* 80 Pages* | Packet | 96.00 | 102.03 | 100.00 | 101.00 |
| 1,094 | BOOK | | *4 Ruled Exercise Book* 120 Pages * | Packet | 73.00 | 77.56 | 76.00 | 77.00 |
| 1,095 | BOOK | | *3 Double Exercise Book* 120 Pages* | Packet | 101.00 | 106.88 | 105.00 | 106.00 |
| 1,096 | BOOK | | *4 Ruled and Plain Exercise Book* 40 pages* | Packet | 44.00 | 46.11 | 45.00 | 46.00 |
| 1,097 | PADS | | A4 Size *Writing Pads* | Packet | 127.00 | 134.44 | 132.00 | 133.00 |
| 1,098 | PADS | | Post it Pads *Large* | Packet | 35.00 | 37.28 | 37.00 | 37.00 |
| 1,099 | FLIP CHART PAD | | 3m flip chart 25"x30" white, 40 sheets | Ea 25 sheet | 148.00 | 156.53 | 154.00 | 155.00 |
| 1,100 | FLIP CHART PAD | | 3m flip chart 25"x30" white, 40 sheets | Packet x 10 Pcs | 1,293.00 | 1,370.05 | 1,344.00 | 1,357.00 |
| 1,101 | FLIP CHART PAD | | School smart primary chart paper 24"x32", ruled 1½" with dotted midline white, 70 sheets | Ea | 169.00 | 179.32 | 176.00 | 178.00 |
| 1,102 | FLIP CHART PAD | | School smart primary chart paper 24"x32", ruled 1½" with dotted midline white, 70 sheets | Pack of 10 pcs | 171.00 | 181.08 | 178.00 | 179.00 |
| 1,103 | STAMP | | Stamp Pad | Ea | 32.00 | 34.19 | 34.00 | 34.00 |
| 1,104 | STAMP | | Stamp Pad (Double) | Ea | 85.00 | 90.01 | 88.00 | 89.00 |
| 1,105 | STAMP | | Self Inking Rubber Stamp | Ea | 1,082.00 | 1,147.01 | 1,125.00 | 1,136.00 |
| 1,106 | STAMP | | Self Inking Daters | Ea | 404.00 | 428.11 | 420.00 | 424.00 |
| 1,107 | STAMP | | Label Stamps | Ea | 237.00 | 251.04 | 246.00 | 249.00 |
| 1,108 | FILES | | Suspension hook Hanging File | Ea | 17.00 | 18.29 | 18.00 | 18.00 |
| 1,109 | FILES | | Suspension hook Hanging File | Packet | 425.00 | 450.77 | 442.00 | 447.00 |
| 1,110 | FILES | | Foolscap Suspension Files Foolscap | Packet | 630.00 | 668.02 | 655.00 | 662.00 |
| 1,111 | FILES | | IXL *Lever Arch File* 2 Rings* | Ea | 35.00 | 37.28 | 37.00 | 37.00 |
| 1,112 | FILES | | IXL * Lever Arch File* 2 Rings* | Box | 1,696.00 | 1,798.11 | 1,764.00 | 1,781.00 |
| 1,113 | FILES | | IXL * Lever Arch File* 3 Rings* | Ea | 43.00 | 45.89 | 45.00 | 45.00 |
| 1,114 | FILES | | IXL * Lever Arch File* 3 Rings* | Box | 2,122.00 | 2,249.23 | 2,207.00 | 2,228.00 |
| 1,115 | FILES | | Pockets Files/Documents Wallets* | Box | 852.00 | 902.59 | 886.00 | 894.00 |
| 1,116 | FILES | | Manilla File * Flat* Foolscap | Box | 510.00 | 540.78 | 531.00 | 536.00 |
| 1,117 | FILES | | Box File * Foolscap | Ea | 510.00 | 540.78 | 531.00 | 536.00 |
| 1,118 | FILES | | Box File * Foolscap | Carton | 1,931.00 | 2,046.68 | 2,008.00 | 2,027.00 |
| 1,119 | FILES | | Plastic File * Coloured* 12 Inch* | Packet | 82.00 | 86.92 | 85.00 | 86.00 |
| 1,120 | FLIP CHART STAND | | Master of Boards Magnetic Flip Chart with Wheels | Dry Wipe Flipchart/Whiteboard Easel with Extendable Side Arms | Height Adjustable up to 225cm | Clamp for...180 X 180 cm | Set | 573.00 | 607.82 | 596.00 | 602.00 |
| 11,121 | FLIP CHART STAND | | 90cm x 60cm Tripod Whiteboard, Tripod Whiteboard, Magnetic Dry Erase Board/Flipchart Easel Whiteboard, Height Adjustable Stand Board | Set | 851.00 | 901.88 | 885.00 | 893.00 |
| 1,122 | FLIP CHART STAND | | Double Sided Felt Notice Board 1800 x 1200mm Franken Pro Partition System Blue | Set | 1,188.00 | 1,258.75 | 1,235.00 | 1,247.00 |
| 1,123 | FLIP CHART STAND | | Wonderwall Large Drywipe Steel Magnetic Whiteboard with Fixings and Pen Tray (2400 x 1200mm) | Set | 1,940.00 | 2,055.87 | 2,017.00 | 2,036.00 |
| 1,124 | OFFICE TRAY | | Set of Three* Plastic * | Set | 170.00 | 180.02 | 177.00 | 178.00 |
| 1,125 | OFFICE TRAY | | Set of Three* Plastic * | Packet | 170.00 | 180.02 | 177.00 | 178.00 |
| 1,126 | OFFICE TRAY | | Set of Three * Mesh* | Box | 1,696.00 | 1,798.11 | 1,764.00 | 1,781.00 |
| 1,127 | GREEN TAGS | | 100 per Box * Small* | Box | 103.00 | 108.65 | 107.00 | 108.00 |
| 1,128 | GREEN TAGS | | 100 Per Box * Large* | Box | 137.00 | 144.87 | 142.00 | 144.00 |
| 1,129 | DUSTER | | Black Board* Plastic\ Wood* | Packet | 256.00 | 271.10 | 266.00 | 269.00 |
| 1,130 | DUSTER | | Black Board* Plastic\ Wood* | Box | 2,546.00 | 2,698.94 | 2,648.00 | 2,673.00 |
| 1,131 | BELL | | School Hand Bell * 5" Diameter | Ea | 341.00 | 361.46 | 355.00 | 358.00 |
| 1,132 | BELL | | School Hand Bell * 5" Diameter | Box x 12 pcs | 4,068.00 | 4,312.43 | 4,231.00 | 4,272.00 |
| 1,133 | Correction Fluid | | Tipp-Ex Bottle | 30ml Ea | 35.00 | 36.57 | 36.00 | 36.00 |
| 1,134 | Correction Fluid | | Tipp-Ex Bottle | 30ml Packet | 1,032.00 | 1,093.57 | 1,073.00 | 1,083.00 |
| 1,135 | Correction Fluid | | Tipp-Ex Pen Type | 30ml Ea | 18.00 | 18.99 | 19.00 | 19.00 |
| 1,136 | Correction Fluid | | Tipp-Ex Pen Type | 30ml Packet | 207.00 | 219.07 | 215.00 | 217.00 |
| 1,137 | ERASERS | | Typing Eraser with Brush | Packet | 207.00 | 219.07 | 215.00 | 217.00 |
| 1,138 | ERASERS | | Typing Eraser with Brush | Carton of 144 pcs | 4,885.00 | 5,178.45 | 5,081.00 | 5,130.00 |
| 1,139 | ERASERS | | Eraser Large | Packet | 256.00 | 271.45 | 266.00 | 269.00 |
| 1,140 | ERASERS | | Eraser Large | Carton of 60 pkt | 1,529.00 | 1,620.92 | 1,590.00 | 1,606.00 |
| 1,141 | ERASERS | | Eraser Small | Packet | 170.00 | 180.02 | 177.00 | 178.00 |
| 1,142 | ERASERS | | Eraser Small | Carton | 1,700.00 | 1,802.00 | 1,768.00 | 1,785.00 |
| 1,143 | TWINE | | Large | Roll | 255.00 | 270.39 | 265.00 | 268.00 |
| 1,144 | TWINE | | Large | Box | 2,545.00 | 2,697.17 | 2,646.00 | 2,672.00 |
| 1,145 | LAMINATING PLASTIC | | A4 Size | Packet | 257.00 | 272.16 | 267.00 | 270.00 |
| 1,146 | PENS | | Ball Point Pens *Normal quality* (Black, Blue,Red) | Box | 86.00 | 91.07 | 89.00 | 90.00 |
| 1,147 | PENS | | Ball Point Pens *Normal quality* (Black, Blue,Red) | Carton of 80 pkt | 6,782.00 | 7,189.27 | 7,054.00 | 7,121.00 |
| 1,148 | PENS | | Ball Point Pen * High Quality * (Black, Blue,Red) | Box | 104.00 | 109.71 | 108.00 | 109.00 |
| 1,149 | PENS | | Ball Point Pen * High Quality * (Black, Blue,Red) | Carton | 1,117.00 | 1,183.49 | 1,161.00 | 1,172.00 |
| 1,150 | PENS | | Architectural Drawing Pens 0.2,0.3,0.4,0.5 | Box | 0.00 | 0.00 | 0.00 | 0.00 |
| 1,151 | PENS | | Architectural Drawing Pens 0.2,0.3,0.4,0.5 | Carton of 10 boxes | 0.00 | 0.00 | 0.00 | 0.00 |
| 1,152 | PENCILS | | 2B Pencil | Packet | 23.00 | 23.85 | 23.00 | 24.00 |
| 1,153 | PENCILS | | 2B Pencil | Box | 246.00 | 260.41 | 255.00 | 258.00 |
| 1,154 | PENCILS | | 2B Pencil | Carton of 5,760 pcs | 951.00 | 1,007.71 | 989.00 | 998.00 |
| 1,155 | PENCILS | | HB Pencil | Packet | 13.00 | 13.65 | 13.00 | 14.00 |
| 1,156 | PENCILS | | HB Pencil | Box | 187.00 | 197.69 | 194.00 | 196.00 |
| 1,157 | PENCILS | | HB Pencil | Carton of 4,320 pcs | 7,452.00 | 7,899.47 | 7,750.00 | 7,825.00 |
| 1,158 | PENCIL CRAYONS | | Pencil Crayons | Packet | 26.00 | 27.78 | 27.00 | 28.00 |
| 1,159 | PENCIL CRAYONS | | Pencil Crayons | Box | 320.00 | 338.67 | 332.00 | 335.00 |
| 1,160 | PENCIL CRAYONS | | Pencil Crayons | Carton of 480 pcs | 12,209.00 | 12,941.54 | 12,697.00 | 12,819.00 |
| 1,161 | WAX CRAYON | | Wax Crayons | Box | 35.00 | 37.28 | 37.00 | 37.00 |
| 1,162 | WAX CRAYON | | Wax Crayons | Carton of 480 pcs | 16,282.00 | 17,259.27 | 16,934.00 | 17,096.00 |
| 1,163 | SHARPNERS | | Pencil Sharpner *Metal* | Packet | 82.00 | 86.92 | 85.00 | 86.00 |
| 1,164 | SHARPNERS | | Pencil Sharpner *Metal* | Box | 167.00 | 177.37 | 174.00 | 176.00 |
| 1,165 | MARKERS | | Assorted | Packet | 63.00 | 66.25 | 65.00 | 66.00 |
| 1,166 | MARKERS | | Assorted | Box | 1,221.00 | 1,294.26 | 1,270.00 | 1,282.00 |
| 1,167 | MARKERS | | Assorted | Carton of 100 pkt | 6,105.00 | 6,470.95 | 6,349.00 | 6,410.00 |
| 1,168 | MARKERS | | White Board Marker | Packet | 82.00 | 86.92 | 85.00 | 86.00 |
| 1,169 | MARKERS | | White Board Marker | Box 100 pkt | 8,139.00 | 8,627.34 | 8,465.00 | 8,546.00 |
| 1,170 | HIGHLIGHTERS | | Assorted | Packet | 35.00 | 37.28 | 37.00 | 37.00 |
| 1,171 | HIGHLIGHTERS | | Assorted | Box of 10 pkt | 339.00 | 359.69 | 353.00 | 356.00 |
| 1,172 | CHALK | | White Chalk | Box | 34.00 | 35.51 | 35.00 | 35.00 |
| 1,173 | CHALK | | White Chalk | Carton | 2,035.00 | 2,156.75 | 2,116.00 | 2,136.00 |
| 1,174 | CHALK | | Coloured Chalk | Box | 69.00 | 72.79 | 71.00 | 72.00 |
| 1,175 | CHALK | | Coloured Chalk | Carton of 60 pkt | 2,544.00 | 2,696.11 | 2,645.00 | 2,671.00 |
| 1,176 | SLATE | | Free-Arm Board (Slate) | Carton of 120 pcs | 5,088.00 | 5,393.28 | 5,292.00 | 5,342.00 |
| 1,177 | RUBBER BAND | | Rubber Band *Small Size* | Packet | 27.00 | 28.49 | 28.00 | 28.00 |
| 1,178 | RUBBER BAND | | Rubber Band *Small Size* | Carton | 1,581.00 | 1,676.30 | 1,645.00 | 1,660.00 |
| 1,179 | RUBBER BAND | | Rubber Band *Medium Size* | Packet | 28.00 | 29.15 | 29.00 | 29.00 |
| 1,180 | RUBBER BAND | | Rubber Band *Medium Size* | Carton | 1,696.00 | 1,797.76 | 1,764.00 | 1,781.00 |
| 1,181 | RUBBER BAND | | Rubber Band *Large Size* | Packet | 119.00 | 125.88 | 124.00 | 125.00 |
| 1,182 | RUBBER BAND | | Rubber Band * Large Size* | Carton | 7,270.00 | 7,706.47 | 7,561.00 | 7,634.00 |
| 1,183 | RULER | | Plastic Ruler | 30cm Box | 488.00 | 516.93 | 507.00 | 512.00 |
| 1,184 | RULER | | Plastic Ruler | Carton of 1440 pcs | 8,277.00 | 8,773.97 | 8,608.00 | 8,691.00 |
| 1,185 | RULER | | Board Ruler | 3ft Box | 205.00 | 217.65 | 214.00 | 216.00 |
| 1,186 | RULER | | Board Ruler | 3ft Carton of 60 pcs | 2,033.00 | 2,155.33 | 2,115.00 | 2,135.00 |
| 1,187 | MATHEMATICAL SET | | Student Mathematical Set | Carton of 144 pcs | 487.00 | 516.22 | 506.00 | 511.00 |
| 1,188 | MATHEMATICAL SET | | Blackboard Mathematical Set | Set | 679.00 | 720.09 | 707.00 | 713.00 |
| 1,189 | SCISSORS | | Small size | Ea | 26.00 | 27.78 | 27.00 | 28.00 |
| 1,190 | SCISSORS | | Small size | Carton | 2,005.00 | 2,125.65 | 2,086.00 | 2,106.00 |
| 1,191 | SCISSORS | | Medium Size | Ea | 34.00 | 35.51 | 35.00 | 35.00 |
| 1,192 | SCISSORS | | Medium Size | Carton | 1,221.00 | 1,293.91 | 1,269.00 | 1,282.00 |
| 1,193 | SCISSORS | | Large Size | Ea | 86.00 | 91.07 | 89.00 | 90.00 |
| 1,194 | SCISSORS | | Large Size | Carton | 1,751.00 | 1,856.24 | 1,821.00 | 1,839.00 |
| 1,195 | STAPLER | | Small Size | Ea | 86.00 | 90.72 | 89.00 | 90.00 |
| 1,196 | STAPLER | | Small Size | Carton of 144 pcs | 12,207.00 | 12,939.42 | 12,695.00 | 12,817.00 |
| 1,197 | STAPLER | | Large Size | Ea | 170.00 | 180.02 | 177.00 | 178.00 |
| 1,198 | STAPLER | | Large Size | Carton of 96 pcs | 16,278.00 | 17,255.03 | 16,929.00 | 17,092.00 |
| 1,199 | STAPLER | | Giant Size | Ea | 339.00 | 359.52 | 353.00 | 356.00 |
| 1,200 | STAPLER | | Giant Size | Carton of 12 pcs | 4,067.00 | 4,311.37 | 4,230.00 | 4,271.00 |
| 1,201 | CLIP FASTENER | | Standard Size | Packet | 17.00 | 18.29 | 18.00 | 18.00 |
| 1,202 | CLIP FASTENER | | Standard Size | Carton of 100 pkt | 1,855.00 | 1,966.74 | 1,930.00 | 1,948.00 |
| 1,203 | CLIPS | | Paper Clip *Small Size* 33mm | Packet | 9.00 | 9.64 | 9.00 | 10.00 |
| 1,204 | CLIPS | | Paper Clip *Small Size* 33mm | Carton of 100 pkt | 927.00 | 982.31 | 964.00 | 973.00 |
| 1,205 | CLIPS | | Paper Clip *Medium Size* | Packet | 29.00 | 30.33 | 30.00 | 30.00 |
| 1,206 | CLIPS | | Paper Clip *Medium Size* | Carton | 2,474.00 | 2,622.18 | 2,573.00 | 2,597.00 |
| 1,206 | CLIPS | | Paper Clip *Large Size* | Packet | 38.00 | 40.68 | 40.00 | 40.00 |
| 1,207 | CLIPS | | Paper Clip *Large Size* | Carton of 100 pcs | 1,856.00 | 1,967.45 | 1,930.00 | 1,949.00 |
| 1,208 | CLIPS | | Paper Clip *Small Size* | Packet | 9.00 | 9.64 | 9.00 | 10.00 |
| 1,209 | CLIPS | | Paper Clip *Small Size* | Carton | 4,641.00 | 4,919.33 | 4,827.00 | 4,873.00 |
| 1,210 | CLIPS | | Paper Clip *Large Size* | Packet | 20.00 | 20.69 | 20.00 | 20.00 |
| 1,211 | CLIPS | | Paper Clip *Large Size* | Carton | 1,856.00 | 1,967.36 | 1,930.00 | 1,949.00 |
| 1,212 | STAPLE PINS | | Small Staples * 24/6* | Packet | 20.00 | 21.20 | 21.00 | 21.00 |
| 1,213 | STAPLE PINS | | Small Staples * 24/6* | Carton of 100 pkt | 1,859.00 | 1,970.01 | 1,933.00 | 1,951.00 |
| 1,214 | STAPLE PINS | | Giant Staples* 26/6* | Packet | 186.00 | 197.16 | 193.00 | 195.00 |
| 1,215 | STAPLE PINS | | Giant Staples* 26/6* | Carton of 200 pkt | 3,714.00 | 3,936.84 | 3,863.00 | 3,900.00 |
| 1,216 | STRAIGHT PINS | | Straight T Pins | Pkt | 95.00 | 100.17 | 98.00 | 99.00 |
| 1,217 | STRAIGHT PINS | | Straight T Pins | Carton of 300 pkt | 8,352.00 | 8,853.12 | 8,686.00 | 8,770.00 |
| 1,218 | PAPER PUNCHING MACHINE | | Single/One Hole 4.5 Paper Punch | Ea | 95.00 | 100.17 | 98.00 | 99.00 |
| 1,219 | PAPER PUNCHING MACHINE | | Single/One Hole 4.5 Paper Punch | Carton of 60 pcs | 5,570.00 | 5,903.67 | 5,792.00 | 5,848.00 |
| 1,220 | PAPER PUNCHING MACHINE | | Double Hole * 10 Pages * | Ea | 150.00 | 159.00 | 156.00 | 158.00 |
| 1,221 | PAPER PUNCHING MACHINE | | Double Hole * 10 Pages * | Carton of 30 pcs | 5,198.00 | 5,509.88 | 5,406.00 | 5,458.00 |
| 1,222 | PAPER PUNCHING MACHINE | | Double Hole * 20 Pages * | Ea | 184.00 | 194.51 | 191.00 | 193.00 |
| 1,223 | PAPER PUNCHING MACHINE | | Double Hole * 20 Pages * | Carton of 12 pcs | 2,225.00 | 2,358.50 | 2,314.00 | 2,336.00 |
| 1,224 | PAPER PUNCHING MACHINE | | Heavy Duty *Double Hole* | Ea | 4,453.00 | 4,719.65 | 4,631.00 | 4,675.00 |
| 1,225 | PAPER PUNCHING MACHINE | | Heavy Duty *Double Hole* | Carton of 12 pcs | 186.00 | 197.16 | 193.00 | 195.00 |
| 1,226 | BUSINESS CALCULATOR | | 12 Digits *Small * | Ea | 186.00 | 196.63 | 193.00 | 195.00 |
| 1,227 | BUSINESS CALCULATOR | | 12 Digits *Small * | Carton of 120 pcs | 2,225.00 | 2,358.50 | 2,314.00 | 2,336.00 |
| 1,228 | BUSINESS CALCULATOR | | 12 Digits *Large* | Ea | 277.00 | 293.62 | 288.00 | 291.00 |
| 1,229 | BUSINESS CALCULATOR | | 12 Digits *Large* | Carton | 3,342.00 | 3,541.99 | 3,475.00 | 3,509.00 |
| 1,230 | SCIENTIFIC CALCULATOR | | 12 Digits *Large* | Ea | 225.00 | 237.97 | 233.00 | 236.00 |
| 1,231 | SCIENTIFIC CALCULATOR | | 12 Digits *Large* | Carton | 2,672.00 | 2,831.79 | 2,778.00 | 2,805.00 |
| 1,232 | CALCULATOR | | Calculator with Tape* (adding machine) | Ea | 27,844.00 | 29,514.64 | 28,958.00 | 29,236.00 |
| 1,233 | CALCULATOR | | Calculator with Tape* (adding machine) | Carton | 138,719.00 | 147,042.14 | 144,268.00 | 145,655.00 |
| 1,234 | CELLOTAPE | | Transparent *Small* 25mm x 25m | Roll | 29.00 | 30.74 | 30.00 | 30.00 |
| 1,235 | CELLOTAPE | | Transparent *Small* 25mm x 25m | Carton of 72 pcs | 2,008.00 | 2,128.48 | 2,088.00 | 2,108.00 |
| 1,236 | CELLOTAPE | | Transparent *Large* 75mm x 25m | Roll | 169.00 | 178.61 | 175.00 | 177.00 |
| 1,237 | CELLOTAPE | | Transparent *Large* 75mm x 25m | Carton | 2,008.00 | 2,127.95 | 2,088.00 | 2,108.00 |
| 1,238 | CELLOTAPE | | Brown *Large* 75mm x 25m | Roll | 183.00 | 193.98 | 190.00 | 192.00 |
| 1,239 | CELLOTAPE | | Brown *Large* 75mm x 25m | Carton | 1,856.00 | 1,967.36 | 1,930.00 | 1,949.00 |
| 1,240 | MASKING TAPE | | Medium Size | Packet | 186.00 | 196.63 | 193.00 | 195.00 |
| 1,241 | BINDING SHEETS | | Covers *Plastic* A4 * (White / Coloured) | Box | 1,856.00 | 1,967.36 | 1,930.00 | 1,949.00 |
| 1,242 | BINDING COMB | | 8 mm* | Box | 280.00 | 296.80 | 291.00 | 294.00 |
| 1,243 | BINDING COMB | | 6 mm * | Box | 374.00 | 396.44 | 389.00 | 393.00 |
| 1,244 | BINDDING COMB | | 10mm* | Box | 374.00 | 396.44 | 389.00 | 393.00 |
| 1,245 | BINDDING COMB | | 12mm* | Box | 559.00 | 592.54 | 581.00 | 587.00 |
| 1,246 | BINDDING COMB | | 16mm* | Box | 559.00 | 592.54 | 581.00 | 587.00 |
| 1,247 | BINDDING COMB | | 20mm* | Box | 559.00 | 592.54 | 581.00 | 587.00 |
| 1,248 | BINDING COMB MACHINE | | 24 Holes Comb Binding Machine | Ea | 930.00 | 985.80 | 967.00 | 977.00 |
| 1,249 | BINDING COMB MACHINE | | 25 Holes Comb Binding Machine | Carton | 2,783.00 | 2,949.45 | 2,894.00 | 2,922.00 |
| 1,250 | GLUE STICK | | 32 gm | Ea | 20.00 | 21.20 | 21.00 | 21.00 |
| 1,251 | GLUE STICK | | 32 gm | Carton of 288 pcs | 5,346.00 | 5,666.23 | 5,559.00 | 5,613.00 |
| 1,252 | GLUE STICK | | Paper Glue * Small * 15g | Ea | 16.00 | 16.96 | 17.00 | 17.00 |
| 1,253 | GLUE STICK | | Paper Glue * Small * 15g | Carton | 1,483.00 | 1,571.45 | 1,542.00 | 1,557.00 |
| 1,254 | GLUE STICK | | Paper Glue * Medium * 21g | Ea | 27.00 | 28.62 | 28.00 | 28.00 |
| 1,255 | GLUE STICK | | Paper Glue * Medium * 21g | Carton | 2,783.00 | 2,949.45 | 2,894.00 | 2,922.00 |
| 1,256 | GLUE STICK | | Paper Glue * Large * 36g | Ea | 37.00 | 38.69 | 38.00 | 38.00 |
| 1,257 | GLUE STICK | | Paper Glue * Large * 36g | Carton | 3,712.00 | 3,934.19 | 3,860.00 | 3,897.00 |
| 1,258 | INK | | Printing Ink Black 2.5kilo | Tin | 1,483.00 | 1,571.45 | 1,542.00 | 1,557.00 |
| 1,259 | INK | | Printing Ink Gyan 2.5kilo | Tin | 1,300.00 | 1,377.47 | 1,351.00 | 1,364.00 |
| 1,260 | INK | | Printing Ink Yellow 2.5kilo | Tin | 1,300.00 | 1,377.47 | 1,351.00 | 1,364.00 |
| 1,261 | INK | | Printing Ink Magenta 2.5kilo | Tin | 1,300.00 | 1,377.47 | 1,351.00 | 1,364.00 |
| 1,262 | INK | | Printing Ink Green 2.5kilo | Tin | 1,300.00 | 1,377.47 | 1,351.00 | 1,364.00 |
| 1,263 | INK | | Riso Ink Ez | Tin | 280.00 | 296.80 | 291.00 | 294.00 |
| 1,264 | PLATE | | Plate Cleaner | Liter | 650.00 | 689.00 | 676.00 | 683.00 |
| 1,265 | PLATE | | Kord Plate 650x 550X0.3mm 50 Sheet | Ream | 700.00 | 742.00 | 728.00 | 735.00 |
| 1,266 | Quire Book No. 3 | | TREELINE A4 Counter Book 3 Quire Feint And Margin | Pkt | 283.00 | 299.45 | 294.00 | 297.00 |
| 1,267 | Quire Book No. 4 | | Generic Kartasi Counter Book A4 - 4 Quire | pkt | 283.00 | 299.45 | 294.00 | 297.00 |
| 1,268 | Endorsing Ink | | 30ml | Pkt | 224.00 | 237.44 | 233.00 | 235.00 |
| 1,269 | Flat files with clips | | Durable A4 Size Pvc Flat File With Clip-50 Pcs/Box | Box | 742.00 | 785.99 | 771.00 | 779.00 |
| 1,270 | Gloy Paste | | Gloy Paste Squeeze Pack | ctn | 1,856.00 | 1,967.36 | 1,930.00 | 1,949.00 |
| 1,271 | Manifold Paper | | 28gsm-32gsm ( 500sheet/ream) | Ream | 1,116.00 | 1,182.43 | 1,160.00 | 1,171.00 |
| 1,272 | Desk Pad | | dimensions: M (30 cm x 62 cm = 11.8″ x 24.4″). L (30 cm x 90 cm = 11.8″ x 35.4″) | Ea | 186.00 | 197.16 | 193.00 | 195.00 |
| 1,273 | Blackboard renovator | | 1L Quick Dry Blackboard Paint - Black | Ea | 1,300.00 | 1,377.47 | 1,351.00 | 1,364.00 |
| 1,274 | Selotape Separator | | | Ea | 150.00 | 159.00 | 156.00 | 158.00 |
| 1,275 | A4 Diary | | 21cm x 29cm | ctn | 6,496.00 | 6,885.76 | 6,756.00 | 6,821.00 |
| 1,276 | Typing Carbon | | | ctn | 4,641.00 | 4,919.46 | 4,827.00 | 4,873.00 |
| 1,277 | Security Paper | | | Ea | 37.00 | 38.69 | 38.00 | 38.00 |
| 1,278 | Paper Shredder | | | Ea | 927.00 | 982.62 | 964.00 | 973.00 |
| 1,279 | Paper Cutter | | | Ea | 1,762.00 | 1,867.72 | 1,832.00 | 1,850.00 |
| 1,280 | News Print Paper | | | Ea | 371.00 | 393.26 | 386.00 | 390.00 |
| 1,281 | Magic Marker | | | Set | 62.00 | 65.72 | 64.00 | 65.00 |
| 1,282 | White Board | | | Ea | 1,855.00 | 1,966.30 | 1,929.00 | 1,948.00 |
| 1,283 | Notice Board | | | Ea | 1,485.00 | 1,574.10 | 1,544.00 | 1,559.00 |
| 1,284 | File Folder | | | Ea | 743.00 | 787.58 | 773.00 | 780.00 |
| 1,285 | Black Board | | | Ea | 1,300.00 | 1,378.00 | 1,352.00 | 1,365.00 |
| 1,285 | Vanguard gold | | A4 Size | pkt | | | | |
| 1,285 | vanguard white | | A4 Size | pkt | 65.00 | 68.90 | 68.00 | 68.00 |
| 1,285 | Bindding plastic | | A4 Size | Ea | 98.00 | 103.88 | 102.00 | 103.00 |
| 1,285 | Removable self stick notes | | | Ea | | | | |
| 1,285 | flip chart stand | | | Ea | | | | |
| 1,285 | A4 size envelop | | | Ea | 65.00 | 68.90 | 68.00 | 68.00 |
| 1,285 | A3 Size envelop | | | Ea | 100.00 | 106.00 | 104.00 | 105.00 |
| 1,285 | A5 Size Envelop | | | Ea | 45.00 | 47.70 | 47.00 | 47.00 |
| 1,285 | Stamp pad Ink | | | Ea | 15.00 | 15.90 | 16.00 | 16.00 |
| 1,285 | Quire Ledger | | | Ea | 50.00 | 53.00 | 52.00 | 53.00 |
Generated by wpDataTables
Download Full First (1st)Quarter 2023 Price Norm
NATIONAL PUBLIC PROCUREMENT AUTHORITY
PRICE NORM  
FOURTH (4th) QUARTER

2022
| Product Code | Product | Product Image | Product Specification | Unit of Measure | WESTERN AREA | EASTERN PROVINCE | SOUTHERN PROVINCE | NORTHERN PROVINCE |
| --- | --- | --- | --- | --- | --- | --- | --- | --- |
| 1,001 | PAPER | | A4*210x297mm*80 gsm* 1x500 Sheets*Plain White | Ream (Packet) | 84.00 | 90.00 | 89.00 | 90.00 |
| 1,002 | PAPER | | A4*210x297mm*80 gsm* 5x500 Sheets*Plain White | Carton of 5 Packets | 423.00 | 452.00 | 444.00 | 448.00 |
| 1,003 | PAPER | | A4*210x297mm*80 GSM* 1x500 Sheets*Coloured* | Ream (Packet) | 110.00 | 118.00 | 116.00 | 117.00 |
| 1,004 | PAPER | | A4*210x297mm*80 GSM* 1x500 Sheets*Coloured* | Carton of 5 Packets | 525.00 | 562.00 | 551.00 | 557.00 |
| 1,005 | PAPER | | A4*210x297mm*80 gsm* 5x500 Sheets*Coloured* | Carton of 5 Packets | 525.00 | 562.00 | 551.00 | 557.00 |
| 1,006 | PAPER | | A4 Size *1x50 sheets Conqurer Paper (fibers security paper) | Ream (Packet) | 144.00 | 154.00 | 151.00 | 152.00 |
| 1,007 | PAPER | | A4 Size* Certificate Cards* 210x297mm (21 cm x 29.7 cm) *160 GSM* 1x25 sheets (Assorted) | Ream (Packet) | 267.00 | 286.00 | 280.00 | 283.00 |
| 1,008 | PAPER | | A4 Size* Certificate Cards* 210x297mm (21 cm x 29.7 cm) *160 GSM* 1x1000 sheets (Assorted) | Carton | 1,329.00 | 1,422.00 | 1,396.00 | 1,409.00 |
| 1,009 | PAPER | | A4 size Glossy *Printing Cards- * White* (100 sheet) | Ream (Packet) | 288.00 | 308.00 | 302.00 | 305.00 |
| 1,010 | PAPER | | A4 size Glossy *Printing Cards- * White* | Carton | 1,454.00 | 1,556.00 | 1,527.00 | 1,542.00 |
| 1,011 | PAPER | | A4 High Quality Invitation Cards* (100 sheets) | Packet | 1,047.00 | 1,120.00 | 1,099.00 | 1,110.00 |
| 1,012 | PAPER | | A4 High Quality Invitation Cards* | Carton/Box | 7,221.00 | 7,727.00 | 7,582.00 | 7,655.00 |
| 1,013 | PAPER | | A3 Paper 80gsm (297mm x 420mm) - 1x500 Sheets | Ream (Packet) | 217.00 | 232.00 | 228.00 | 230.00 |
| 1,014 | PAPER | | A3 Paper 80gsm (297mm x 420mm) - 5x500 Sheets | Carton | 1,083.00 | 1,159.00 | 1,138.00 | 1,148.00 |
| 1,015 | PAPER | | A3 *120 gsm* 5x250 Sheets *Plain White* | Ream | 291.00 | 312.00 | 306.00 | 309.00 |
| 1,016 | PAPER | | A3 *120 gsm* 5x250 Sheets *Plain White* | Carton | 1,446.00 | 1,547.00 | 1,519.00 | 1,533.00 |
| 1,017 | PAPER | | Double A A3 80 gsm Ream Paper, 1x500 Sheets | Ream | 291.00 | 312.00 | 306.00 | 309.00 |
| 1,018 | PAPER | | Double A A3 80 gsm 5x500 Sheets | Box | 1,083.00 | 1,159.00 | 1,137.00 | 1,148.00 |
| 1,019 | PAPER | | A3 Vanguard*Coloured Card 180gsm* (50 Sheets) | Packet x 100 pkt | 712.00 | 761.00 | 747.00 | 754.00 |
| 1,020 | PAPER | | A3 Vanguard*Coloured Card 180gsm (50 Sheets) | Carton (Box) | 7,221.00 | 7,727.00 | 7,582.00 | 7,655.00 |
| 1,021 | PAPER | | A3 Tracing Paper | Yards | 26.00 | 28.00 | 27.00 | 27.00 |
| 1,022 | PAPER | | A3 Tracing Paper | Roll X25 Yards | 819.00 | 876.00 | 860.00 | 868.00 |
| 1,023 | PAPER | | Brown Paper (250 Sheet) | Ream | 3,609.00 | 3,862.00 | 3,790.00 | 3,826.00 |
| 1,024 | PAPER | | Computer Paper *Carbonless 9.5" X 8" * single PLY * Plain | Box | 822.00 | 879.00 | 863.00 | 871.00 |
| 1,025 | PAPER | | Computer Paper *Carbonless 9.5" X 8" * Double PLY * Plain | | 1,090.00 | 1,166.00 | 1,144.00 | 1,155.00 |
| 1,026 | PAPER | | Computer Paper * Carbonless* 9.5" X 11" * Single Ply * Plain | Box | 722.00 | 773.00 | 758.00 | 765.00 |
| 1,027 | PAPER | | Computer Paper * Carbonless* 9.5" X 11" * Double Ply * Plain | Box | 1,079.00 | 1,155.00 | 1,133.00 | 1,144.00 |
| 1,028 | PAPER | | Computer Paper *Carbonless* 9.5" X 11" * 3 Ply* Plain | Box | 7,225.00 | 7,730.00 | 7,586.00 | 7,658.00 |
| 1,029 | PAPER | | Computer Paper * 9.5" X 11" * Single Ply * ruled | Box | 1,012.00 | 1,083.00 | 1,062.00 | 1,073.00 |
| 1,030 | PAPER | | Computer Paper * Carbonless* 9.5" X 11" * Double Ply * ruled | Box | 1,012.00 | 1,083.00 | 1,062.00 | 1,073.00 |
| 1,031 | PAPER | | Computer Paper * Carbonless 9.5" X 11" * 3 ply * ruled | Box | 1,012.00 | 1,083.00 | 1,062.00 | 1,073.00 |
| 1,032 | PAPER | | Computer Paper * Carbonless* 14" X 11" * Double Ply * ruled | Box | 1,012.00 | 1,083.00 | 1,062.00 | 1,073.00 |
| 1,033 | PAPER | | White Bond paper 500 sheet 80 Gsm 640X9000 | Ream | 1,012.00 | 1,083.00 | 1,062.00 | 1,073.00 |
| 1,034 | PAPER | | Blue Bone Paper 250 Sheet 80 Gsm 640X900 | Ream | 1,012.00 | 1,083.00 | 1,062.00 | 1,073.00 |
| 1,035 | PAPER | | Green Bone Paper 250 Sheet 80 Gsm 640X900 | Ream | 1,012.00 | 1,083.00 | 1,062.00 | 1,073.00 |
| 1,036 | PAPER | | Yellow Bone Paper 250 Sheet 80 Gsm 640X900 | Ream | 1,012.00 | 1,083.00 | 1,062.00 | 1,073.00 |
| 1,037 | PAPER | | Pink Bone Paper 250 Sheet 80 Gsm 640X900 | Ream | 1,012.00 | 1,083.00 | 1,062.00 | 1,073.00 |
| 1,038 | PAPER | | White Manila 100 Sheet 180 Gsm 640x900 | Ream | 580.00 | 621.00 | 609.00 | 615.00 |
| 1,039 | PAPER | | Blue Manila 100 Sheet 180 Gsm 640x900 | Ream | 580.00 | 621.00 | 609.00 | 615.00 |
| 1,040 | PAPER | | Green Manila 100 Sheet 180 Gsm 640x900 | Ream | 580.00 | 621.00 | 609.00 | 615.00 |
| 1,041 | PAPER | | Yellow Manila 100 Sheet 180 Gsm 640x900 | Ream | 580.00 | 621.00 | 609.00 | 615.00 |
| 1,042 | PAPER | | Art Manila 250 Gsm 100 Sheet 640x 900 | Ream | 580.00 | 621.00 | 609.00 | 615.00 |
| 1,043 | PAPER | | Art Paper 115 Gsm 500 Sheet 640x 900 | Ream | 1,012.00 | 1,083.00 | 1,062.00 | 1,073.00 |
| 1,044 | PAPER | | Yellow Carbon paper 500 Sheet 450x 640 | Ream | 1,012.00 | 1,083.00 | 1,062.00 | 1,073.00 |
| 1,045 | PAPER | | Green Carbon paper 500 Sheet 450x 640 | Ream | 1,012.00 | 1,083.00 | 1,062.00 | 1,073.00 |
| 1,046 | PAPER | | Pink Carbon paper 500 Sheet 450x 640 | Ream | 1,012.00 | 1,083.00 | 1,062.00 | 1,073.00 |
| 1,047 | PAPER | | White Bank Paper 500 Sheet 640x 900 | Ream | 1,012.00 | 1,083.00 | 1,062.00 | 1,073.00 |
| 1,048 | PAPER | | Blue Bank Paper 500 Sheet 640x 900 | Ream | 1,012.00 | 1,083.00 | 1,062.00 | 1,073.00 |
| 1,049 | PAPER | | Green Bank Paper 500 Sheet 640x 900 | Ream | 1,012.00 | 1,083.00 | 1,062.00 | 1,073.00 |
| 1,050 | PAPER | | Yellow Bank Paper 500 Sheet 640x 900 | Ream | 1,012.00 | 1,083.00 | 1,062.00 | 1,073.00 |
| 1,051 | PAPER | | Pink Bank Paper 500 Sheet 640x 900 | Ream | 1,012.00 | 1,083.00 | 1,062.00 | 1,073.00 |
| 1,052 | PAPER | | Colour Computer Forms 9.5" x 11" * 4 Ply * Inch White Pink Blue and Yellow | Box | 1,180.00 | 1,263.00 | 1,239.00 | 1,251.00 |
| 1,053 | PAPER | | News Print Paper * 60 gsm *450 x 200* | Packet | 578.00 | 618.00 | 606.00 | 612.00 |
| 1,054 | PAPER | | News print paper * 60 gsm *450 x 640* | Box | 2,888.00 | 3,090.00 | 3,032.00 | 3,061.00 |
| 1,055 | PAPER | | Manilla Coloured Paper* 180 gm * 450 X 350* | Packet | 118.00 | 126.00 | 124.00 | 125.00 |
| 1,056 | PAPER | | Art Card * 640 X 900 * 300gsm * 50 Sheets* | Pieces | 722.00 | 773.00 | 758.00 | 766.00 |
| 1,057 | PAPER | | Art Card * 640 X 900 * 300gsm * 50 Sheets* | Packet | 723.00 | 774.00 | 759.00 | 767.00 |
| 1,058 | PAPER | | A4 Carbon Transfer Paper | Packet | 72.00 | 77.00 | 76.00 | 77.00 |
| 1,059 | PAPER | | A4 Carbon Transfer Paper | Box x 50 pkt | 3,266.00 | 3,494.00 | 3,429.00 | 3,462.00 |
| 1,060 | PAPER | | 200pcs A4 Black Carbon Transfer Tracing Graphite Paper (Writing Carbon) | Packet | 17.00 | 18.00 | 18.00 | 18.00 |
| 1,061 | PAPER | | A4 Size Writing Carbon | Packet | 72.00 | 77.00 | 75.00 | 76.00 |
| 1,062 | Envelope | | DL White Peel & Seal Envelopes 100gsm: 110 x 220 | Packet | 23.00 | 25.00 | 25.00 | 25.00 |
| 1,063 | Envelope | | C3 Size * 458mm 324mm * To fit unfolded A3 paper | Packet | 72.00 | 77.00 | 76.00 | 77.00 |
| 1,064 | Envelope | | C4 Size *324mm x 229mm Envelopes Peel & Seal Pocket 100 GSM | Packet | 72.00 | 77.00 | 76.00 | 77.00 |
| 1,065 | Envelope | | C4 Size * 324mm x 229mm * To fit unfolded A4 paper | Packet | 44.00 | 47.00 | 46.00 | 46.00 |
| 1,066 | Envelope | | C5 * 162mmX 229mm * To fit A4 paper folded in half | Packet | 96.00 | 102.00 | 101.00 | 102.00 |
| 1,067 | Envelope | | C6 * 114mm x162mm * To fit A4 paper folded in 4 | Packet | 22.00 | 23.00 | 23.00 | 23.00 |
| 1,068 | Envelope | | B4 * 250mm x352* To fit A4 paper unfolded* ideal for thicker documents | Packet | 14.00 | 15.00 | 15.00 | 15.00 |
| 1,069 | Envelope | | 5" x 5" Square Envelopes 130mm x 130mm * ideal for Invitations etc* | Packet | 144.00 | 154.00 | 151.00 | 153.00 |
| 1,070 | Envelope | | X-ray*10" X 14"* (Small) | Packet | 361.00 | 386.00 | 379.00 | 383.00 |
| 1,071 | Envelope | | X-ray*13" X 19"*(Medium) | Packet | 433.00 | 463.00 | 455.00 | 459.00 |
| 1,072 | Envelope | | X-ray*17" X 24"* F16 Size 240x350mm (Large) | Packet | 361.00 | 387.00 | 379.00 | 383.00 |
| 1,073 | | | X-ray*22" X 30"*(XL) | Packet | 361.00 | 387.00 | 379.00 | 383.00 |
| 1,074 | Book | | Logbook /Way Book * Column Approximately *120 Pages* | Ea | 361.00 | 387.00 | 379.00 | 383.00 |
| 1,075 | Book | | *Foolscap Book *Ruled* Approximately 150 Pages* | Ea | 487.00 | 521.00 | 511.00 | 516.00 |
| 1,076 | BOOK | | Ledger Book *12 Columns 2Q /4Q | Ea | 355.00 | 379.00 | 372.00 | 376.00 |
| 1,077 | BOOK | | Ledger Book *12 Columns 2Q /4Q | Carton/Box | 3,516.00 | 3,762.00 | 3,692.00 | 3,727.00 |
| 1,078 | BOOK | | Analysis Book *32 Columns* /27/24 | Ea | 712.00 | 762.00 | 747.00 | 755.00 |
| 1,079 | BOOK | | Address Book * App 180 Pages * | Ea | 58.00 | 62.00 | 61.00 | 61.00 |
| 1,080 | BOOK | | Address Book * App 180 Pages * | Box | 1,205.00 | 1,289.00 | 1,265.00 | 1,277.00 |
| 1,081 | BOOK | | Shorthand Notebook* 128 X 203 mm* 70 Pages* | Packet | 109.00 | 116.00 | 114.00 | 115.00 |
| 1,082 | BOOK | | Shorthand Notebook* 128 X 203 mm* 70 Pages* | Box x 192 Pcs | 1,636.00 | 1,750.00 | 1,717.00 | 1,734.00 |
| 1,083 | BOOK | | Shorthand Notebook* 127 X 203 mm* 160 Pages* | 300 Pages x 6 Packet | 29.00 | 31.00 | 30.00 | 30.00 |
| 1,084 | BOOK | | Shorthand Notebook* 127 X 203 mm* 160 Pages* | Box | 1,735.00 | 1,856.00 | 1,822.00 | 1,839.00 |
| 1,085 | BOOK | | Shorthand Notebook* 5" x 8" (127 x 203mm) 300 Pages* | Packet | 193.00 | 206.00 | 203.00 | 204.00 |
| 1,086 | BOOK | | Shorthand Notebook* 5" x 8" (127 x 203mm) 300 Pages* | Box x 120 pcs | 1,982.00 | 2,120.00 | 2,081.00 | 2,100.00 |
| 1,087 | BOOK | | Executive Book *7"X 9"* | Packet | 605.00 | 647.00 | 635.00 | 641.00 |
| 1,088 | BOOK | | Executive Book *7"X 9"* | Box | 3,300.00 | 3,531.00 | 3,465.00 | 3,498.00 |
| 1,089 | BOOK | | School Register * Columns* For Attendance* | Catoon x 175 pkt | 3,610.00 | 3,862.00 | 3,790.00 | 3,826.00 |
| 1,090 | BOOK | | *4 Ruled Exercise Book* 40 Pages* | Packet | 13,640.00 | 14,595.00 | 14,322.00 | 14,458.00 |
| 1,091 | BOOK | | *3 Double Exercise Book* 40 Pages* | Packet | 18,175.00 | 19,448.00 | 19,084.00 | 19,266.00 |
| 1,092 | BOOK | | *4 Ruled Exercise Book* 80 Pages* | Packet | 57.00 | 61.00 | 60.00 | 60.00 |
| 1,093 | BOOK | | *3 Double Exercise Book* 80 Pages* | Packet | 62.00 | 66.00 | 65.00 | 66.00 |
| 1,094 | BOOK | | *4 Ruled Exercise Book* 120 Pages * | Packet | 74.00 | 79.00 | 77.00 | 78.00 |
| 1,095 | BOOK | | *3 Double Exercise Book* 120 Pages* | Packet | 81.00 | 87.00 | 85.00 | 86.00 |
| 1,096 | BOOK | | *4 Ruled and Plain Exercise Book* 40 pages* | Packet | 41.00 | 44.00 | 44.00 | 44.00 |
| 1,097 | PADS | | A4 Size *Writing Pads* | Packet | 100.00 | 107.00 | 105.00 | 106.00 |
| 1,098 | PADS | | Post it Pads *Large* | Packet | 30.00 | 32.00 | 32.00 | 32.00 |
| 1,099 | FLIP CHART PAD | | 3m flip chart 25"x30" white, 40 sheets | Ea 25 sheet | 121.00 | 129.00 | 127.00 | 128.00 |
| 1,100 | FLIP CHART PAD | | 3m flip chart 25"x30" white, 40 sheets | Packet x 10 Pcs | 1,003.00 | 1,074.00 | 1,054.00 | 1,064.00 |
| 1,101 | FLIP CHART PAD | | School smart primary chart paper 24"x32", ruled 1½" with dotted midline white, 70 sheets | Ea | 151.00 | 162.00 | 159.00 | 160.00 |
| 1,102 | FLIP CHART PAD | | School smart primary chart paper 24"x32", ruled 1½" with dotted midline white, 70 sheets | Pack of 10 pcs | 156.00 | 167.00 | 163.00 | 165.00 |
| 1,103 | STAMP | | Stamp Pad | Ea | 28.00 | 30.00 | 30.00 | 30.00 |
| 1,104 | STAMP | | Stamp Pad (Double) | Ea | 73.00 | 78.00 | 76.00 | 77.00 |
| 1,105 | STAMP | | Self Inking Rubber Stamp | Ea | 187.00 | 200.00 | 196.00 | 198.00 |
| 1,106 | STAMP | | Self Inking Daters | Ea | 362.00 | 387.00 | 380.00 | 383.00 |
| 1,107 | STAMP | | Label Stamps | Ea | 202.00 | 217.00 | 212.00 | 215.00 |
| 1,108 | FILES | | Suspension hook Hanging File | Ea | 15.00 | 16.00 | 16.00 | 16.00 |
| 1,109 | FILES | | Suspension hook Hanging File | Packet | 353.00 | 377.00 | 370.00 | 374.00 |
| 1,110 | FILES | | Foolscap Suspension Files Foolscap | Packet | 541.00 | 579.00 | 568.00 | 574.00 |
| 1,111 | FILES | | IXL *Lever Arch File* 2 Rings* | Ea | 7,592.00 | 8,123.00 | 7,972.00 | 8,048.00 |
| 1,112 | FILES | | IXL * Lever Arch File* 2 Rings* | Box | 1,721.00 | 1,841.00 | 1,807.00 | 1,824.00 |
| 1,113 | FILES | | IXL * Lever Arch File* 3 Rings* | Ea | 44.00 | 47.00 | 46.00 | 47.00 |
| 1,114 | FILES | | IXL * Lever Arch File* 3 Rings* | Box | 1,970.00 | 2,108.00 | 2,069.00 | 2,088.00 |
| 1,115 | FILES | | Pockets Files/Documents Wallets* | Box | 723.00 | 774.00 | 759.00 | 767.00 |
| 1,116 | FILES | | Manilla File * Flat* Foolscap | Box | 372.00 | 398.00 | 391.00 | 395.00 |
| 1,117 | FILES | | Box File * Foolscap | Ea | 434.00 | 465.00 | 456.00 | 460.00 |
| 1,118 | FILES | | Box File * Foolscap | Carton | 1,688.00 | 1,806.00 | 1,772.00 | 1,789.00 |
| 1,119 | FILES | | Plastic File * Coloured* 12 Inch* | Packet | 61.00 | 65.00 | 64.00 | 65.00 |
| 1,120 | FLIP CHART STAND | | Master of Boards Magnetic Flip Chart with Wheels | Dry Wipe Flipchart/Whiteboard Easel with Extendable Side Arms | Height Adjustable up to 225cm | Clamp for...180 X 180 cm | Set | 490.00 | 524.00 | 514.00 | 519.00 |
| 11,121 | FLIP CHART STAND | | 90cm x 60cm Tripod Whiteboard, Tripod Whiteboard, Magnetic Dry Erase Board/Flipchart Easel Whiteboard, Height Adjustable Stand Board | Set | 1,116.00 | 1,194.00 | 1,171.00 | 1,182.00 |
| 1,122 | FLIP CHART STAND | | Double Sided Felt Notice Board 1800 x 1200mm Franken Pro Partition System Blue | Set | 1,012.00 | 1,083.00 | 1,062.00 | 1,073.00 |
| 1,123 | FLIP CHART STAND | | Wonderwall Large Drywipe Steel Magnetic Whiteboard with Fixings and Pen Tray (2400 x 1200mm) | Set | 1,988.00 | 2,127.00 | 2,088.00 | 2,108.00 |
| 1,124 | OFFICE TRAY | | Set of Three* Plastic * | Set | 127.00 | 136.00 | 134.00 | 135.00 |
| 1,125 | OFFICE TRAY | | Set of Three* Plastic * | Packet | 145.00 | 155.00 | 152.00 | 153.00 |
| 1,126 | OFFICE TRAY | | Set of Three * Mesh* | Box | 776.00 | 830.00 | 814.00 | 822.00 |
| 1,127 | GREEN TAGS | | 100 per Box * Small* | Box | 71.00 | 76.00 | 75.00 | 76.00 |
| 1,128 | GREEN TAGS | | 100 Per Box * Large* | Box | 95.00 | 102.00 | 100.00 | 101.00 |
| 1,129 | DUSTER | | Black Board* Plastic\ Wood* | Packet | 191.00 | 204.00 | 201.00 | 202.00 |
| 1,130 | DUSTER | | Black Board* Plastic\ Wood* | Box | 896.00 | 959.00 | 941.00 | 950.00 |
| 1,131 | BELL | | School Hand Bell * 5" Diameter | Ea | 241.00 | 258.00 | 253.00 | 255.00 |
| 1,132 | BELL | | School Hand Bell * 5" Diameter | Box x 12 pcs | 1,855.00 | 1,985.00 | 1,948.00 | 1,966.00 |
| 1,133 | Correction Fluid | | Tipp-Ex Bottle | 30ml Ea | 33.00 | 36.00 | 35.00 | 35.00 |
| 1,134 | Correction Fluid | | Tipp-Ex Bottle | 30ml Packet | 592.00 | 633.00 | 622.00 | 628.00 |
| 1,135 | Correction Fluid | | Tipp-Ex Pen Type | 30ml Ea | 13.00 | 14.00 | 14.00 | 14.00 |
| 1,136 | Correction Fluid | | Tipp-Ex Pen Type | 30ml Packet | 144.00 | 154.00 | 151.00 | 152.00 |
| 1,137 | ERASERS | | Typing Eraser with Brush | Packet | 233.00 | 249.00 | 245.00 | 247.00 |
| 1,138 | ERASERS | | Typing Eraser with Brush | Carton of 144 pcs | 1,941.00 | 2,076.00 | 2,038.00 | 2,057.00 |
| 1,139 | ERASERS | | Eraser Large | Packet | 131.00 | 140.00 | 138.00 | 139.00 |
| 1,140 | ERASERS | | Eraser Large | Carton of 60 pkt | 1,780.00 | 1,905.00 | 1,869.00 | 1,887.00 |
| 1,141 | ERASERS | | Eraser Small | Packet | 84.00 | 89.00 | 88.00 | 89.00 |
| 1,142 | ERASERS | | Eraser Small | Carton | 483.00 | 516.00 | 507.00 | 512.00 |
| 1,143 | TWINE | | Large | Roll | 161.00 | 172.00 | 169.00 | 171.00 |
| 1,144 | TWINE | | Large | Box | 633.00 | 678.00 | 665.00 | 671.00 |
| 1,145 | LAMINATING PLASTIC | | A4 Size | Packet | 173.00 | 186.00 | 182.00 | 184.00 |
| 1,146 | PENS | | Ball Point Pens *Normal quality* (Black, Blue,Red) | Box | 75.00 | 80.00 | 79.00 | 80.00 |
| 1,147 | PENS | | Ball Point Pens *Normal quality* (Black, Blue,Red) | Carton of 80 pkt | 3,620.00 | 3,873.00 | 3,801.00 | 3,837.00 |
| 1,148 | PENS | | Ball Point Pen * High Quality * (Black, Blue,Red) | Box | 87.00 | 93.00 | 91.00 | 92.00 |
| 1,149 | PENS | | Ball Point Pen * High Quality * (Black, Blue,Red) | Carton | 1,313.00 | 1,404.00 | 1,378.00 | 1,391.00 |
| 1,150 | PENS | | Architectural Drawing Pens 0.2,0.3,0.4,0.5 | Box | 2,000.00 | 2,140.00 | 2,100.00 | 2,120.00 |
| 1,151 | PENS | | Architectural Drawing Pens 0.2,0.3,0.4,0.5 | Carton of 10 boxes | 15,000.00 | 16,050.00 | 15,750.00 | 15,900.00 |
| 1,152 | PENCILS | | 2B Pencil | Packet | 18.00 | 19.00 | 19.00 | 19.00 |
| 1,153 | PENCILS | | 2B Pencil | Box | 1,004.00 | 1,075.00 | 1,055.00 | 1,065.00 |
| 1,154 | PENCILS | | 2B Pencil | Carton of 5,760 pcs | 1,412.00 | 1,511.00 | 1,482.00 | 1,496.00 |
| 1,155 | PENCILS | | HB Pencil | Packet | 10.00 | 12.00 | 12.00 | 12.00 |
| 1,156 | PENCILS | | HB Pencil | Box | 119.00 | 127.00 | 125.00 | 126.00 |
| 1,157 | PENCILS | | HB Pencil | Carton of 4,320 pcs | 2,692.00 | 2,881.00 | 2,827.00 | 2,854.00 |
| 1,158 | PENCIL CRAYONS | | Pencil Crayons | Packet | 18.00 | 19.00 | 18.00 | 19.00 |
| 1,159 | PENCIL CRAYONS | | Pencil Crayons | Box | 171.00 | 183.00 | 179.00 | 181.00 |
| 1,160 | PENCIL CRAYONS | | Pencil Crayons | Carton of 480 pcs | 6,297.00 | 6,737.00 | 6,612.00 | 6,674.00 |
| 1,161 | WAX CRAYON | | Wax Crayons | Box | 83.00 | 89.00 | 88.00 | 88.00 |
| 1,162 | WAX CRAYON | | Wax Crayons | Carton of 480 pcs | 7,177.00 | 7,679.00 | 7,536.00 | 7,607.00 |
| 1,163 | SHARPNERS | | Pencil Sharpner *Metal* | Packet | 41.00 | 43.00 | 43.00 | 43.00 |
| 1,164 | SHARPNERS | | Pencil Sharpner *Metal* | Box | 218.00 | 234.00 | 229.00 | 232.00 |
| 1,165 | MARKERS | | Assorted | Packet | 48.00 | 52.00 | 51.00 | 51.00 |
| 1,166 | MARKERS | | Assorted | Box | 1,045.00 | 1,118.00 | 1,097.00 | 1,107.00 |
| 1,167 | MARKERS | | Assorted | Carton of 100 pkt | 3,515.00 | 3,761.00 | 3,691.00 | 3,726.00 |
| 1,168 | MARKERS | | White Board Marker | Packet | 54.00 | 58.00 | 57.00 | 58.00 |
| 1,169 | MARKERS | | White Board Marker | Box 100 pkt | 3,945.00 | 4,221.00 | 4,142.00 | 4,182.00 |
| 1,170 | HIGHLIGHTERS | | Assorted | Packet | 33.00 | 36.00 | 35.00 | 35.00 |
| 1,171 | HIGHLIGHTERS | | Assorted | Box of 10 pkt | 317.00 | 340.00 | 333.00 | 336.00 |
| 1,172 | CHALK | | White Chalk | Box | 22.00 | 24.00 | 23.00 | 23.00 |
| 1,173 | CHALK | | White Chalk | Carton | 1,149.00 | 1,229.00 | 1,206.00 | 1,218.00 |
| 1,174 | CHALK | | Coloured Chalk | Box | 35.00 | 38.00 | 37.00 | 37.00 |
| 1,175 | CHALK | | Coloured Chalk | Carton of 60 pkt | 1,423.00 | 1,523.00 | 1,494.00 | 1,508.00 |
| 1,176 | SLATE | | Free-Arm Board (Slate) | Carton of 120 pcs | 2,979.00 | 3,188.00 | 3,128.00 | 3,158.00 |
| 1,177 | RUBBER BAND | | Rubber Band *Small Size* | Packet | 23.00 | 24.00 | 24.00 | 24.00 |
| 1,178 | RUBBER BAND | | Rubber Band *Small Size* | Carton | 1,045.00 | 1,118.00 | 1,097.00 | 1,107.00 |
| 1,179 | RUBBER BAND | | Rubber Band *Medium Size* | Packet | 28.00 | 30.00 | 30.00 | 30.00 |
| 1,180 | RUBBER BAND | | Rubber Band *Medium Size* | Carton | 2,188.00 | 2,341.00 | 2,297.00 | 2,319.00 |
| 1,181 | RUBBER BAND | | Rubber Band *Large Size* | Packet | 59.00 | 63.00 | 62.00 | 62.00 |
| 1,182 | RUBBER BAND | | Rubber Band * Large Size* | Carton | 4,602.00 | 4,924.00 | 4,832.00 | 4,878.00 |
| 1,183 | RULER | | Plastic Ruler | 30cm Box | 252.00 | 269.00 | 264.00 | 267.00 |
| 1,184 | RULER | | Plastic Ruler | Carton of 1440 pcs | 4,264.00 | 4,562.00 | 4,477.00 | 4,519.00 |
| 1,185 | RULER | | Board Ruler | 3ft Box | 1,025.00 | 1,097.00 | 1,076.00 | 1,087.00 |
| 1,186 | RULER | | Board Ruler | 3ft Carton of 60 pcs | 2,152.00 | 2,302.00 | 2,259.00 | 2,281.00 |
| 1,187 | MATHEMATICAL SET | | Student Mathematical Set | Carton of 144 pcs | 1,516.00 | 1,622.00 | 1,592.00 | 1,607.00 |
| 1,188 | MATHEMATICAL SET | | Blackboard Mathematical Set | Set | 214.00 | 229.00 | 225.00 | 227.00 |
| 1,189 | SCISSORS | | Small size | Ea | 561.00 | 600.00 | 589.00 | 595.00 |
| 1,190 | SCISSORS | | Small size | Carton | 2,017.00 | 2,158.00 | 2,118.00 | 2,138.00 |
| 1,191 | SCISSORS | | Medium Size | Ea | 383.00 | 410.00 | 402.00 | 406.00 |
| 1,192 | SCISSORS | | Medium Size | Carton | 2,375.00 | 2,541.00 | 2,494.00 | 2,518.00 |
| 1,193 | SCISSORS | | Large Size | Ea | 3,653.00 | 3,909.00 | 3,836.00 | 3,873.00 |
| 1,194 | SCISSORS | | Large Size | Carton | 2,724.00 | 2,914.00 | 2,860.00 | 2,887.00 |
| 1,195 | STAPLER | | Small Size | Ea | 3,660.00 | 3,916.00 | 3,843.00 | 3,880.00 |
| 1,196 | STAPLER | | Small Size | Carton of 144 pcs | 18,434.00 | 19,725.00 | 19,356.00 | 19,540.00 |
| 1,197 | STAPLER | | Large Size | Ea | 1,000.00 | 1,070.00 | 1,050.00 | 1,060.00 |
| 1,198 | STAPLER | | Large Size | Carton of 96 pcs | 4,672.00 | 4,999.00 | 4,905.00 | 4,952.00 |
| 1,199 | STAPLER | | Giant Size | Ea | 586.00 | 627.00 | 615.00 | 621.00 |
| 1,200 | STAPLER | | Giant Size | Carton of 12 pcs | 1,779.00 | 1,904.00 | 1,868.00 | 1,886.00 |
| 1,201 | CLIP FASTENER | | Standard Size | Packet | 270.00 | 289.00 | 284.00 | 287.00 |
| 1,202 | CLIP FASTENER | | Standard Size | Carton of 100 pkt | 1,348.00 | 1,442.00 | 1,415.00 | 1,428.00 |
| 1,203 | CLIPS | | Paper Clip *Small Size* 33mm | Packet | 575.00 | 615.00 | 604.00 | 609.00 |
| 1,204 | CLIPS | | Paper Clip *Small Size* 33mm | Carton of 100 pkt | 4,013.00 | 4,294.00 | 4,214.00 | 4,254.00 |
| 1,205 | CLIPS | | Paper Clip *Medium Size* | Packet | 387.00 | 414.00 | 406.00 | 410.00 |
| 1,206 | CLIPS | | Paper Clip *Medium Size* | Carton | 3,508.00 | 3,754.00 | 3,684.00 | 3,719.00 |
| 1,206 | CLIPS | | Paper Clip *Large Size* | Packet | 960.00 | 1,027.00 | 1,008.00 | 1,018.00 |
| 1,207 | CLIPS | | Paper Clip *Large Size* | Carton of 100 pcs | 1,444.00 | 1,545.00 | 1,516.00 | 1,531.00 |
| 1,208 | CLIPS | | Paper Clip *Small Size* | Packet | 26.00 | 28.00 | 27.00 | 27.00 |
| 1,209 | CLIPS | | Paper Clip *Small Size* | Carton | 3,594.00 | 3,845.00 | 3,773.00 | 3,809.00 |
| 1,210 | CLIPS | | Paper Clip *Large Size* | Packet | 5,012.00 | 5,362.00 | 5,262.00 | 5,312.00 |
| 1,211 | CLIPS | | Paper Clip *Large Size* | Carton | 1,513.00 | 1,618.00 | 1,588.00 | 1,603.00 |
| 1,212 | STAPLE PINS | | Small Staples * 24/6* | Packet | 5,015.00 | 5,366.00 | 5,266.00 | 5,316.00 |
| 1,213 | STAPLE PINS | | Small Staples * 24/6* | Carton of 100 pkt | 1,854.00 | 1,984.00 | 1,947.00 | 1,965.00 |
| 1,214 | STAPLE PINS | | Giant Staples* 26/6* | Packet | 151.00 | 162.00 | 159.00 | 160.00 |
| 1,215 | STAPLE PINS | | Giant Staples* 26/6* | Carton of 200 pkt | 3,013.00 | 3,223.00 | 3,163.00 | 3,193.00 |
| 1,216 | STRAIGHT PINS | | Straight T Pins | Pkt | 74.00 | 79.00 | 78.00 | 79.00 |
| 1,217 | STRAIGHT PINS | | Straight T Pins | Carton of 300 pkt | 6,806.00 | 7,283.00 | 7,147.00 | 7,215.00 |
| 1,218 | PAPER PUNCHING MACHINE | | Single/One Hole 4.5 Paper Punch | Ea | 62.00 | 66.00 | 65.00 | 66.00 |
| 1,219 | PAPER PUNCHING MACHINE | | Single/One Hole 4.5 Paper Punch | Carton of 60 pcs | 3,406.00 | 3,644.00 | 3,576.00 | 3,610.00 |
| 1,220 | PAPER PUNCHING MACHINE | | Double Hole * 10 Pages * | Ea | 79.00 | 85.00 | 83.00 | 84.00 |
| 1,221 | PAPER PUNCHING MACHINE | | Double Hole * 10 Pages * | Carton of 30 pcs | 2,814.00 | 3,011.00 | 2,955.00 | 2,983.00 |
| 1,222 | PAPER PUNCHING MACHINE | | Double Hole * 20 Pages * | Ea | 109.00 | 117.00 | 114.00 | 116.00 |
| 1,223 | PAPER PUNCHING MACHINE | | Double Hole * 20 Pages * | Carton of 12 pcs | 1,266.00 | 1,355.00 | 1,330.00 | 1,342.00 |
| 1,224 | PAPER PUNCHING MACHINE | | Heavy Duty *Double Hole* | Ea | 240.00 | 257.00 | 252.00 | 254.00 |
| 1,225 | PAPER PUNCHING MACHINE | | Heavy Duty *Double Hole* | Carton of 12 pcs | 2,850.00 | 3,050.00 | 2,993.00 | 3,021.00 |
| 1,226 | BUSINESS CALCULATOR | | 12 Digits *Small * | Ea | 105.00 | 112.00 | 110.00 | 111.00 |
| 1,227 | BUSINESS CALCULATOR | | 12 Digits *Small * | Carton of 120 pcs | 1,201.00 | 1,285.00 | 1,261.00 | 1,273.00 |
| 1,228 | BUSINESS CALCULATOR | | 12 Digits *Large* | Ea | 169.00 | 181.00 | 177.00 | 179.00 |
| 1,229 | BUSINESS CALCULATOR | | 12 Digits *Large* | Carton | 2,806.00 | 3,002.00 | 2,946.00 | 2,974.00 |
| 1,230 | SCIENTIFIC CALCULATOR | | 12 Digits *Large* | Ea | 170.00 | 182.00 | 179.00 | 181.00 |
| 1,231 | SCIENTIFIC CALCULATOR | | 12 Digits *Large* | Carton | 2,545.00 | 2,723.00 | 2,672.00 | 2,697.00 |
| 1,232 | CALCULATOR | | Calculator with Tape* (adding machine) | Ea | 21,694.00 | 23,212.00 | 22,778.00 | 22,995.00 |
| 1,233 | CALCULATOR | | Calculator with Tape* (adding machine) | Carton | 114,269.00 | 122,268.00 | 119,982.00 | 121,125.00 |
| 1,234 | CELLOTAPE | | Transparent *Small* 25mm x 25m | Roll | 19.00 | 21.00 | 20.00 | 21.00 |
| 1,235 | CELLOTAPE | | Transparent *Small* 25mm x 25m | Carton of 72 pcs | 1,283.00 | 1,373.00 | 1,348.00 | 1,360.00 |
| 1,236 | CELLOTAPE | | Transparent *Large* 75mm x 25m | Roll | 138.00 | 148.00 | 145.00 | 146.00 |
| 1,237 | CELLOTAPE | | Transparent *Large* 75mm x 25m | Carton | 1,513.00 | 1,619.00 | 1,589.00 | 1,604.00 |
| 1,238 | CELLOTAPE | | Brown *Large* 75mm x 25m | Roll | 148.00 | 158.00 | 156.00 | 157.00 |
| 1,239 | CELLOTAPE | | Brown *Large* 75mm x 25m | Carton | 1,473.00 | 1,576.00 | 1,547.00 | 1,562.00 |
| 1,240 | MASKING TAPE | | Medium Size | Packet | 182.00 | 195.00 | 192.00 | 193.00 |
| 1,241 | BINDING SHEETS | | Covers *Plastic* A4 * (White / Coloured) | Box | 1,498.00 | 1,603.00 | 1,573.00 | 1,588.00 |
| 1,242 | BINDING COMB | | 8 mm* | Box | 188.00 | 202.00 | 198.00 | 200.00 |
| 1,243 | BINDING COMB | | 6 mm * | Box | 214.00 | 229.00 | 225.00 | 227.00 |
| 1,244 | BINDDING COMB | | 10mm* | Box | 228.00 | 244.00 | 239.00 | 242.00 |
| 1,245 | BINDDING COMB | | 12mm* | Box | 427.00 | 456.00 | 448.00 | 452.00 |
| 1,246 | BINDDING COMB | | 16mm* | Box | 312.00 | 334.00 | 327.00 | 330.00 |
| 1,247 | BINDDING COMB | | 20mm* | Box | 319.00 | 342.00 | 335.00 | 338.00 |
| 1,248 | BINDING COMB MACHINE | | 24 Holes Comb Binding Machine | Ea | 1,609.00 | 1,722.00 | 1,690.00 | 1,706.00 |
| 1,249 | BINDING COMB MACHINE | | 25 Holes Comb Binding Machine | Carton | 3,585.00 | 3,836.00 | 3,764.00 | 3,800.00 |
| 1,250 | GLUE STICK | | 32 gm | Ea | 15.00 | 16.00 | 15.00 | 16.00 |
| 1,251 | GLUE STICK | | 32 gm | Carton of 288 pcs | 3,545.00 | 3,794.00 | 3,723.00 | 3,758.00 |
| 1,252 | GLUE STICK | | Paper Glue * Small * 15g | Ea | 14.00 | 15.00 | 15.00 | 15.00 |
| 1,253 | GLUE STICK | | Paper Glue * Small * 15g | Carton | 14.00 | 14.00 | 14.00 | 14.00 |
| 1,254 | GLUE STICK | | Paper Glue * Medium * 21g | Ea | 17.00 | 18.00 | 18.00 | 18.00 |
| 1,255 | GLUE STICK | | Paper Glue * Medium * 21g | Carton | 2,122.00 | 2,271.00 | 2,228.00 | 2,250.00 |
| 1,256 | GLUE STICK | | Paper Glue * Large * 36g | Ea | 28.00 | 30.00 | 30.00 | 30.00 |
| 1,257 | GLUE STICK | | Paper Glue * Large * 36g | Carton | 3,476.00 | 3,720.00 | 3,650.00 | 3,685.00 |
| 1,258 | INK | | Printing Ink Black 2.5kilo | Tin | 1,155.00 | 1,236.00 | 1,213.00 | 1,224.00 |
| 1,259 | INK | | Printing Ink Gyan 2.5kilo | Tin | 1,010.00 | 1,081.00 | 1,061.00 | 1,071.00 |
| 1,260 | INK | | Printing Ink Yellow 2.5kilo | Tin | 1,010.00 | 1,081.00 | 1,061.00 | 1,071.00 |
| 1,261 | INK | | Printing Ink Magenta 2.5kilo | Tin | 1,010.00 | 1,081.00 | 1,061.00 | 1,071.00 |
| 1,262 | INK | | Printing Ink Green 2.5kilo | Tin | 1,010.00 | 1,081.00 | 1,061.00 | 1,071.00 |
| 1,263 | INK | | Riso Ink Ez | Tin | 217.00 | 232.00 | 228.00 | 230.00 |
| 1,264 | PLATE | | Plate Cleaner | Liter | 485.00 | 519.00 | 509.00 | 514.00 |
| 1,265 | PLATE | | Kord Plate 650x 550X0.3mm 50 Sheet | Ream | 0.00 | 0.00 | 0.00 | 0.00 |
| 1,266 | Quire Book No. 3 | | TREELINE A4 Counter Book 3 Quire Feint And Margin | Pkt | 217.00 | 232.00 | 228.00 | 230.00 |
| 1,267 | Quire Book No. 4 | | Generic Kartasi Counter Book A4 - 4 Quire | pkt | 217.00 | 232.00 | 228.00 | 230.00 |
| 1,268 | Endorsing Ink | | 30ml | Pkt | 94.00 | 101.00 | 99.00 | 100.00 |
| 1,269 | Flat files with clips | | Durable A4 Size Pvc Flat File With Clip-50 Pcs/Box | Box | 801.00 | 857.00 | 841.00 | 849.00 |
| 1,270 | Gloy Paste | | Gloy Paste Squeeze Pack | ctn | 1,446.00 | 1,547.00 | 1,519.00 | 1,533.00 |
| 1,271 | Manifold Paper | | 28gsm-32gsm ( 500sheet/ream) | Ream | 869.00 | 930.00 | 912.00 | 921.00 |
| 1,272 | Desk Pad | | dimensions: M (30 cm x 62 cm = 11.8″ x 24.4″). L (30 cm x 90 cm = 11.8″ x 35.4″) | Ea | 145.00 | 155.00 | 152.00 | 153.00 |
| 1,273 | Blackboard renovator | | 1L Quick Dry Blackboard Paint - Black | Ea | 337.00 | 361.00 | 354.00 | 357.00 |
| 1,274 | Selotape Separator | | | Ea | 1,386.00 | 1,483.00 | 1,456.00 | 1,469.00 |
| 1,275 | A4 Diary | | 21cm x 29cm | ctn | 2,236.00 | 2,392.00 | 2,348.00 | 2,370.00 |
| 1,276 | Typing Carbon | | | ctn | 2,260.00 | 2,419.00 | 2,373.00 | 2,396.00 |
| 1,277 | Security Paper | | | Ea | 29.00 | 31.00 | 31.00 | 31.00 |
| 1,278 | Paper Shredder | | | Ea | 722.00 | 772.00 | 758.00 | 765.00 |
| 1,279 | Paper Cutter | | | Ea | 909.00 | 973.00 | 955.00 | 964.00 |
| 1,280 | News Print Paper | | | Ea | 302.00 | 323.00 | 317.00 | 320.00 |
| 1,281 | Magic Marker | | | Set | 53.00 | 56.00 | 55.00 | 56.00 |
| 1,282 | White Board | | | Ea | 1,273.00 | 1,362.00 | 1,337.00 | 1,350.00 |
| 1,283 | Notice Board | | | Ea | 995.00 | 1,065.00 | 1,045.00 | 1,055.00 |
| 1,284 | File Folder | | | Ea | 575.00 | 615.00 | 604.00 | 610.00 |
| 1,285 | Black Board | | | Ea | 903.00 | 966.00 | 948.00 | 957.00 |
| 1,285 | Vanguard gold | | A4 Size | pkt | 2,600.00 | 2,782.00 | 2,730.00 | 2,756.00 |
| 1,285 | vanguard white | | A4 Size | pkt | 2,600.00 | 2,782.00 | 2,730.00 | 2,756.00 |
| 1,285 | Bindding plastic | | A4 Size | Ea | 3.00 | 3.00 | 3.00 | 3.00 |
| 1,285 | Removable self stick notes | | | Ea | 20.00 | 21.00 | 21.00 | 21.00 |
| 1,285 | flip chart stand | | | Ea | 70.00 | 75.00 | 74.00 | 74.00 |
| 1,285 | A4 size envelop | | | Ea | 3.00 | 3.00 | 3.00 | 3.00 |
| 1,285 | A3 Size envelop | | | Ea | 4.00 | 4.00 | 4.00 | 4.00 |
| 1,285 | A5 Size Envelop | | | Ea | 2.00 | 2.00 | 2.00 | 2.00 |
| 1,285 | Stamp pad Ink | | | Ea | 15.00 | 16.00 | 16.00 | 16.00 |
| 1,285 | Quire Ledger | | | Ea | 50.00 | 54.00 | 53.00 | 53.00 |
Generated by wpDataTables
Download Full Fourth (4th)Quarter 2022 Price Norm
NATIONAL PUBLIC PROCUREMENT AUTHORITY
PRICE NORM  
THIRD (3rd) QUARTER

2022
| Product Code | Product | Product Image | Product Specification | Unit of Measure | WESTERN AREA | EASTERN PROVINCE | SOUTHERN PROVINCE | NORTHERN PROVINCE | |
| --- | --- | --- | --- | --- | --- | --- | --- | --- | --- |
| 1,001 | PAPER | | A4*210x297mm*80 gsm* 1x500 Sheets*Plain White | Ream (Packet) | 86 | 91.51 | 91 | 91 | |
| 1,002 | PAPER | | A4*210x297mm*80 gsm* 5x500 Sheets*Plain White | Carton of 5 Packets | 410 | 434.42 | 430 | 430 | |
| 1,003 | PAPER | | A4*210x297mm*80 GSM* 1x500 Sheets*Coloured* | Ream (Packet) | 115 | 121.90 | 121 | 121 | |
| 1,004 | PAPER | | A4*210x297mm*80 GSM* 1x500 Sheets*Coloured* | Carton of 5 Packets | 577 | 611.09 | 605 | 605 | |
| 1,005 | PAPER | | A4*210x297mm*80 gsm* 5x500 Sheets*Coloured* | Carton of 5 Packets | 568 | 602.43 | 597 | 597 | |
| 1,006 | PAPER | | A4 Size *1x50 sheets Conqurer Paper (fibers security paper) | Ream (Packet) | 139 | 147.42 | 146 | 146 | |
| 1,007 | PAPER | | A4 Size* Certificate Cards* 210x297mm (21 cm x 29.7 cm) *160 GSM* 1x25 sheets (Assorted) | Ream (Packet) | 253 | 268.53 | 266 | 266 | |
| 1,008 | PAPER | | A4 Size* Certificate Cards* 210x297mm (21 cm x 29.7 cm) *160 GSM* 1x1000 sheets (Assorted) | Carton | 1,415 | 1,499.90 | 1,486 | 1,486 | |
| 1,009 | PAPER | | A4 size Glossy *Printing Cards- * White* (100 sheet) | Ream (Packet) | 284 | 301.04 | 298 | 298 | |
| 1,010 | PAPER | | A4 size Glossy *Printing Cards- * White* | Carton | 1,393 | 1,476.93 | 1,463 | 1,463 | |
| 1,011 | PAPER | | A4 High Quality Invitation Cards* (100 sheets) | Packet | 983 | 1,042.33 | 1,033 | 1,033 | |
| 1,012 | PAPER | | A4 High Quality Invitation Cards* | Carton/Box | 6,783 | 7,190.33 | 7,123 | 7,123 | |
| 1,013 | PAPER | | A3 Paper 80gsm (297mm x 420mm) - 1x500 Sheets | Ream (Packet) | 202 | 213.94 | 212 | 212 | |
| 1,014 | PAPER | | A3 Paper 80gsm (297mm x 420mm) - 5x500 Sheets | Carton | 1,050 | 1,113.00 | 1,103 | 1,103 | |
| 1,015 | PAPER | | A3 *120 gsm* 5x250 Sheets *Plain White* | Ream | 263 | 279.13 | 277 | 277 | |
| 1,016 | PAPER | | A3 *120 gsm* 5x250 Sheets *Plain White* | Carton | 1,402 | 1,485.77 | 1,472 | 1,472 | |
| 1,017 | PAPER | | Double A A3 80 gsm Ream Paper, 1x500 Sheets | Ream | 262 | 277.37 | 275 | 275 | |
| 1,018 | PAPER | | Double A A3 80 gsm 5x500 Sheets | Box | 1,012 | 1,073.07 | 1,063 | 1,063 | |
| 1,019 | PAPER | | A3 Vanguard*Coloured Card 180gsm* (50 Sheets) | Packet x 100 pkt | 665 | 705.34 | 699 | 699 | |
| 1,020 | PAPER | | A3 Vanguard*Coloured Card 180gsm (50 Sheets) | Carton (Box) | 6,648 | 7,047.23 | 6,981 | 6,981 | |
| 1,021 | PAPER | | A3 Tracing Paper | Yards | 28 | 29.96 | 30 | 30 | |
| 1,022 | PAPER | | A3 Tracing Paper | Roll X25 Yards | 800 | 848.00 | 840 | 840 | |
| 1,023 | PAPER | | Brown Paper (250 Sheet) | Ream | 3,367 | 3,568.49 | 3,535 | 3,535 | |
| 1,024 | PAPER | | Computer Paper *Carbonless 9.5" X 8" * single PLY * Plain | Box | 681 | 721.68 | 715 | 715 | |
| 1,025 | PAPER | | Computer Paper *Carbonless 9.5" X 8" * Double PLY * Plain | | 1,104 | 1,169.98 | 1,159 | 1,159 | |
| 1,026 | PAPER | | Computer Paper * Carbonless* 9.5" X 11" * Single Ply * Plain | Box | 670 | 710.02 | 703 | 703 | |
| 1,027 | PAPER | | Computer Paper * Carbonless* 9.5" X 11" * Double Ply * Plain | Box | 937 | 992.69 | 983 | 983 | |
| 1,028 | PAPER | | Computer Paper *Carbonless* 9.5" X 11" * 3 Ply* Plain | Box | 6,765 | 7,170.90 | 7,103 | 7,103 | |
| 1,029 | PAPER | | Computer Paper * 9.5" X 11" * Single Ply * ruled | Box | 942 | 997.99 | 989 | 989 | |
| 1,030 | PAPER | | Computer Paper * Carbonless* 9.5" X 11" * Double Ply * ruled | Box | 944 | 1,000.29 | 991 | 991 | |
| 1,031 | PAPER | | Computer Paper * Carbonless 9.5" X 11" * 3 ply * ruled | Box | 944 | 1,000.29 | 991 | 991 | |
| 1,032 | PAPER | | Computer Paper * Carbonless* 14" X 11" * Double Ply * ruled | Box | 944 | 1,000.29 | 991 | 991 | |
| 1,033 | PAPER | | White Bond paper 500 sheet 80 Gsm 640X9000 | Ream | 954 | 1,011.24 | 1,002 | 1,002 | |
| 1,034 | PAPER | | Blue Bone Paper 250 Sheet 80 Gsm 640X900 | Ream | 1,014 | 1,074.84 | 1,065 | 1,065 | |
| 1,035 | PAPER | | Green Bone Paper 250 Sheet 80 Gsm 640X900 | Ream | 956 | 1,013.01 | 1,003 | 1,003 | |
| 1,036 | PAPER | | Yellow Bone Paper 250 Sheet 80 Gsm 640X900 | Ream | 954 | 1,011.24 | 1,002 | 1,002 | |
| 1,037 | PAPER | | Pink Bone Paper 250 Sheet 80 Gsm 640X900 | Ream | 887 | 940.57 | 932 | 932 | |
| 1,038 | PAPER | | White Manila 100 Sheet 180 Gsm 640x900 | Ream | 608 | 644.83 | 639 | 639 | |
| 1,039 | PAPER | | Blue Manila 100 Sheet 180 Gsm 640x900 | Ream | 540 | 572.40 | 567 | 567 | |
| 1,040 | PAPER | | Green Manila 100 Sheet 180 Gsm 640x900 | Ream | 540 | 572.40 | 567 | 567 | |
| 1,041 | PAPER | | Yellow Manila 100 Sheet 180 Gsm 640x900 | Ream | 607 | 643.07 | 637 | 637 | |
| 1,042 | PAPER | | Art Manila 250 Gsm 100 Sheet 640x 900 | Ream | 608 | 644.83 | 639 | 639 | |
| 1,043 | PAPER | | Art Paper 115 Gsm 500 Sheet 640x 900 | Ream | 961 | 1,018.31 | 1,009 | 1,009 | |
| 1,044 | PAPER | | Yellow Carbon paper 500 Sheet 450x 640 | Ream | 981 | 1,039.51 | 1,030 | 1,030 | |
| 1,045 | PAPER | | Green Carbon paper 500 Sheet 450x 640 | Ream | 961 | 1,018.31 | 1,009 | 1,009 | |
| 1,046 | PAPER | | Pink Carbon paper 500 Sheet 450x 640 | Ream | 961 | 1,018.31 | 1,009 | 1,009 | |
| 1,047 | PAPER | | White Bank Paper 500 Sheet 640x 900 | Ream | 961 | 1,018.31 | 1,009 | 1,009 | |
| 1,048 | PAPER | | Blue Bank Paper 500 Sheet 640x 900 | Ream | 961 | 1,018.31 | 1,009 | 1,009 | |
| 1,049 | PAPER | | Green Bank Paper 500 Sheet 640x 900 | Ream | 961 | 1,018.31 | 1,009 | 1,009 | |
| 1,050 | PAPER | | Yellow Bank Paper 500 Sheet 640x 900 | Ream | 961 | 1,018.31 | 1,009 | 1,009 | |
| 1,051 | PAPER | | Pink Bank Paper 500 Sheet 640x 900 | Ream | 961 | 1,018.31 | 1,009 | 1,009 | |
| 1,052 | PAPER | | Colour Computer Forms 9.5" x 11" * 4 Ply * Inch White Pink Blue and Yellow | Box | 1,200 | 1,272.00 | 1,260 | 1,260 | |
| 1,053 | PAPER | | News Print Paper * 60 gsm *450 x 200* | Packet | 570 | 604.20 | 599 | 599 | |
| 1,054 | PAPER | | News print paper * 60 gsm *450 x 640* | Box | 2,850 | 3,021.00 | 2,993 | 2,993 | |
| 1,055 | PAPER | | Manilla Coloured Paper* 180 gm * 450 X 350* | Packet | 107 | 113.77 | 113 | 113 | |
| 1,056 | PAPER | | Art Card * 640 X 900 * 300gsm * 50 Sheets* | Pieces | 678 | 718.15 | 711 | 711 | |
| 1,057 | PAPER | | Art Card * 640 X 900 * 300gsm * 50 Sheets* | Packet | 675 | 715.68 | 709 | 709 | |
| 1,058 | PAPER | | A4 Carbon Transfer Paper | Packet | 72 | 76.19 | 75 | 75 | |
| 1,059 | PAPER | | A4 Carbon Transfer Paper | Box x 50 pkt | 3,296 | 3,493.58 | 3,461 | 3,461 | |
| 1,060 | PAPER | | 200pcs A4 Black Carbon Transfer Tracing Graphite Paper (Writing Carbon) | Packet | 6 | 6.17 | 6 | 6 | |
| 1,061 | PAPER | | A4 Size Writing Carbon | Packet | 71 | 74.87 | 74 | 74 | |
| 1,062 | Envelope | | DL White Peel & Seal Envelopes 100gsm: 110 x 220 | Packet | 20 | 21.60 | 21 | 21 | |
| 1,063 | Envelope | | C3 Size * 458mm 324mm * To fit unfolded A3 paper | Packet | 70 | 73.85 | 73 | 73 | |
| 1,064 | Envelope | | C4 Size *324mm x 229mm Envelopes Peel & Seal Pocket 100 GSM | Packet | 73 | 77.73 | 77 | 77 | |
| 1,065 | Envelope | | C4 Size * 324mm x 229mm * To fit unfolded A4 paper | Packet | 42 | 44.43 | 44 | 44 | |
| 1,066 | Envelope | | C5 * 162mmX 229mm * To fit A4 paper folded in half | Packet | 42 | 44.26 | 44 | 44 | |
| 1,067 | Envelope | | C6 * 114mm x162mm * To fit A4 paper folded in 4 | Packet | 23 | 23.89 | 24 | 24 | |
| 1,068 | Envelope | | B4 * 250mm x352* To fit A4 paper unfolded* ideal for thicker documents | Packet | 15 | 15.46 | 15 | 15 | |
| 1,069 | Envelope | | 5" x 5" Square Envelopes 130mm x 130mm * ideal for Invitations etc* | Packet | 140 | 148.75 | 147 | 147 | |
| 1,070 | Envelope | | X-ray*10" X 14"* (Small) | Packet | 340 | 360.31 | 357 | 357 | |
| 1,071 | Envelope | | X-ray*13" X 19"*(Medium) | Packet | 454 | 481.42 | 477 | 477 | |
| 1,072 | Envelope | | X-ray*17" X 24"* F16 Size 240x350mm (Large) | Packet | 338 | 358.28 | 355 | 355 | |
| 1,073 | | | X-ray*22" X 30"*(XL) | Packet | 348 | 368.88 | 365 | 365 | |
| 1,074 | Book | | Logbook /Way Book * Column Approximately *120 Pages* | Ea | 376 | 398.21 | 394 | 394 | |
| 1,075 | Book | | *Foolscap Book *Ruled* Approximately 150 Pages* | Ea | 441 | 467.55 | 463 | 463 | |
| 1,076 | BOOK | | Ledger Book *12 Columns 2Q /4Q | Ea | 392 | 414.99 | 411 | 411 | |
| 1,077 | BOOK | | Ledger Book *12 Columns 2Q /4Q | Carton/Box | 4,223 | 4,475.85 | 4,434 | 4,434 | |
| 1,078 | BOOK | | Analysis Book *32 Columns* /27/24 | Ea | 633 | 670.45 | 664 | 664 | |
| 1,079 | BOOK | | Address Book * App 180 Pages * | Ea | 51 | 53.71 | 53 | 53 | |
| 1,080 | BOOK | | Address Book * App 180 Pages * | Box | 1,120 | 1,187.20 | 1,176 | 1,176 | |
| 1,081 | BOOK | | Shorthand Notebook* 128 X 203 mm* 70 Pages* | Packet | 140 | 148.40 | 147 | 147 | |
| 1,082 | BOOK | | Shorthand Notebook* 128 X 203 mm* 70 Pages* | Box x 192 Pcs | 2,235 | 2,368.97 | 2,347 | 2,347 | |
| 1,083 | BOOK | | Shorthand Notebook* 127 X 203 mm* 160 Pages* | 300 Pages x 6 Packet | 28 | 29.68 | 29 | 29 | |
| 1,084 | BOOK | | Shorthand Notebook* 127 X 203 mm* 160 Pages* | Box | 1,693 | 1,794.93 | 1,778 | 1,778 | |
| 1,085 | BOOK | | Shorthand Notebook* 5" x 8" (127 x 203mm) 300 Pages* | Packet | 168 | 177.73 | 176 | 176 | |
| 1,086 | BOOK | | Shorthand Notebook* 5" x 8" (127 x 203mm) 300 Pages* | Box x 120 pcs | 3,300 | 3,498.00 | 3,465 | 3,465 | |
| 1,087 | BOOK | | Executive Book *7"X 9"* | Packet | 555 | 588.30 | 583 | 583 | |
| 1,088 | BOOK | | Executive Book *7"X 9"* | Box | 5,433 | 5,759.33 | 5,705 | 5,705 | |
| 1,089 | BOOK | | School Register * Columns* For Attendance* | Catoon x 175 pkt | 3,298 | 3,495.35 | 3,462 | 3,462 | |
| 1,090 | BOOK | | *4 Ruled Exercise Book* 40 Pages* | Packet | 51 | 53.53 | 53 | 53 | |
| 1,091 | BOOK | | *3 Double Exercise Book* 40 Pages* | Packet | 50 | 52.65 | 52 | 52 | |
| 1,092 | BOOK | | *4 Ruled Exercise Book* 80 Pages* | Packet | 69 | 72.70 | 72 | 72 | |
| 1,093 | BOOK | | *3 Double Exercise Book* 80 Pages* | Packet | 69 | 72.70 | 72 | 72 | |
| 1,094 | BOOK | | *4 Ruled Exercise Book* 120 Pages * | Packet | 83 | 87.45 | 87 | 87 | |
| 1,095 | BOOK | | *3 Double Exercise Book* 120 Pages* | Packet | 83 | 87.45 | 87 | 87 | |
| 1,096 | BOOK | | *4 Ruled and Plain Exercise Book* 40 pages* | Packet | 50 | 52.82 | 52 | 52 | |
| 1,097 | PADS | | A4 Size *Writing Pads* | Packet | 83 | 88.16 | 87 | 87 | |
| 1,098 | PADS | | Post it Pads *Large* | Packet | 29 | 30.39 | 30 | 30 | |
| 1,099 | FLIP CHART PAD | | 3m flip chart 25"x30" white, 40 sheets | Ea 25 sheet | 116 | 123.31 | 122 | 122 | |
| 1,100 | FLIP CHART PAD | | 3m flip chart 25"x30" white, 40 sheets | Packet x 10 Pcs | 1,157 | 1,226.07 | 1,215 | 1,215 | |
| 1,101 | FLIP CHART PAD | | School smart primary chart paper 24"x32", ruled 1½" with dotted midline white, 70 sheets | Ea | 139 | 147.08 | 146 | 146 | |
| 1,102 | FLIP CHART PAD | | School smart primary chart paper 24"x32", ruled 1½" with dotted midline white, 70 sheets | Pack of 10 pcs | 139 | 147.08 | 146 | 146 | |
| 1,103 | STAMP | | Stamp Pad | Ea | 28 | 29.68 | 29 | 29 | |
| 1,104 | STAMP | | Stamp Pad (Double) | Ea | 70 | 73.67 | 73 | 73 | |
| 1,105 | STAMP | | Self Inking Rubber Stamp | Ea | 208 | 220.88 | 219 | 219 | |
| 1,106 | STAMP | | Self Inking Daters | Ea | 347 | 367.69 | 364 | 364 | |
| 1,107 | STAMP | | Label Stamps | Ea | 196 | 208.16 | 206 | 206 | |
| 1,108 | FILES | | Suspension hook Hanging File | Ea | 14 | 14.71 | 15 | 15 | |
| 1,109 | FILES | | Suspension hook Hanging File | Packet | 347 | 367.69 | 364 | 364 | |
| 1,110 | FILES | | Foolscap Suspension Files Foolscap | Packet | 518 | 548.88 | 544 | 544 | |
| 1,111 | FILES | | IXL *Lever Arch File* 2 Rings* | Ea | 28 | 29.68 | 29 | 29 | |
| 1,112 | FILES | | IXL * Lever Arch File* 2 Rings* | Box | 1,388 | 1,470.75 | 1,457 | 1,457 | |
| 1,113 | FILES | | IXL * Lever Arch File* 3 Rings* | Ea | 35 | 36.95 | 37 | 37 | |
| 1,114 | FILES | | IXL * Lever Arch File* 3 Rings* | Box | 1,744 | 1,849.04 | 1,832 | 1,832 | |
| 1,115 | FILES | | Pockets Files/Documents Wallets* | Box | 701 | 743.33 | 736 | 736 | |
| 1,116 | FILES | | Manilla File * Flat* Foolscap | Box | 421 | 446.53 | 442 | 442 | |
| 1,117 | FILES | | Box File * Foolscap | Ea | 421 | 446.53 | 442 | 442 | |
| 1,118 | FILES | | Box File * Foolscap | Carton | 2,073 | 2,197.20 | 2,176 | 2,176 | |
| 1,119 | FILES | | Plastic File * Coloured* 12 Inch* | Packet | 66 | 69.96 | 69 | 69 | |
| 1,120 | FLIP CHART STAND | | Master of Boards Magnetic Flip Chart with Wheels | Dry Wipe Flipchart/Whiteboard Easel with Extendable Side Arms | Height Adjustable up to 225cm | Clamp for...180 X 180 cm | Set | 486 | 514.76 | 510 | 510 | |
| 11,121 | FLIP CHART STAND | | 90cm x 60cm Tripod Whiteboard, Tripod Whiteboard, Magnetic Dry Erase Board/Flipchart Easel Whiteboard, Height Adjustable Stand Board | Set | 684 | 724.51 | 718 | 718 | |
| 1,122 | FLIP CHART STAND | | Double Sided Felt Notice Board 1800 x 1200mm Franken Pro Partition System Blue | Set | 964 | 1,021.58 | 1,012 | 1,012 | |
| 1,123 | FLIP CHART STAND | | Wonderwall Large Drywipe Steel Magnetic Whiteboard with Fixings and Pen Tray (2400 x 1200mm) | Set | 1,675 | 1,775.50 | 1,759 | 1,759 | |
| 1,124 | OFFICE TRAY | | Set of Three* Plastic * | Set | 137 | 144.69 | 143 | 143 | |
| 1,125 | OFFICE TRAY | | Set of Three* Plastic * | Packet | 137 | 144.69 | 143 | 143 | |
| 1,126 | OFFICE TRAY | | Set of Three * Mesh* | Box | 1,435 | 1,521.10 | 1,507 | 1,507 | |
| 1,127 | GREEN TAGS | | 100 per Box * Small* | Box | 87 | 91.87 | 91 | 91 | |
| 1,128 | GREEN TAGS | | 100 Per Box * Large* | Box | 110 | 116.25 | 115 | 115 | |
| 1,129 | DUSTER | | Black Board* Plastic\ Wood* | Packet | 201 | 213.50 | 211 | 211 | |
| 1,130 | DUSTER | | Black Board* Plastic\ Wood* | Box | 2,042 | 2,164.17 | 2,144 | 2,144 | |
| 1,131 | BELL | | School Hand Bell * 5" Diameter | Ea | 295 | 312.70 | 310 | 310 | |
| 1,132 | BELL | | School Hand Bell * 5" Diameter | Box x 12 pcs | 3,267 | 3,462.67 | 3,430 | 3,430 | |
| 1,133 | Correction Fluid | | Tipp-Ex Bottle | 30ml Ea | 31 | 33.21 | 33 | 33 | |
| 1,134 | Correction Fluid | | Tipp-Ex Bottle | 30ml Packet | 579 | 613.56 | 608 | 608 | |
| 1,135 | Correction Fluid | | Tipp-Ex Pen Type | 30ml Ea | 14 | 14.97 | 15 | 15 | |
| 1,136 | Correction Fluid | | Tipp-Ex Pen Type | 30ml Packet | 170 | 180.20 | 179 | 179 | |
| 1,137 | ERASERS | | Typing Eraser with Brush | Packet | 170 | 180.20 | 179 | 179 | |
| 1,138 | ERASERS | | Typing Eraser with Brush | Carton of 144 pcs | 3,955 | 4,192.30 | 4,153 | 4,153 | |
| 1,139 | ERASERS | | Eraser Large | Packet | 205 | 217.48 | 215 | 215 | |
| 1,140 | ERASERS | | Eraser Large | Carton of 60 pkt | 1,246 | 1,320.58 | 1,308 | 1,308 | |
| 1,141 | ERASERS | | Eraser Small | Packet | 143 | 151.05 | 150 | 150 | |
| 1,142 | ERASERS | | Eraser Small | Carton | 199 | 210.59 | 209 | 209 | |
| 1,143 | TWINE | | Large | Roll | 208 | 220.22 | 218 | 218 | |
| 1,144 | TWINE | | Large | Box | 2,064 | 2,187.58 | 2,167 | 2,167 | |
| 1,145 | LAMINATING PLASTIC | | A4 Size | Packet | 208 | 220.22 | 218 | 218 | |
| 1,146 | PENS | | Ball Point Pens *Normal quality* (Black, Blue,Red) | Box | 69 | 73.14 | 72 | 72 | |
| 1,147 | PENS | | Ball Point Pens *Normal quality* (Black, Blue,Red) | Carton of 80 pkt | 5,475 | 5,803.50 | 5,749 | 5,749 | |
| 1,148 | PENS | | Ball Point Pen * High Quality * (Black, Blue,Red) | Box | 86 | 91.16 | 90 | 90 | |
| 1,149 | PENS | | Ball Point Pen * High Quality * (Black, Blue,Red) | Carton | 828 | 877.15 | 869 | 869 | |
| 1,150 | PENS | | Architectural Drawing Pens 0.2,0.3,0.4,0.5 | Box | #DIV/0! | #DIV/0! | #DIV/0! | #DIV/0! | |
| 1,151 | PENS | | Architectural Drawing Pens 0.2,0.3,0.4,0.5 | Carton of 10 boxes | #DIV/0! | #DIV/0! | #DIV/0! | #DIV/0! | |
| 1,152 | PENCILS | | 2B Pencil | Packet | 16 | 17.23 | 17 | 17 | |
| 1,153 | PENCILS | | 2B Pencil | Box | 193 | 204.23 | 202 | 202 | |
| 1,154 | PENCILS | | 2B Pencil | Carton of 5,760 pcs | 757 | 802.07 | 795 | 795 | |
| 1,155 | PENCILS | | HB Pencil | Packet | 10 | 11.08 | 11 | 11 | |
| 1,156 | PENCILS | | HB Pencil | Box | 114 | 120.31 | 119 | 119 | |
| 1,157 | PENCILS | | HB Pencil | Carton of 4,320 pcs | 3,305 | 3,503.30 | 3,470 | 3,470 | |
| 1,158 | PENCIL CRAYONS | | Pencil Crayons | Packet | 20 | 21.64 | 21 | 21 | |
| 1,159 | PENCIL CRAYONS | | Pencil Crayons | Box | 229 | 242.21 | 240 | 240 | |
| 1,160 | PENCIL CRAYONS | | Pencil Crayons | Carton of 480 pcs | 9,850 | 10,441.00 | 10,343 | 10,343 | |
| 1,161 | WAX CRAYON | | Wax Crayons | Box | 28 | 30.03 | 30 | 30 | |
| 1,162 | WAX CRAYON | | Wax Crayons | Carton of 480 pcs | 13,600 | 14,416.00 | 14,280 | 14,280 | |
| 1,163 | SHARPNERS | | Pencil Sharpner *Metal* | Packet | 69 | 73.14 | 72 | 72 | |
| 1,164 | SHARPNERS | | Pencil Sharpner *Metal* | Box | 132 | 140.27 | 139 | 139 | |
| 1,165 | MARKERS | | Assorted | Packet | 51 | 53.88 | 53 | 53 | |
| 1,166 | MARKERS | | Assorted | Box | 1,063 | 1,127.13 | 1,117 | 1,117 | |
| 1,167 | MARKERS | | Assorted | Carton of 100 pkt | 4,975 | 5,273.50 | 5,224 | 5,224 | |
| 1,168 | MARKERS | | White Board Marker | Packet | 68 | 71.55 | 71 | 71 | |
| 1,169 | MARKERS | | White Board Marker | Box 100 pkt | 6,600 | 6,996.00 | 6,930 | 6,930 | |
| 1,170 | HIGHLIGHTERS | | Assorted | Packet | 29 | 30.21 | 30 | 30 | |
| 1,171 | HIGHLIGHTERS | | Assorted | Box of 10 pkt | 287 | 304.04 | 301 | 301 | |
| 1,172 | CHALK | | White Chalk | Box | 29 | 31.06 | 31 | 31 | |
| 1,173 | CHALK | | White Chalk | Carton | 1,783 | 1,890.33 | 1,873 | 1,873 | |
| 1,174 | CHALK | | Coloured Chalk | Box | 58 | 61.13 | 61 | 61 | |
| 1,175 | CHALK | | Coloured Chalk | Carton of 60 pkt | 2,041 | 2,163.28 | 2,143 | 2,143 | |
| 1,176 | SLATE | | Free-Arm Board (Slate) | Carton of 120 pcs | 4,075 | 4,319.50 | 4,279 | 4,279 | |
| 1,177 | RUBBER BAND | | Rubber Band *Small Size* | Packet | 21 | 22.57 | 22 | 22 | |
| 1,178 | RUBBER BAND | | Rubber Band *Small Size* | Carton | 1,144 | 1,212.38 | 1,201 | 1,201 | |
| 1,179 | RUBBER BAND | | Rubber Band *Medium Size* | Packet | 28 | 29.77 | 29 | 29 | |
| 1,180 | RUBBER BAND | | Rubber Band *Medium Size* | Carton | 1,425 | 1,510.50 | 1,496 | 1,496 | |
| 1,181 | RUBBER BAND | | Rubber Band *Large Size* | Packet | 95 | 101.14 | 100 | 100 | |
| 1,182 | RUBBER BAND | | Rubber Band * Large Size* | Carton | 6,194 | 6,565.51 | 6,504 | 6,504 | |
| 1,183 | RULER | | Plastic Ruler | 30cm Box | 395 | 418.52 | 415 | 415 | |
| 1,184 | RULER | | Plastic Ruler | Carton of 1440 pcs | 6,755 | 7,160.30 | 7,093 | 7,093 | |
| 1,185 | RULER | | Board Ruler | 3ft Box | 167 | 177.37 | 176 | 176 | |
| 1,186 | RULER | | Board Ruler | 3ft Carton of 60 pcs | 1,627 | 1,724.27 | 1,708 | 1,708 | |
| 1,187 | MATHEMATICAL SET | | Student Mathematical Set | Carton of 144 pcs | 393 | 416.23 | 412 | 412 | |
| 1,188 | MATHEMATICAL SET | | Blackboard Mathematical Set | Set | 533 | 565.33 | 560 | 560 | |
| 1,189 | SCISSORS | | Small size | Ea | 21 | 22.23 | 22 | 22 | |
| 1,190 | SCISSORS | | Small size | Carton | 1,515 | 1,605.90 | 1,591 | 1,591 | |
| 1,191 | SCISSORS | | Medium Size | Ea | 29 | 31.20 | 31 | 31 | |
| 1,192 | SCISSORS | | Medium Size | Carton | 997 | 1,056.47 | 1,047 | 1,047 | |
| 1,193 | SCISSORS | | Large Size | Ea | 71 | 75.08 | 74 | 74 | |
| 1,194 | SCISSORS | | Large Size | Carton | 1,254 | 1,329.42 | 1,317 | 1,317 | |
| 1,195 | STAPLER | | Small Size | Ea | 69 | 72.88 | 72 | 72 | |
| 1,196 | STAPLER | | Small Size | Carton of 144 pcs | 9,750 | 10,335.00 | 10,238 | 10,238 | |
| 1,197 | STAPLER | | Large Size | Ea | 138 | 146.10 | 145 | 145 | |
| 1,198 | STAPLER | | Large Size | Carton of 96 pcs | 12,633 | 13,391.33 | 13,265 | 13,265 | |
| 1,199 | STAPLER | | Giant Size | Ea | 287 | 303.87 | 301 | 301 | |
| 1,200 | STAPLER | | Giant Size | Carton of 12 pcs | 3,300 | 3,498.00 | 3,465 | 3,465 | |
| 1,201 | CLIP FASTENER | | Standard Size | Packet | 13 | 13.34 | 13 | 13 | |
| 1,202 | CLIP FASTENER | | Standard Size | Carton of 100 pkt | 1,388 | 1,470.75 | 1,457 | 1,457 | |
| 1,203 | CLIPS | | Paper Clip *Small Size* 33mm | Packet | 7 | 7.04 | 7 | 7 | |
| 1,204 | CLIPS | | Paper Clip *Small Size* 33mm | Carton of 100 pkt | 663 | 702.43 | 696 | 696 | |
| 1,205 | CLIPS | | Paper Clip *Medium Size* | Packet | 21 | 21.84 | 22 | 22 | |
| 1,206 | CLIPS | | Paper Clip *Medium Size* | Carton | 1,967 | 2,084.84 | 2,065 | 2,065 | |
| 1,206 | CLIPS | | Paper Clip *Large Size* | Packet | 29 | 30.21 | 30 | 30 | |
| 1,207 | CLIPS | | Paper Clip *Large Size* | Carton of 100 pcs | 1,292 | 1,369.17 | 1,356 | 1,356 | |
| 1,208 | CLIPS | | Paper Clip *Small Size* | Packet | 6 | 6.78 | 7 | 7 | |
| 1,209 | CLIPS | | Paper Clip *Small Size* | Carton | 3,286 | 3,482.98 | 3,450 | 3,450 | |
| 1,210 | CLIPS | | Paper Clip *Large Size* | Packet | 13 | 13.97 | 14 | 14 | |
| 1,211 | CLIPS | | Paper Clip *Large Size* | Carton | 1,325 | 1,404.50 | 1,391 | 1,391 | |
| 1,212 | STAPLE PINS | | Small Staples * 24/6* | Packet | 13 | 14.05 | 14 | 14 | |
| 1,213 | STAPLE PINS | | Small Staples * 24/6* | Carton of 100 pkt | 1,332 | 1,411.57 | 1,398 | 1,398 | |
| 1,214 | STAPLE PINS | | Giant Staples* 26/6* | Packet | 134 | 142.22 | 141 | 141 | |
| 1,215 | STAPLE PINS | | Giant Staples* 26/6* | Carton of 200 pkt | 2,567 | 2,720.67 | 2,695 | 2,695 | |
| 1,216 | STRAIGHT PINS | | Straight T Pins | Pkt | 66 | 70.24 | 70 | 70 | |
| 1,217 | STRAIGHT PINS | | Straight T Pins | Carton of 300 pkt | 5,068 | 5,371.55 | 5,321 | 5,321 | |
| 1,218 | PAPER PUNCHING MACHINE | | Single/One Hole 4.5 Paper Punch | Ea | 92 | 97.39 | 96 | 96 | |
| 1,219 | PAPER PUNCHING MACHINE | | Single/One Hole 4.5 Paper Punch | Carton of 60 pcs | 3,958 | 4,195.83 | 4,156 | 4,156 | |
| 1,220 | PAPER PUNCHING MACHINE | | Double Hole * 10 Pages * | Ea | 127 | 134.27 | 133 | 133 | |
| 1,221 | PAPER PUNCHING MACHINE | | Double Hole * 10 Pages * | Carton of 30 pcs | 3,200 | 3,392.00 | 3,360 | 3,360 | |
| 1,222 | PAPER PUNCHING MACHINE | | Double Hole * 20 Pages * | Ea | 202 | 213.59 | 212 | 212 | |
| 1,223 | PAPER PUNCHING MACHINE | | Double Hole * 20 Pages * | Carton of 12 pcs | 2,525 | 2,676.50 | 2,651 | 2,651 | |
| 1,224 | PAPER PUNCHING MACHINE | | Heavy Duty *Double Hole* | Ea | 270 | 286.47 | 284 | 284 | |
| 1,225 | PAPER PUNCHING MACHINE | | Heavy Duty *Double Hole* | Carton of 12 pcs | 3,350 | 3,551.00 | 3,518 | 3,518 | |
| 1,226 | BUSINESS CALCULATOR | | 12 Digits *Small * | Ea | 139 | 147.08 | 146 | 146 | |
| 1,227 | BUSINESS CALCULATOR | | 12 Digits *Small * | Carton of 120 pcs | 1,600 | 1,696.00 | 1,680 | 1,680 | |
| 1,228 | BUSINESS CALCULATOR | | 12 Digits *Large* | Ea | 207 | 219.82 | 218 | 218 | |
| 1,229 | BUSINESS CALCULATOR | | 12 Digits *Large* | Carton | 246 | 260.76 | 258 | 258 | |
| 1,230 | SCIENTIFIC CALCULATOR | | 12 Digits *Large* | Ea | 168 | 177.55 | 176 | 176 | |
| 1,231 | SCIENTIFIC CALCULATOR | | 12 Digits *Large* | Carton | 1,985 | 2,104.10 | 2,084 | 2,084 | |
| 1,232 | CALCULATOR | | Calculator with Tape* (adding machine) | Ea | 20,563 | 21,796.25 | 21,591 | 21,591 | |
| 1,233 | CALCULATOR | | Calculator with Tape* (adding machine) | Carton | 103,123 | 109,309.85 | 108,279 | 108,279 | |
| 1,234 | CELLOTAPE | | Transparent *Small* 25mm x 25m | Roll | 21 | 22.33 | 22 | 22 | |
| 1,235 | CELLOTAPE | | Transparent *Small* 25mm x 25m | Carton of 72 pcs | 1,493 | 1,582.05 | 1,567 | 1,567 | |
| 1,236 | CELLOTAPE | | Transparent *Large* 75mm x 25m | Roll | 124 | 131.18 | 130 | 130 | |
| 1,237 | CELLOTAPE | | Transparent *Large* 75mm x 25m | Carton | 1,485 | 1,574.10 | 1,559 | 1,559 | |
| 1,238 | CELLOTAPE | | Brown *Large* 75mm x 25m | Roll | 138 | 145.75 | 144 | 144 | |
| 1,239 | CELLOTAPE | | Brown *Large* 75mm x 25m | Carton | 1,375 | 1,457.50 | 1,444 | 1,444 | |
| 1,240 | MASKING TAPE | | Medium Size | Packet | 138 | 145.75 | 144 | 144 | |
| 1,241 | BINDING SHEETS | | Covers *Plastic* A4 * (White / Coloured) | Box | 1,375 | 1,457.50 | 1,444 | 1,444 | |
| 1,242 | BINDING COMB | | 8 mm* | Box | 206 | 218.63 | 217 | 217 | |
| 1,243 | BINDING COMB | | 6 mm * | Box | 275 | 291.50 | 289 | 289 | |
| 1,244 | BINDDING COMB | | 10mm* | Box | 275 | 291.50 | 289 | 289 | |
| 1,245 | BINDDING COMB | | 12mm* | Box | 413 | 437.25 | 433 | 433 | |
| 1,246 | BINDDING COMB | | 16mm* | Box | 413 | 437.25 | 433 | 433 | |
| 1,247 | BINDDING COMB | | 20mm* | Box | 413 | 437.25 | 433 | 433 | |
| 1,248 | BINDING COMB MACHINE | | 24 Holes Comb Binding Machine | Ea | 688 | 728.75 | 722 | 722 | |
| 1,249 | BINDING COMB MACHINE | | 25 Holes Comb Binding Machine | Carton | 2,063 | 2,186.25 | 2,166 | 2,166 | |
| 1,250 | GLUE STICK | | 32 gm | Ea | 14 | 14.58 | 14 | 14 | |
| 1,251 | GLUE STICK | | 32 gm | Carton of 288 pcs | 3,960 | 4,197.60 | 4,158 | 4,158 | |
| 1,252 | GLUE STICK | | Paper Glue * Small * 15g | Ea | 11 | 11.66 | 12 | 12 | |
| 1,253 | GLUE STICK | | Paper Glue * Small * 15g | Carton | 1,100 | 1,166.00 | 1,155 | 1,155 | |
| 1,254 | GLUE STICK | | Paper Glue * Medium * 21g | Ea | 21 | 22.33 | 22 | 22 | |
| 1,255 | GLUE STICK | | Paper Glue * Medium * 21g | Carton | 2,069 | 2,192.88 | 2,172 | 2,172 | |
| 1,256 | GLUE STICK | | Paper Glue * Large * 36g | Ea | 28 | 29.42 | 29 | 29 | |
| 1,257 | GLUE STICK | | Paper Glue * Large * 36g | Carton | 2,775 | 2,941.50 | 2,914 | 2,914 | |
| 1,258 | INK | | Printing Ink Black 2.5kilo | Tin | 1,125 | 1,192.50 | 1,181 | 1,181 | |
| 1,259 | INK | | Printing Ink Gyan 2.5kilo | Tin | 962 | 1,019.99 | 1,010 | 1,010 | |
| 1,260 | INK | | Printing Ink Yellow 2.5kilo | Tin | 964 | 1,021.84 | 1,012 | 1,012 | |
| 1,261 | INK | | Printing Ink Magenta 2.5kilo | Tin | 964 | 1,021.84 | 1,012 | 1,012 | |
| 1,262 | INK | | Printing Ink Green 2.5kilo | Tin | 964 | 1,021.84 | 1,012 | 1,012 | |
| 1,263 | INK | | Riso Ink Ez | Tin | 206 | 218.23 | 216 | 216 | |
| 1,264 | PLATE | | Plate Cleaner | Liter | 478 | 507.08 | 502 | 502 | |
| 1,265 | PLATE | | Kord Plate 650x 550X0.3mm 50 Sheet | Ream | 373 | 395.73 | 392 | 392 | |
| 1,266 | Quire Book No. 3 | | TREELINE A4 Counter Book 3 Quire Feint And Margin | Pkt | 3,733 | 3,957.33 | 3,920 | 3,920 | |
| 1,267 | Quire Book No. 4 | | Generic Kartasi Counter Book A4 - 4 Quire | pkt | 207 | 219.29 | 217 | 217 | |
| 1,268 | Endorsing Ink | | 30ml | Pkt | 183 | 193.45 | 192 | 192 | |
| 1,269 | Flat files with clips | | Durable A4 Size Pvc Flat File With Clip-50 Pcs/Box | Box | 545 | 577.70 | 572 | 572 | |
| 1,270 | Gloy Paste | | Gloy Paste Squeeze Pack | ctn | 1,370 | 1,452.47 | 1,439 | 1,439 | |
| 1,271 | Manifold Paper | | 28gsm-32gsm ( 500sheet/ream) | Ream | 828 | 877.15 | 869 | 869 | |
| 1,272 | Desk Pad | | dimensions: M (30 cm x 62 cm = 11.8″ x 24.4″). L (30 cm x 90 cm = 11.8″ x 35.4″) | Ea | 146 | 155.03 | 154 | 154 | |
| 1,273 | Blackboard renovator | | 1L Quick Dry Blackboard Paint - Black | Ea | 969 | 1,026.88 | 1,017 | 1,017 | |
| 1,274 | Selotape Separator | | | Ea | 110 | 116.60 | 116 | 116 | |
| 1,275 | A4 Diary | | 21cm x 29cm | ctn | 4,856 | 5,147.63 | 5,099 | 5,099 | |
| 1,276 | Typing Carbon | | | ctn | 3,444 | 3,650.38 | 3,616 | 3,616 | |
| 1,277 | Security Paper | | | Ea | 28 | 29.68 | 29 | 29 | |
| 1,278 | Paper Shredder | | | Ea | 689 | 729.81 | 723 | 723 | |
| 1,279 | Paper Cutter | | | Ea | 1,306 | 1,383.96 | 1,371 | 1,371 | |
| 1,280 | News Print Paper | | | Ea | 273 | 288.85 | 286 | 286 | |
| 1,281 | Magic Marker | | | Set | 46 | 48.89 | 48 | 48 | |
| 1,282 | White Board | | | Ea | 1,378 | 1,460.42 | 1,447 | 1,447 | |
| 1,283 | Notice Board | | | Ea | 1,125 | 1,192.50 | 1,181 | 1,181 | |
| 1,284 | File Folder | | | Ea | 553 | 585.65 | 580 | 580 | |
| 1,285 | Black Board | | | Ea | 967 | 1,024.49 | 1,015 | 1,015 | |
| 1,285 | Vanguard gold | | A4 Size | pkt | 100 | 106.00 | 105 | 105 | |
| 1,285 | vanguard white | | A4 Size | pkt | 58 | 61.83 | 61 | 61 | |
| 1,285 | Bindding plastic | | A4 Size | pkt | 95 | 100.70 | 100 | 100 | |
| 1,285 | Removable self stick notes | | | Ea | 12 | 12.37 | 12 | 12 | |
| 1,285 | flip chart stand | | | Ea | 800 | 848.00 | 840 | 840 | |
| 1,285 | A4 size envelop | | | pkt | 63 | 67.13 | 67 | 67 | |
| 1,285 | A3 Size envelop | | | pkt | 97 | 102.47 | 102 | 102 | |
| 1,285 | A5 Size Envelop | | | pkt | 38 | 40.63 | 40 | 40 | |
| 1,285 | Stamp pad Ink | | | Ea | 12 | 12.37 | 12 | 12 | |
| 1,285 | Quire Ledger | | | Ea | 45 | 47.70 | 47 | 47 | |
Generated by wpDataTables
Download Full Third (3rd) Quarter 2022 Price Norm
NATIONAL PUBLIC PROCUREMENT AUTHORITY
PRICE NORM  
SECOND (2nd) QUARTER

2022
2nd  Quarter  Stationary Price  Norm

Product Code
Product
Product Image
Product Specification
Unit of Measure
Product Price Umah 1
Product Brand
Country of Origin
Product Price Hawa 2
Product Price 3
Product Price 4
PRODUCT PRICE 5
Average
Product Price Miana
Product Price Alex Vandy
WESTERN AREA
EASTERN PROVINCE
SOUTHERN PROVINCE
NORTHERN PROVINCE
1,001
PAPER
A4*210x297mm*80 gsm* 1x500 Sheets*Plain White
Ream (Packet)
40,000.00
Paper One
Malaysia
45,000.00
50,000.00
60,000.00
75,000
86,250
85,500
85,500
1,002
PAPER
A4*210x297mm*80 gsm* 5x500 Sheets*Plain White
Carton of 5 Packets
200,000.00
Paper One
Malaysia
225,000.00
250,000.00
260,000.00
375,000
431,250
427,500
427,500
1,003
PAPER
A4*210x297mm*80 GSM* 1x500 Sheets*Coloured*
Ream (Packet)
100,000.00
Paper One
Malaysia
75,000.00
60,000.00
75,000.00
100,000
115,000
114,000
114,000
1,004
PAPER
A4*210x297mm*80 GSM* 1x500 Sheets*Coloured*
Carton of 5 Packets
500,000.00
Golden Line
Dubia
375,000.00
300,000.00
375,000.00
500,000
575,000
570,000
570,000
1,005
PAPER
A4*210x297mm*80 gsm* 5x500 Sheets*Coloured*
Carton of 5 Packets
250,000.00
Golden Line
Dubia
300,000.00
375,000.00
500,000
575,000
570,000
570,000
1,006
PAPER
A4 Size *1x50 sheets Conqurer Paper (fibers security paper)
Ream (Packet)
50,000.00
70,000.00
125,000
143,750
142,500
142,500
1,007
PAPER
A4 Size* Certificate Cards* 210x297mm (21 cm x 29.7 cm) *160 GSM* 1x25 sheets (Assorted)
Ream (Packet)
250,000.00
UK/Dubia
3,500,000.00
150,000.00
100,000.00
250,000
287,500
285,000
285,000
1,008
PAPER
A4 Size* Certificate Cards* 210x297mm (21 cm x 29.7 cm) *160 GSM* 1x1000 sheets (Assorted)
Carton
100,000.00
150,000.00
300,000.00
1,250,000
1,437,500
1,425,000
1,425,000
1,009
PAPER
A4 size Glossy *Printing Cards- * White* (100 sheet)
Ream (Packet)
500,000.00
Glossy
Malaysia
1,500,000.00
150,000.00
100,000.00
250,000
287,500
285,000
285,000
1,010
PAPER
A4 size Glossy *Printing Cards- * White*
Carton
100,000.00
Glossy
Malaysia
100,000.00
500,000.00
500,000.00
1,250,000
1,437,500
1,425,000
1,425,000
1,011
PAPER
A4 High Quality Invitation Cards* (100 sheets)
Packet
500,000.00
Shue Card
Malaysia
2,500,000.00
100,000.00
100,000.00
1,250,000
1,437,500
1,425,000
1,425,000
1,012
PAPER
A4 High Quality Invitation Cards*
Carton/Box
100,000.00
Shue Card
Malaysia
100,000.00
4,000,000.00
500,000.00
6,250,000
7,187,500
7,125,000
7,125,000
1,013
PAPER
A3 Paper 80gsm (297mm x 420mm) - 1x500 Sheets
Ream (Packet)
500,000.00
Double Paper Print
Malaysia
490,000.00
120,000.00
120,000.00
187,500
215,625
213,750
213,750
1,014
PAPER
A3 Paper 80gsm (297mm x 420mm) - 5x500 Sheets
Carton
150,000.00
Double Paper Print
Malaysia
500,000.00
600,000.00
937,500
1,078,125
1,068,750
1,068,750
1,015
PAPER
A3 *120 gsm* 5x250 Sheets *Plain White*
Ream
750,000.00
Double Paper Print
Malaysia
140,000.00
450,000.00
250,000
287,500
285,000
285,000
1,016
PAPER
A3 *120 gsm* 5x250 Sheets *Plain White*
Carton
70,000.00
Double Paper Print
Malaysia
100,000.00
450,000.00
350,000.00
1,250,000
1,437,500
1,425,000
1,425,000
1,017
PAPER
Double A A3 80 gsm Ream Paper, 1x500 Sheets
Ream
350,000.00
Legal
USA
500,000.00
150,000.00
80,000.00
250,000
287,500
285,000
285,000
1,018
PAPER
Double A A3 80 gsm 5x500 Sheets
Box
200,000.00
USA
70,000.00
400,000.00
937,500
1,078,125
1,068,750
1,068,750
1,019
PAPER
A3 Vanguard*Coloured Card 180gsm* (50 Sheets)
Packet x 100 pkt
1,000,000.00
Brief Card
Malaysia
750,000.00
150,000.00
130,000.00
625,000
718,750
712,500
712,500
1,020
PAPER
A3 Vanguard*Coloured Card 180gsm (50 Sheets)
Carton (Box)
20,000.00
Brief Card
Malaysia
18,000.00
350,000.00
650,000.00
6,250,000
7,187,500
7,125,000
7,125,000
1,021
PAPER
A3 Tracing Paper
Yards
500,000.00
Dubia
450,000.00
100,000.00
13,000.00
25,000
28,750
28,500
28,500
1,022
PAPER
A3 Tracing Paper
Roll X25 Yards
5,000.00
Dubia
750,000.00
600,000.00
300,000.00
625,000
718,750
712,500
712,500
1,023
PAPER
Brown Paper (250 Sheet)
Ream
500,000.00
Brown Paper
Malaysia
400,000.00
160,000.00
1,000,000.00
3,125,000
3,593,750
3,562,500
3,562,500
1,024
PAPER
Computer Paper *Carbonless 9.5" X 8" * single PLY * Plain
Box
600,000.00
Compaq
Dubia
800,000.00
500,000.00
400,000.00
625,000
718,750
712,500
712,500
1,025
PAPER
Computer Paper *Carbonless 9.5" X 8" * Double PLY * Plain
500,000.00
Compaq
Dubia
500,000.00
400,000.00
937,500
1,078,125
1,068,750
1,068,750
1,026
PAPER
Computer Paper * Carbonless* 9.5" X 11" * Single Ply * Plain
Box
700,000.00
Compaq
Dubia
500,000.00
350,000.00
625,000
718,750
712,500
712,500
1,027
PAPER
Computer Paper * Carbonless* 9.5" X 11" * Double Ply * Plain
Box
800,000.00
Compaq
Dubia
500,000.00
400,000.00
875,000
1,006,250
997,500
997,500
1,028
PAPER
Computer Paper *Carbonless* 9.5" X 11" * 3 Ply* Plain
Box
500,000.00
Compaq
Dubia
500,000.00
450,000.00
6,250,000
7,187,500
7,125,000
7,125,000
1,029
PAPER
Computer Paper * 9.5" X 11" * Single Ply * ruled
Box
700,000.00
Compaq
Dubia
500,000.00
400,000.00
875,000
1,006,250
997,500
997,500
1,030
PAPER
Computer Paper * Carbonless* 9.5" X 11" * Double Ply * ruled
Box
800,000.00
Bond Paper
Malaysia
500,000.00
300,000.00
875,000
1,006,250
997,500
997,500
1,031
PAPER
Computer Paper * Carbonless 9.5" X 11" * 3 ply * ruled
Box
800,000.00
500,000.00
875,000
1,006,250
997,500
997,500
1,032
PAPER
Computer Paper * Carbonless* 14" X 11" * Double Ply * ruled
Box
600,000.00
500,000.00
875,000
1,006,250
997,500
997,500
1,033
PAPER
White Bond paper 500 sheet 80 Gsm 640X9000
Ream
750,000.00
500,000.00
875,000
1,006,250
997,500
997,500
1,034
PAPER
Blue Bone Paper 250 Sheet 80 Gsm 640X900
Ream
750,000.00
875,000
1,006,250
997,500
997,500
1,035
PAPER
Green Bone Paper 250 Sheet 80 Gsm 640X900
Ream
750,000.00
875,000
1,006,250
997,500
997,500
1,036
PAPER
Yellow Bone Paper 250 Sheet 80 Gsm 640X900
Ream
750,000.00
875,000
1,006,250
997,500
997,500
1,037
PAPER
Pink Bone Paper 250 Sheet 80 Gsm 640X900
Ream
750,000.00
875,000
1,006,250
997,500
997,500
1,038
PAPER
White Manila 100 Sheet 180 Gsm 640x900
Ream
450,000.00
500,000
575,000
570,000
570,000
1,039
PAPER
Blue Manila 100 Sheet 180 Gsm 640x900
Ream
450,000.00
500,000
575,000
570,000
570,000
1,040
PAPER
Green Manila 100 Sheet 180 Gsm 640x900
Ream
500,000.00
500,000
575,000
570,000
570,000
1,041
PAPER
Yellow Manila 100 Sheet 180 Gsm 640x900
Ream
450,000.00
40,000.00
500,000
575,000
570,000
570,000
1,042
PAPER
Art Manila 250 Gsm 100 Sheet 640x 900
Ream
800,000.00
40,000.00
500,000
575,000
570,000
570,000
1,043
PAPER
Art Paper 115 Gsm 500 Sheet 640x 900
Ream
600,000.00
25,000.00
875,000
1,006,250
997,500
997,500
1,044
PAPER
Yellow Carbon paper 500 Sheet 450x 640
Ream
350,000.00
90,000.00
875,000
1,006,250
997,500
997,500
1,045
PAPER
Green Carbon paper 500 Sheet 450x 640
Ream
350,000.00
80,000.00
875,000
1,006,250
997,500
997,500
1,046
PAPER
Pink Carbon paper 500 Sheet 450x 640
Ream
350,000.00
50,000.00
875,000
1,006,250
997,500
997,500
1,047
PAPER
White Bank Paper 500 Sheet 640x 900
Ream
500,000.00
35,000.00
875,000
1,006,250
997,500
997,500
1,048
PAPER
Blue Bank Paper 500 Sheet 640x 900
Ream
1,000,000.00
45,000.00
875,000
1,006,250
997,500
997,500
1,049
PAPER
Green Bank Paper 500 Sheet 640x 900
Ream
1,000,000.00
50,000.00
875,000
1,006,250
997,500
997,500
1,050
PAPER
Yellow Bank Paper 500 Sheet 640x 900
Ream
1,000,000.00
150,000.00
875,000
1,006,250
997,500
997,500
1,051
PAPER
Pink Bank Paper 500 Sheet 640x 900
Ream
1,000,000.00
160,000.00
875,000
1,006,250
997,500
997,500
1,052
PAPER
Colour Computer Forms 9.5" x 11" * 4 Ply * Inch White Pink Blue and Yellow
Box
350,000.00
500,000.00
500,000.00
1,000,000
1,150,000
1,140,000
1,140,000
1,053
PAPER
News Print Paper * 60 gsm *450 x 200*
Packet
70,000.00
450,000.00
450,000.00
500,000
575,000
570,000
570,000
1,054
PAPER
News print paper * 60 gsm *450 x 640*
Box
350,000.00
1,000,000.00
1,000,000.00
2,500,000
2,875,000
2,850,000
2,850,000
1,055
PAPER
Manilla Coloured Paper* 180 gm * 450 X 350*
Packet
100,000.00
200,000.00
200,000.00
100,000
115,000
114,000
114,000
1,056
PAPER
Art Card * 640 X 900 * 300gsm * 50 Sheets*
Pieces
450,000.00
250,000.00
250,000.00
625,000
718,750
712,500
712,500
1,057
PAPER
Art Card * 640 X 900 * 300gsm * 50 Sheets*
Packet
450,000.00
625,000
718,750
712,500
712,500
1,058
PAPER
A4 Carbon Transfer Paper
Packet
40,000.00
30,000.00
62,500
71,875
71,250
71,250
1,059
PAPER
A4 Carbon Transfer Paper
Box x 50 pkt
400,000.00
1,500,000.00
3,125,000
3,593,750
3,562,500
3,562,500
1,060
PAPER
200pcs A4 Black Carbon Transfer Tracing Graphite Paper (Writing Carbon)
Packet
50,000.00
40,000.00
5,000
5,750
5,700
5,700
1,061
PAPER
A4 Size Writing Carbon
Packet
500,000.00
40,000.00
62,500
71,875
71,250
71,250
1,062
Envelope
DL White Peel & Seal Envelopes 100gsm: 110 x 220
Packet
15,000.00
25,000.00
18,750
21,563
21,375
21,375
1,063
Envelope
C3 Size * 458mm 324mm * To fit unfolded A3 paper
Packet
100,000.00
90,000.00
62,500
71,875
71,250
71,250
1,064
Envelope
C4 Size *324mm x 229mm Envelopes Peel & Seal Pocket 100 GSM
Packet
100,000.00
80,000.00
62,500
71,875
71,250
71,250
1,065
Envelope
C4 Size * 324mm x 229mm * To fit unfolded A4 paper
Packet
40,000.00
50,000.00
37,500
43,125
42,750
42,750
1,066
Envelope
C5 * 162mmX 229mm * To fit A4 paper folded in half
Packet
30,000.00
35,000.00
37,500
43,125
42,750
42,750
1,067
Envelope
C6 * 114mm x162mm * To fit A4 paper folded in 4
Packet
40,000.00
50,000.00
18,750
21,563
21,375
21,375
1,068
Envelope
B4 * 250mm x352* To fit A4 paper unfolded* ideal for thicker documents
Packet
70,000.00
200,000.00
50,000.00
12,500
14,375
14,250
14,250
1,069
Envelope
5" x 5" Square Envelopes 130mm x 130mm * ideal for Invitations etc*
Packet
100,000.00
150,000.00
125,000
143,750
142,500
142,500
1,070
Envelope
X-ray*10" X 14"* (Small)
Packet
100,000.00
160,000.00
312,500
359,375
356,250
356,250
1,071
Envelope
X-ray*13" X 19"*(Medium)
Packet
100,000.00
120,000.00
375,000
431,250
427,500
427,500
1,072
Envelope
X-ray*17" X 24"* F16 Size 240x350mm (Large)
Packet
70,000.00
250,000.00
312,500
359,375
356,250
356,250
1,073
X-ray*22" X 30"*(XL)
Packet
70,000.00
250,000.00
312,500
359,375
356,250
356,250
1,074
Book
Logbook /Way Book * Column Approximately *120 Pages*
Ea
50,000.00
400,000.00
35,000.00
40,000.00
312,500
359,375
356,250
356,250
1,075
Book
*Foolscap Book *Ruled* Approximately 150 Pages*
Ea
80,000.00
450,000.00
55,000.00
100,000.00
437,500
503,125
498,750
498,750
1,076
BOOK
Ledger Book *12 Columns 2Q /4Q
Ea
80,000.00
50,000.00
40,000.00
375,000
431,250
427,500
427,500
1,077
BOOK
Ledger Book *12 Columns 2Q /4Q
Carton/Box
120,000.00
250,000.00
180,000.00
3,750,000
4,312,500
4,275,000
4,275,000
1,078
BOOK
Analysis Book *32 Columns* /27/24
Ea
150,000.00
400,000.00
180,000.00
150,000.00
625,000
718,750
712,500
712,500
1,079
BOOK
Address Book * App 180 Pages *
Ea
30,000.00
150,000.00
50,000
57,500
57,000
57,000
1,080
BOOK
Address Book * App 180 Pages *
Box
860,000.00
130,000.00
7,000.00
1,000,000
1,150,000
1,140,000
1,140,000
1,081
BOOK
Shorthand Notebook* 128 X 203 mm* 70 Pages*
Packet
50,000.00
60,000.00
125,000
143,750
142,500
142,500
1,082
BOOK
Shorthand Notebook* 128 X 203 mm* 70 Pages*
Box x 192 Pcs
500,000.00
1,152,000.00
1,500,000.00
1,972,500
2,268,375
2,248,650
2,248,650
1,083
BOOK
Shorthand Notebook* 127 X 203 mm* 160 Pages*
300 Pages x 6 Packet
80,000.00
72,000.00
1,000,000.00
25,000
28,750
28,500
28,500
1,084
BOOK
Shorthand Notebook* 127 X 203 mm* 160 Pages*
Box
800,000.00
1,650,000.00
12,500.00
1,500,000
1,725,000
1,710,000
1,710,000
1,085
BOOK
Shorthand Notebook* 5" x 8" (127 x 203mm) 300 Pages*
Packet
60,000.00
72,000.00
80,000.00
150,000
172,500
171,000
171,000
1,086
BOOK
Shorthand Notebook* 5" x 8" (127 x 203mm) 300 Pages*
Box x 120 pcs
600,000.00
1,728,000.00
35,000.00
3,000,000
3,450,000
3,420,000
3,420,000
1,087
BOOK
Executive Book *7"X 9"*
Packet
30,000.00
500,000
575,000
570,000
570,000
1,088
BOOK
Executive Book *7"X 9"*
Box
600,000.00
25,000.00
5,000,000
5,750,000
5,700,000
5,700,000
1,089
BOOK
School Register * Columns* For Attendance*
Catoon x 175 pkt
18,000.00
2,100,000.00
20,000.00
25,000.00
3,125,000
3,593,750
3,562,500
3,562,500
1,090
BOOK
*4 Ruled Exercise Book* 40 Pages*
Packet
900,000.00
15,000.00
35,000.00
45,000
51,750
51,300
51,300
1,091
BOOK
*3 Double Exercise Book* 40 Pages*
Packet
20,000.00
25,000.00
36,000.00
25,000.00
45,000
51,750
51,300
51,300
1,092
BOOK
*4 Ruled Exercise Book* 80 Pages*
Packet
30,000.00
25,000.00
45,000.00
62,500
71,875
71,250
71,250
1,093
BOOK
*3 Double Exercise Book* 80 Pages*
Packet
40,000.00
40,000.00
36,000.00
45,000.00
62,500
71,875
71,250
71,250
1,094
BOOK
*4 Ruled Exercise Book* 120 Pages *
Packet
50,000.00
35,000.00
45,000.00
75,000
86,250
85,500
85,500
1,095
BOOK
*3 Double Exercise Book* 120 Pages*
Packet
50,000.00
60,000.00
60,000.00
75,000
86,250
85,500
85,500
1,096
BOOK
*4 Ruled and Plain Exercise Book* 40 pages*
Packet
20,000.00
25,000.00
20,000.00
15,000.00
45,000
51,750
51,300
51,300
1,097
PADS
A4 Size *Writing Pads*
Packet
100,000.00
15,000.00
70,000.00
75,000
86,250
85,500
85,500
1,098
PADS
Post it Pads *Large*
Packet
100,000.00
10,000.00
65,000.00
25,000
28,750
28,500
28,500
1,099
FLIP CHART PAD
3m flip chart 25"x30" white, 40 sheets
Ea 25 sheet
50,000.00
80,000.00
60,000.00
100,000
115,000
114,000
114,000
1,100
FLIP CHART PAD
3m flip chart 25"x30" white, 40 sheets
Packet x 10 Pcs
100,000.00
500,000.00
50,000.00
1,000,000
1,150,000
1,140,000
1,140,000
1,101
FLIP CHART PAD
School smart primary chart paper 24"x32", ruled 1½" with dotted midline white, 70 sheets
Ea
100,000.00
25,000.00
125,000
143,750
142,500
142,500
1,102
FLIP CHART PAD
School smart primary chart paper 24"x32", ruled 1½" with dotted midline white, 70 sheets
Pack of 10 pcs
300,000.00
250,000.00
125,000
143,750
142,500
142,500
1,103
STAMP
Stamp Pad
Ea
15,000.00
18,000.00
10,000.00
25,000
28,750
28,500
28,500
1,104
STAMP
Stamp Pad (Double)
Ea
40,000.00
180,000.00
20,000.00
62,500
71,875
71,250
71,250
1,105
STAMP
Self Inking Rubber Stamp
Ea
200,000.00
250,000.00
200,000.00
100,000.00
187,500
215,625
213,750
213,750
1,106
STAMP
Self Inking Daters
Ea
200,000.00
10,000.00
200,000.00
120,000.00
312,500
359,375
356,250
356,250
1,107
STAMP
Label Stamps
Ea
150,000.00
6,000.00
4,000.00
175,000
201,250
199,500
199,500
1,108
FILES
Suspension hook Hanging File
Ea
5,000.00
6,000.00
6,000.00
75,000.00
12,500
14,375
14,250
14,250
1,109
FILES
Suspension hook Hanging File
Packet
125,000.00
150,000.00
150,000.00
312,500
359,375
356,250
356,250
1,110
FILES
Foolscap Suspension Files Foolscap
Packet
8,000.00
200,000.00
468,750
539,063
534,375
534,375
1,111
FILES
IXL *Lever Arch File* 2 Rings*
Ea
20,000.00
25,000.00
20,000.00
650,000.00
25,000
28,750
28,500
28,500
1,112
FILES
IXL * Lever Arch File* 2 Rings*
Box
1,000,000.00
120,000.00
1,000,000.00
1,250,000
1,437,500
1,425,000
1,425,000
1,113
FILES
IXL * Lever Arch File* 3 Rings*
Ea
50,000.00
28,000.00
25,000.00
31,250
35,938
35,625
35,625
1,114
FILES
IXL * Lever Arch File* 3 Rings*
Box
2,500,000.00
1,300,000.00
1,000,000.00
1,562,500
1,796,875
1,781,250
1,781,250
1,115
FILES
Pockets Files/Documents Wallets*
Box
10,000.00
350,000.00
650,000.00
625,000
718,750
712,500
712,500
1,116
FILES
Manilla File * Flat* Foolscap
Box
500,000.00
200,000.00
300,000.00
375,000
431,250
427,500
427,500
1,117
FILES
Box File * Foolscap
Ea
80,000.00
80,000.00
60,000.00
90,000.00
375,000
431,250
427,500
427,500
1,118
FILES
Box File * Foolscap
Carton
1,000,000.00
1,680,000.00
2,400,000.00
30,000.00
1,875,000
2,156,250
2,137,500
2,137,500
1,119
FILES
Plastic File * Coloured* 12 Inch*
Packet
2,000.00
24,000.00
20,000.00
150,000.00
60,000
69,000
68,400
68,400
1,120
FLIP CHART STAND
Master of Boards Magnetic Flip Chart with Wheels | Dry Wipe Flipchart/Whiteboard Easel with Extendable Side Arms | Height Adjustable up to 225cm | Clamp for...180 X 180 cm
Set
700,000.00
1,200,000.00
500,000.00
10,000.00
437,500
503,125
498,750
498,750
11,121
FLIP CHART STAND
90cm x 60cm Tripod Whiteboard, Tripod Whiteboard, Magnetic Dry Erase Board/Flipchart Easel Whiteboard, Height Adjustable Stand Board
Set
1,000,000.00
700,000.00
500,000.00
625,000
718,750
712,500
712,500
1,122
FLIP CHART STAND
Double Sided Felt Notice Board 1800 x 1200mm Franken Pro Partition System Blue
Set
600,000.00
120,000.00
800,000.00
875,000
1,006,250
997,500
997,500
1,123
FLIP CHART STAND
Wonderwall Large Drywipe Steel Magnetic Whiteboard with Fixings and Pen Tray (2400 x 1200mm)
Set
100,000.00
120,000.00
700,000.00
1,500,000
1,725,000
1,710,000
1,710,000
1,124
OFFICE TRAY
Set of Three* Plastic *
Set
1,440,000.00
80,000.00
15,000.00
125,000
143,750
142,500
142,500
1,125
OFFICE TRAY
Set of Three* Plastic *
Packet
1,440,000.00
125,000
143,750
142,500
142,500
1,126
OFFICE TRAY
Set of Three * Mesh*
Box
50,000.00
6,000.00
1,250,000
1,437,500
1,425,000
1,425,000
1,127
GREEN TAGS
100 per Box * Small*
Box
100,000.00
120,000.00
75,000
86,250
85,500
85,500
1,128
GREEN TAGS
100 Per Box * Large*
Box
15,000.00
250,000.00
15,000.00
100,000
115,000
114,000
114,000
1,129
DUSTER
Black Board* Plastic\ Wood*
Packet
1,000,000.00
15,000.00
10,000.00
187,500
215,625
213,750
213,750
1,130
DUSTER
Black Board* Plastic\ Wood*
Box
1,000,000.00
300,000.00
500,000.00
2,000.00
1,875,000
2,156,250
2,137,500
2,137,500
1,131
BELL
School Hand Bell * 5" Diameter
Ea
250,000.00
300,000.00
250,000.00
250,000
287,500
285,000
285,000
1,132
BELL
School Hand Bell * 5" Diameter
Box x 12 pcs
250,000.00
3,600,000.00
3,000,000.00
1,000.00
3,000,000
3,450,000
3,420,000
3,420,000
1,133
Correction Fluid
Tipp-Ex Bottle
30ml Ea
20,000.00
120,000.00
25,000.00
25,000.00
25,000
28,750
28,500
28,500
1,134
Correction Fluid
Tipp-Ex Bottle
30ml Packet
200,000.00
120,000.00
80,000.00
750,000
862,500
855,000
855,000
1,135
Correction Fluid
Tipp-Ex Pen Type
30ml Ea
10,000.00
8,000.00
7,000.00
100,000.00
12,500
14,375
14,250
14,250
1,136
Correction Fluid
Tipp-Ex Pen Type
30ml Packet
200,000.00
96,000.00
60,000.00
35,000.00
150,000
172,500
171,000
171,000
1,137
ERASERS
Typing Eraser with Brush
Packet
20,000.00
2,000.00
80,000.00
150,000
172,500
171,000
171,000
1,138
ERASERS
Typing Eraser with Brush
Carton of 144 pcs
1,000,000.00
2,900,000.00
800,000.00
35,000.00
3,600,000
4,140,000
4,104,000
4,104,000
1,139
ERASERS
Eraser Large
Packet
2,000.00
40,000.00
900,000.00
187,500
215,625
213,750
213,750
1,140
ERASERS
Eraser Large
Carton of 60 pkt
100,000.00
2,200,000.00
1,000,000.00
400,000.00
1,125,000
1,293,750
1,282,500
1,282,500
1,141
ERASERS
Eraser Small
Packet
100,000.00
20,000.00
25,000.00
125,000
143,750
142,500
142,500
1,142
ERASERS
Eraser Small
Carton
1,000.00
1,200,000.00
900,000.00
10,000.00
180,000
207,000
205,200
205,200
1,143
TWINE
Large
Roll
50,000.00
100,000.00
187,500
215,625
213,750
213,750
1,144
TWINE
Large
Box
30,000.00
1,000,000.00
1,875,000
2,156,250
2,137,500
2,137,500
1,145
LAMINATING PLASTIC
A4 Size
Packet
150,000.00
100,000.00
80,000.00
5,000.00
187,500
215,625
213,750
213,750
1,146
PENS
Ball Point Pens *Normal quality* (Black, Blue,Red)
Box
60,000.00
35,000.00
35,000.00
62,500
71,875
71,250
71,250
1,147
PENS
Ball Point Pens *Normal quality* (Black, Blue,Red)
Carton of 80 pkt
1,200,000.00
2,800,000.00
1,700,000.00
5,000,000
5,750,000
5,700,000
5,700,000
1,148
PENS
Ball Point Pen * High Quality * (Black, Blue,Red)
Box
60,000.00
55,000.00
40,000.00
75,000
86,250
85,500
85,500
1,149
PENS
Ball Point Pen * High Quality * (Black, Blue,Red)
Carton
1,200,000.00
1,100,000.00
2,400,000.00
750,000
862,500
855,000
855,000
1,150
PENS
Architectural Drawing Pens 0.2,0.3,0.4,0.5
Box
1,800,000.00
360,000.00
160,000.00
0
0
0
0
1,151
PENS
Architectural Drawing Pens 0.2,0.3,0.4,0.5
Carton of 10 boxes
18,000,000.00
3,600,000.00
1,500,000.00
0
0
0
0
1,152
PENCILS
2B Pencil
Packet
15,000.00
7,000.00
15,000.00
15,000
17,250
17,100
17,100
1,153
PENCILS
2B Pencil
Box
225,000.00
84,000.00
130,000.00
180,000
207,000
205,200
205,200
1,154
PENCILS
2B Pencil
Carton of 5,760 pcs
225,000.00
3,360,000.00
3,600,000.00
700,000
805,000
798,000
798,000
1,155
PENCILS
HB Pencil
Packet
10,000.00
5,000.00
80,000.00
8,750
10,063
9,975
9,975
1,156
PENCILS
HB Pencil
Box
10,000.00
60,000.00
60,000.00
105,000
120,750
119,700
119,700
1,157
PENCILS
HB Pencil
Carton of 4,320 pcs
500,000.00
1,800,000.00
1,500,000.00
3,115,000
3,582,250
3,551,100
3,551,100
1,158
PENCIL CRAYONS
Pencil Crayons
Packet
20,000.00
5,000.00
15,000.00
18,750
21,563
21,375
21,375
1,159
PENCIL CRAYONS
Pencil Crayons
Box
1,000,000.00
60,000.00
15,000.00
225,000
258,750
256,500
256,500
1,160
PENCIL CRAYONS
Pencil Crayons
Carton of 480 pcs
20,000.00
2,400,000.00
4,500,000.00
9,000,000
10,350,000
10,260,000
10,260,000
1,161
WAX CRAYON
Wax Crayons
Box
20,000.00
60,000.00
15,000.00
25,000
28,750
28,500
28,500
1,162
WAX CRAYON
Wax Crayons
Carton of 480 pcs
100,000.00
2,400,000.00
500,000.00
12,000,000
13,800,000
13,680,000
13,680,000
1,163
SHARPNERS
Pencil Sharpner *Metal*
Packet
3,000.00
25,000.00
20,000.00
5,000.00
60,000
69,000
68,400
68,400
1,164
SHARPNERS
Pencil Sharpner *Metal*
Box
3,000,000.00
2,000,000.00
120,000
138,000
136,800
136,800
1,165
MARKERS
Assorted
Packet
30,000.00
15,000.00
35,000.00
45,000
51,750
51,300
51,300
1,166
MARKERS
Assorted
Box
1,500,000.00
250,000.00
900,000
1,035,000
1,026,000
1,026,000
1,167
MARKERS
Assorted
Carton of 100 pkt
30,000.00
1,000,000.00
1,000,000.00
4,500,000
5,175,000
5,130,000
5,130,000
1,168
MARKERS
White Board Marker
Packet
50,000.00
30,000.00
30,000.00
60,000
69,000
68,400
68,400
1,169
MARKERS
White Board Marker
Box 100 pkt
100,000.00
300,000.00
300,000.00
6,000,000
6,900,000
6,840,000
6,840,000
1,170
HIGHLIGHTERS
Assorted
Packet
36,000.00
15,000.00
25,000
28,750
28,500
28,500
1,171
HIGHLIGHTERS
Assorted
Box of 10 pkt
720,000.00
120,000.00
800,000.00
250,000
287,500
285,000
285,000
1,172
CHALK
White Chalk
Box
15,000.00
10,000.00
10,000.00
25,000
28,750
28,500
28,500
1,173
CHALK
White Chalk
Carton
900,000.00
500,000.00
350,000.00
1,500,000
1,725,000
1,710,000
1,710,000
1,174
CHALK
Coloured Chalk
Box
20,000.00
12,000.00
120,000.00
195,000.00
50,000
57,500
57,000
57,000
1,175
CHALK
Coloured Chalk
Carton of 60 pkt
1,200,000.00
600,000.00
400,000.00
1,875,000
2,156,250
2,137,500
2,137,500
1,176
SLATE
Free-Arm Board (Slate)
Carton of 120 pcs
120,000.00
1,200,000.00
1,500,000.00
3,750,000
4,312,500
4,275,000
4,275,000
1,177
RUBBER BAND
Rubber Band *Small Size*
Packet
15,000.00
20,000.00
20,000.00
18,750
21,563
21,375
21,375
1,178
RUBBER BAND
Rubber Band *Small Size*
Carton
1,500,000.00
1,000,000.00
937,500
1,078,125
1,068,750
1,068,750
1,179
RUBBER BAND
Rubber Band *Medium Size*
Packet
20,000.00
15,000.00
30,000.00
25,000
28,750
28,500
28,500
1,180
RUBBER BAND
Rubber Band *Medium Size*
Carton
2,000,000.00
1,500,000.00
1,250,000
1,437,500
1,425,000
1,425,000
1,181
RUBBER BAND
Rubber Band *Large Size*
Packet
50,000.00
50,000.00
50,000.00
87,500
100,625
99,750
99,750
1,182
RUBBER BAND
Rubber Band * Large Size*
Carton
5,000,000.00
2,000,000.00
5,625,000
6,468,750
6,412,500
6,412,500
1,183
RULER
Plastic Ruler
30cm Box
3,000.00
2,000.00
45,000.00
2,000.00
360,000
414,000
410,400
410,400
1,184
RULER
Plastic Ruler
Carton of 1440 pcs
600,000.00
2,880,000.00
1,200,000.00
6,100,000
7,015,000
6,954,000
6,954,000
1,185
RULER
Board Ruler
3ft Box
2,000.00
50,000.00
30,000.00
150,000
172,500
171,000
171,000
1,186
RULER
Board Ruler
3ft Carton of 60 pcs
400,000.00
2,700,000.00
3,000,000.00
1,500,000
1,725,000
1,710,000
1,710,000
1,187
MATHEMATICAL SET
Student Mathematical Set
Carton of 144 pcs
15,000.00
1,440,000.00
1,000,000.00
360,000
414,000
410,400
410,400
1,188
MATHEMATICAL SET
Blackboard Mathematical Set
Set
750,000.00
300,000.00
20,000.00
500,000
575,000
570,000
570,000
1,189
SCISSORS
Small size
Ea
15,000.00
7,000.00
10,000.00
10,000.00
18,750
21,563
21,375
21,375
1,190
SCISSORS
Small size
Carton
750,000.00
1,000,000.00
1,350,000
1,552,500
1,539,000
1,539,000
1,191
SCISSORS
Medium Size
Ea
20,000.00
10,000.00
10,000.00
15,000.00
25,000
28,750
28,500
28,500
1,192
SCISSORS
Medium Size
Carton
1,000,000.00
1,000,000.00
900,000
1,035,000
1,026,000
1,026,000
1,193
SCISSORS
Large Size
Ea
30,000.00
15,000.00
25,000.00
20,000.00
62,500
71,875
71,250
71,250
1,194
SCISSORS
Large Size
Carton
1,500,000.00
2,500,000.00
1,125,000
1,293,750
1,282,500
1,282,500
1,195
STAPLER
Small Size
Ea
50,000.00
20,000.00
25,000.00
25,000.00
62,500
71,875
71,250
71,250
1,196
STAPLER
Small Size
Carton of 144 pcs
1,000,000.00
2,880,000.00
24,000,000.00
9,000,000
10,350,000
10,260,000
10,260,000
1,197
STAPLER
Large Size
Ea
60,000.00
35,000.00
40,000.00
60,000.00
125,000
143,750
142,500
142,500
1,198
STAPLER
Large Size
Carton of 96 pcs
1,200,000.00
3,360,000.00
2,800,000.00
12,000,000
13,800,000
13,680,000
13,680,000
1,199
STAPLER
Giant Size
Ea
150,000.00
250,000.00
280,000.00
325,000.00
250,000
287,500
285,000
285,000
1,200
STAPLER
Giant Size
Carton of 12 pcs
1,500,000.00
3,000,000.00
3,000,000.00
3,000,000
3,450,000
3,420,000
3,420,000
1,201
CLIP FASTENER
Standard Size
Packet
15,000.00
20,000.00
480,000.00
10,000.00
12,500
14,375
14,250
14,250
1,202
CLIP FASTENER
Standard Size
Carton of 100 pkt
750,000.00
2,000,000.00
25,000.00
1,250,000
1,437,500
1,425,000
1,425,000
1,203
CLIPS
Paper Clip *Small Size* 33mm
Packet
10,000.00
25,000.00
10,000.00
6,250
7,188
7,125
7,125
1,204
CLIPS
Paper Clip *Small Size* 33mm
Carton of 100 pkt
750,000.00
1,000,000.00
490,000.00
625,000
718,750
712,500
712,500
1,205
CLIPS
Paper Clip *Medium Size*
Packet
20,000.00
12,000.00
35,000.00
45,000.00
18,750
21,563
21,375
21,375
1,206
CLIPS
Paper Clip *Medium Size*
Carton
1,000,000.00
1,200,000.00
420,000.00
1,875,000
2,156,250
2,137,500
2,137,500
1,206
CLIPS
Paper Clip *Large Size*
Packet
30,000.00
20,000.00
40,000.00
70,000.00
25,000
28,750
28,500
28,500
1,207
CLIPS
Paper Clip *Large Size*
Carton of 100 pcs
1,500,000.00
2,000,000.00
480,000.00
1,250,000
1,437,500
1,425,000
1,425,000
1,208
CLIPS
Paper Clip *Small Size*
Packet
10,000.00
20,000.00
6,250
7,188
7,125
7,125
1,209
CLIPS
Paper Clip *Small Size*
Carton
500,000.00
480,000.00
3,125,000
3,593,750
3,562,500
3,562,500
1,210
CLIPS
Paper Clip *Large Size*
Packet
30,000.00
25,000.00
70,000.00
12,500
14,375
14,250
14,250
1,211
CLIPS
Paper Clip *Large Size*
Carton
150,000.00
600,000.00
1,250,000
1,437,500
1,425,000
1,425,000
1,212
STAPLE PINS
Small Staples * 24/6*
Packet
10,000.00
10,000.00
10,000.00
10,000.00
12,500
14,375
14,250
14,250
1,213
STAPLE PINS
Small Staples * 24/6*
Carton of 100 pkt
200,000.00
1,000,000.00
1,000,000.00
1,250,000
1,437,500
1,425,000
1,425,000
1,214
STAPLE PINS
Giant Staples* 26/6*
Packet
100,000.00
10,000.00
15,000.00
15,000.00
125,000
143,750
142,500
142,500
1,215
STAPLE PINS
Giant Staples* 26/6*
Carton of 200 pkt
1,000,000.00
2,000,000.00
1,500,000.00
2,500,000
2,875,000
2,850,000
2,850,000
1,216
STRAIGHT PINS
Straight T Pins
Pkt
20,000.00
10,000.00
15,000.00
10,000.00
62,500
71,875
71,250
71,250
1,217
STRAIGHT PINS
Straight T Pins
Carton of 300 pkt
400,000.00
3,000,000.00
1,500,000.00
5,625,000
6,468,750
6,412,500
6,412,500
1,218
PAPER PUNCHING MACHINE
Single/One Hole 4.5 Paper Punch
Ea
50,000.00
30,000.00
50,000.00
25,000.00
62,500
71,875
71,250
71,250
1,219
PAPER PUNCHING MACHINE
Single/One Hole 4.5 Paper Punch
Carton of 60 pcs
1,000,000.00
1,800,000.00
500,000.00
3,750,000
4,312,500
4,275,000
4,275,000
1,220
PAPER PUNCHING MACHINE
Double Hole * 10 Pages *
Ea
50,000.00
60,000.00
100,000.00
65,000.00
100,000